The hits keep coming for President Donald Trump over his decision to abandon Kurdish allies to Turkey in northern Syria. Republican Representative Adam  Kinzinger is the latest to criticize the POTUS over his handling of the situation.
Early Thursday, Trump tweeted:
---
"In case the Kurds or Turkey lose control, the United States has already taken the 2 ISIS militants tied to beheadings in Syria, known as the Beetles, out of that country and into a secure location controlled by the U.S. They are the worst of the worst!"
The tweet was in response to people pointing out that the United States' Kurdish allies were charged with imprisoning 10,000 ISIS members in Syria. With Turkey's targeting of the Kurds, the security of the ISIS prisoners was now called into question.
However, Trump's early morning tweet failed to appease even members of his own party.
GOP Congressman Kinzinger shared Trump's post with the caption:
"Ah the other 10,000 no biggie, at least you got the 'big two.' Campaign promise fail."
Kinzinger's concerns were well-founded. Just one day after posting that tweet, reports broke that at least five ISIS militants escaped a Syrian prison thanks to bombing from Turkey.
As part of his 2016 presidential campaign, Trump vowed to eliminate ISIS. Republican Senator Lindsey Graham recently declared Trump's claim to have eradicated ISIS "the biggest lie being told by this administration."
Kinzinger—unlike the President or anyone in the President's family—has military experience. Illinois' Kinzinger was a Lieutenant Colonel in the Air Force and served in both Iraq and Afghanistan.
This is not the first time the veteran called the current Commander in Chief out for his tough talk or for his Syria strategy. Just the day before, Kinzinger posted:
"I was among the first Congressmen in Kurdish areas of Iraq after the #peshmerga beat back initial ISIS onslaughts. I saw brave men and women determined to see the fight through... and their determination to fight with our support."
"I promised them that we would be there through the fight. They never imagined the toll (over 10,000) lives lost but they willingly fought."
"They defended their lands and the lands of Christians and Muslims alike. They faced ISIS directly."
"And yesterday they were abandoned and

[Donald Trump] failed to fulfill his promise to destroy ISIS."
"50 American advisors prevented a Turkish attack. 50. The America I love is capable of a much higher calling. This is a failure. God bless the Kurds."
Kinzinger was far from alone in criticizing the President's post.
In fact, more and more Republicans and conservatives are criticizing Trump.
With even Fox News showing support for Trump's impeachment and removal exceeds his support, how his latest misstep affects his presidency remains to be seen.
If you agree that the United States shouldn't abandon an ally, this shirt is available here.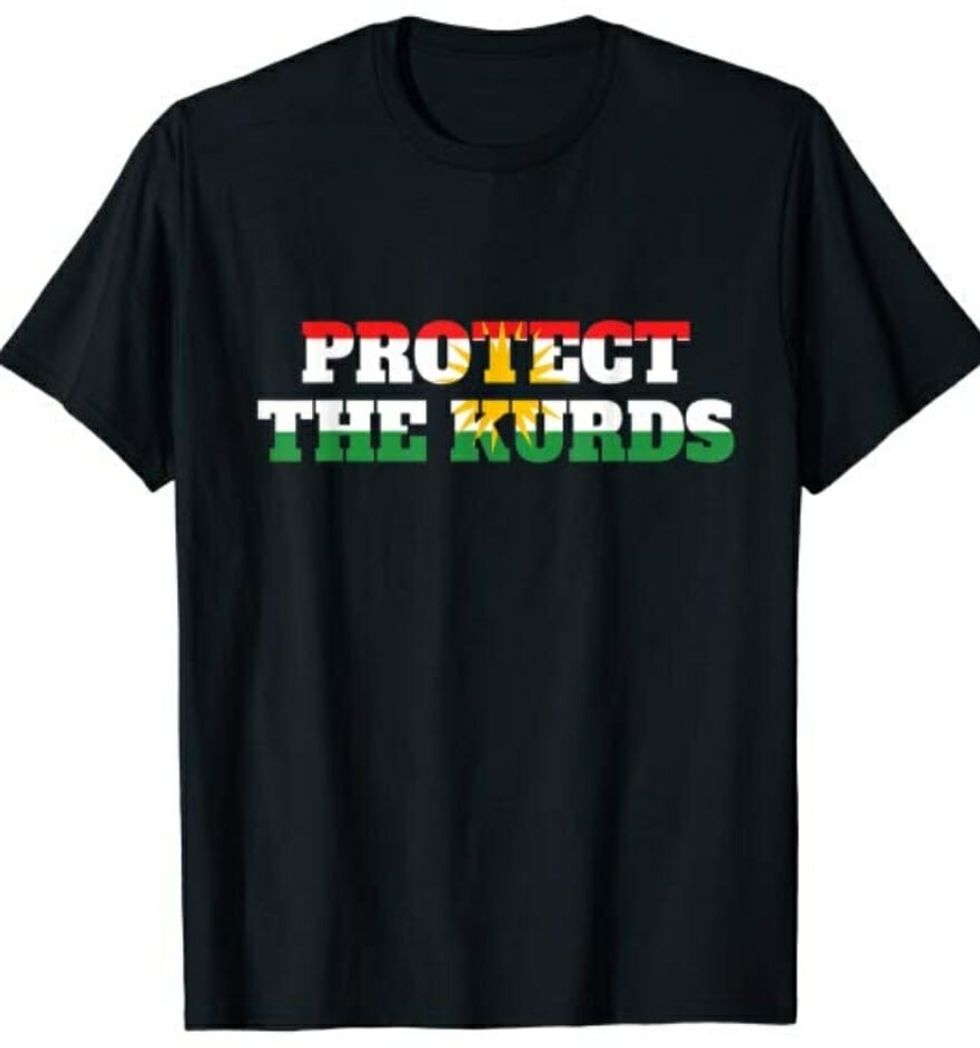 Amazon