Earlier this morning, Kellyanne Conway, counselor to President Donald Trump, encouraged Americans to purchase Ivanka Trump's products. Her endorsement, according to federal law, is completely illegal. A regulation from the Office of Government Ethics bans federal employees from endorsing products or companies and prohibits the use of public office for the personal gain of oneself or friends and relatives.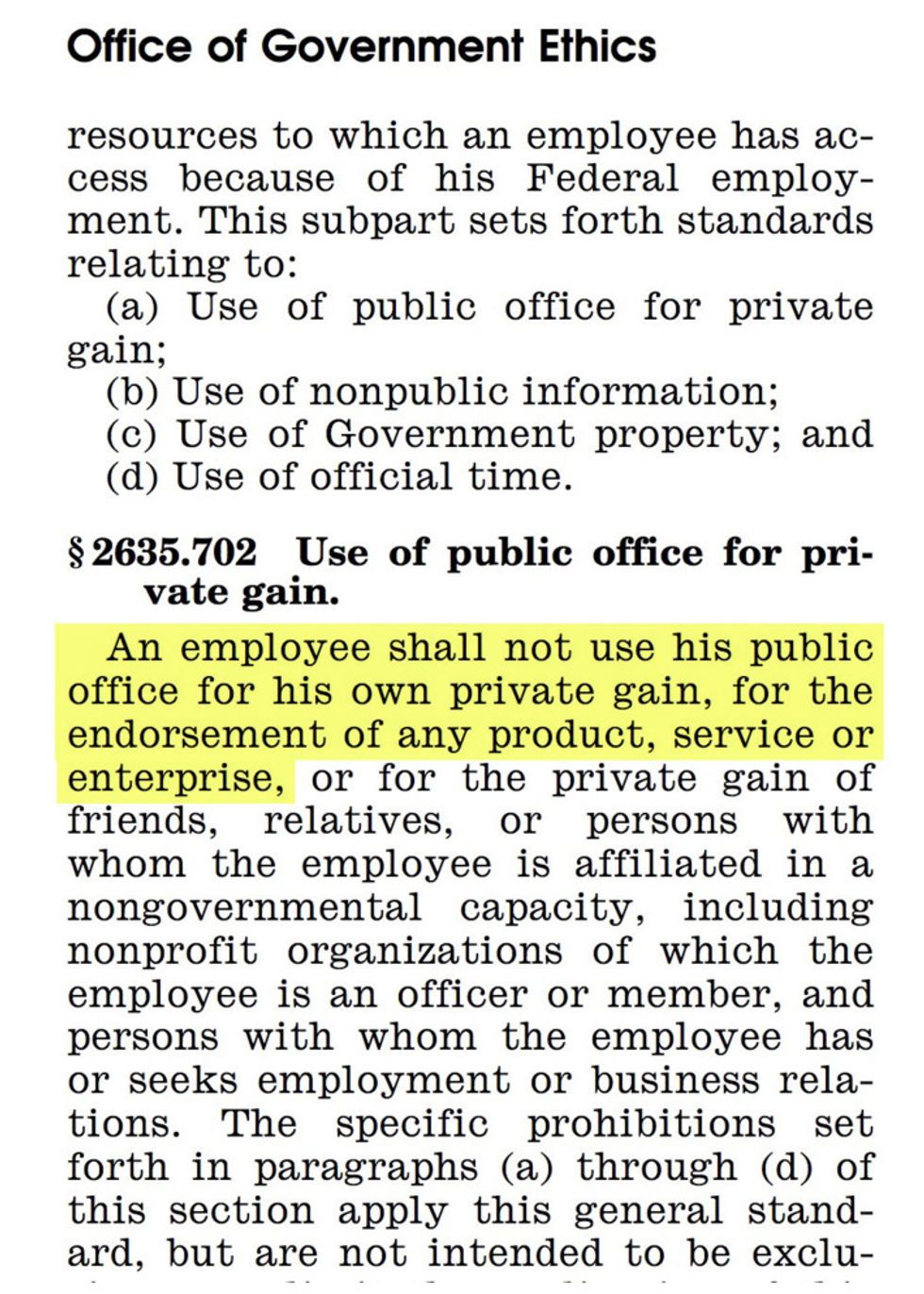 Credit: Source.
---
Under the regulation, the director of OGE can notify the employee of the violation. The director can then ask the agency's workers to investigate. A first offense would likely result in a mere warning. However, the director could also recommend disciplinary action, including suspension and loss of pay or termination.
"Conway's encouragement to buy Ivanka's stuff would seem to be a clear violation of rules prohibiting misuse of public office for anyone's private gain," said Don W. Fox, former general counsel and former acting director of OGE. "This is jaw-dropping to me. This rule has been promulgated by the federal Office of Government Ethics as part of the Standards of Conduct for all executive branch employees and it applies to all members of the armed forces as well."
Clinton Cash author Peter Schweizer, who has worked closely with Trump aide Stephen K. Bannon, was similarly critical: "They've crossed a very, very important bright line, and it's not good. To encourage Americans to buy goods from companies owned by the first family is totally out of bounds and needs to stop. Clearly, the Trumps feel some of this is related to politics. But whether that's true or not, these marketing battles need to be fought by Ivanka and her company. They cannot and should not be fought by government employees and the White House. It's time to move beyond the mind-set and the role of a businessman and assume the mantle of commander of chief [sic]."
Conway's remarks, in which she told FOX News she found it "ironic that you've got some executives all over the internet bragging about what they've done to [Ivanka] and her line," were definitely an endorsement:
Yet, they're using the most prominent woman in Donald Trump's — you know, most prominent — she's his daughter, and they're using her, who has been a champion for women empowerment, women in the workplace, to get to him. I think people could see through that. Go buy Ivanka's stuff is what I would tell you. I hate shopping. I'm going to go get some myself today... This is just wonderful line. I own some of it. I fully — I'm going to give a free commercial here. Go buy it today, everybody. You can find it online.
"Go buy Ivanka's stuff!" Kellyanne Conway tells "Fox & Friends" viewers from the White House briefing room. https://t.co/noIhnVgcAk

— Andrew Kirell (@Andrew Kirell) 1486645928.0
Conway has "gotten used to channeling Trump's beliefs and advocating his interests," wrote New York's Jonathan Chait. "But she seems to have forgotten that a legal loophole allows him to engage in wildly kleptocratic behavior without any legal consequences, but if she does the same it's not merely unethical but actually illegal."
Conway's comments come merely a day after Trump blasted Nordstrom on social media via his personal Twitter account after the company decided not to continue carrying any of Ivanka Trump's products. Trump tweeted the message 21 minutes after the start of his daily intelligence briefing.
Critics viewed the attack against the retailer as further evidence that the president is misusing the executive office to benefit his family's business empire.
My daughter Ivanka has been treated so unfairly by @Nordstrom. She is a great person -- always pushing me to do the right thing! Terrible!

— Donald J. Trump (@Donald J. Trump) 1486569061.0
Trump's previous complaints against companies on Twitter were often objections to how corporate policies would affect employees and taxpayers. The attack against Nordstrom, however, demonstrates the president is not above criticizing a company's policies if they directly impact his family members. The company's shares initially fell after Trump's criticism, but later closed up 4 percent at the New York Stock Exchange.
Nordstrom insists the decision to remove Trump-branded items from the store's website was a simple one: Ivanka Trump's items were not performing well. "We've said all along we make buying decisions based on performance. We've got thousands of brands – more than 2,000 offered on the site alone," the retailer said in a statement. "Reviewing their merit and making edits is part of the regular rhythm of our business. Each year we cut about 10 percent and refresh our assortment with about the same amount. In this case, based on the brand's performance we've decided not to buy it for this season."
In her statements to FOX, Conway stressed that Ivanka Trump's business acumen would prove an asset to her father's administration. "Obviously, she's stepped away from it now, but in the past she's helped to run her family's real estate empire, and on the side she developed another fully, unbelievably, entrepreneurial, wildly successful business that bears her name," Conway added. "And I think she's gone from 800 stores to 1,000 stores or 1,000 places where you can buy — you can certainly buy her goods online. She's just at a very good place."