Brett Kavanaugh, President Donald Trump's Supreme Court nominee, maintained he could prove his innocence regarding allegations of sexual assault against him by Dr. Christine Blasey Ford with the calendars he kept as a young man.
Kavanaugh claimed he and his friends never partied during the week in the summer of 1982 since they all worked. However, his calendars showed a different story.
---
And one month in the summer of 1982 drew quite a bit of interest during the testimony of Kavanaugh. But not enough.
Here's that calendar.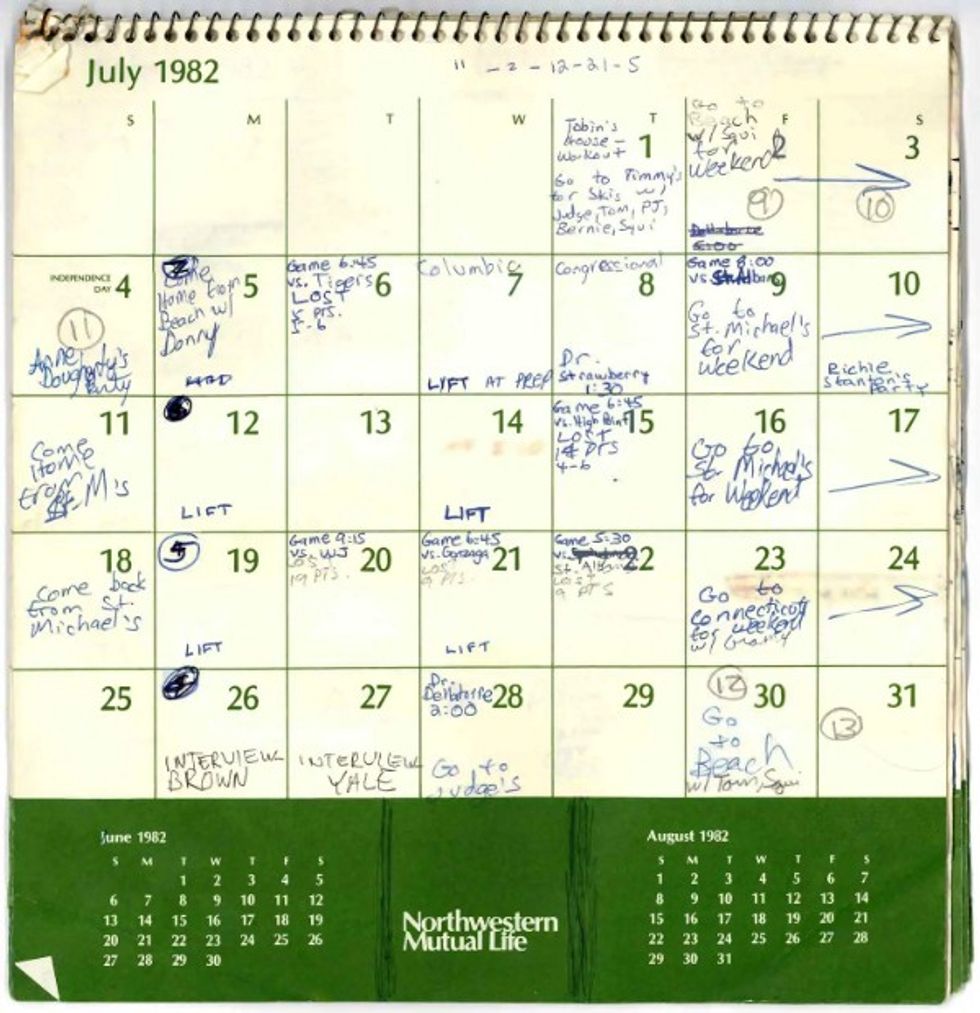 Brett Kavanaugh's annotated calendar from 1982. (Provided by Brett Kavanaugh to the Senate Judiciary Committee)
Dr. Ford stated that the event where Kavanaugh attacked her with Mark Judge's help was a small gathering attended by herself, Kavanaugh, Judge, someone named PJ and a friend of hers, Kavanaugh's and Judge's named Chris Garrett.
And well, what do you know:
I missed this before, but I was just looking at Kavanaugh's calendar, and I noticed that he's hanging out on July 1… https://t.co/miU89QdUjw

— Matt Fuller (@Matt Fuller)1538077922.0
One date on Kavanaugh's calendar drew speculation based on Ford's description of events: July 1. Here is a closer look at that entry.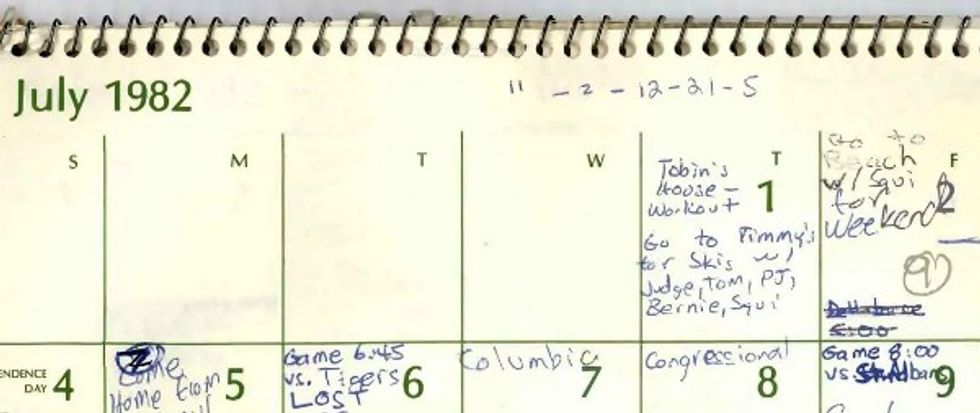 Brett Kavanaugh's annotated calendar from 1982. (Provided by Brett Kavanaugh to the Senate Judiciary Committee)
It says:
"Tobin's House — Workout / Go to Timmy's for Skis w/ Judge, Tom, PJ, Bernie, Squi"
Senator Dianne Feinstein tweeted video of Senator Sheldon Whitehouse questioning Kavanaugh about the date:
Rachel Mitchell yesterday began to ask Judge Kavanaugh about the July 1 party where Brett Kavanaugh, Mark Judge and… https://t.co/hl4lYgICaD

— Senator Dianne Feinstein (@Senator Dianne Feinstein)1538149929.0
Republicans have repeatedly asked Dr. Ford for a time and a place of the incident. It's possible that Kavanaugh's o… https://t.co/SgZY23q8ee

— Senator Dianne Feinstein (@Senator Dianne Feinstein)1538149931.0
Rachel Mitchell—hired by the GOP majority of the Senate Judiciary Committee to do their questioning of Ford for them—also did some questioning of Kavanaugh. Until she asked about the July 1, 1982 entry.
The reference to "skis" meant "brewskis", the slang term for beer. The calendar shows this was a weekday gathering involving drinking, something Kavanaugh denied happened that summer.
Part of his defense involved weekends being full of other activities so the gathering Ford described had to be during the week. But his summer weekdays required work so, according to Kavanaugh, no gatherings took place during the week.
The questioning went:
MITCHELL: The entry says, and I quote, go to 'Timmy's for skis with Judge, Tom, P.J. Bernie and ... Squi?'
KAVANAUGH: Squi. It's a nickname.
MITCHELL: To what does this refer, and to whom?
KAVANAUGH: [after explaining the "Tobin's House" part] It looks like we went over to Timmy's. You want to know their last names, too? I'm happy to do it.
MITCHELL: If you could just identify: Is 'Judge' Mark Judge?
KAVANAUGH: It is. It's Tim Gaudette, Mark Judge, Tom Kaine, P.J. Smyth, Bernie McCarthy, Chris Garrett.
Garrett or Squi was Ford's mutual friend with Kavanaugh and Judge. And this informal drinking gathering included a third person Ford named as a witness to her assault, P.J. Smyth.
MITCHELL: Did you in your calendar routinely document social gatherings like house parties or gatherings of friends in your calendar?
KAVANAUGH: Yes, it certainly appears that way, that's what I was doing in the summer of 1982. You can see that reflected on several of the-- several of the entries.
MITCHELL: If a gathering like Dr. Ford has described had occurred, would you have documented that?
KAVANAUGH: Yes, because I documented everything, those kinds of events, even small get-togethers. August 7 is another good example where I documented a small get-together that summer. So yes.
But Mitchell failed to properly follow-up on the July 1 event or ask why Kavanaugh lied previously about gatherings with alcohol never happening during the week in the summer of 1982. Shortly after these questions, Mitchell's Republican employers took over.
MITCHELL: Have you reviewed every entry that is in these calendars of May, June, July and August of 1982.
KAVANAUGH: I have.
MITCHELL: Is there anything that could even remotely fit what we're talking about in terms of Dr. Ford's allegations?
KAVANAUGH: No.
But people still want answers. 
Many wanted to know why Kavanaugh was not pressed on the entry that matched Ford's description and contradicted Kavanaugh's claims.
That key July 1 calendar entry recorded by Kavanaugh came up by the Republican prosecutor. Despite how it overlappe… https://t.co/BDQfZFsAWg

— Philip Bump (@Philip Bump)1538084071.0
And after asking that pointed question about the most obvious candidate for bolstering Ford's claims ... the Republ… https://t.co/9s46AL4U73

— Philip Bump (@Philip Bump)1538084126.0
It's always safer to assume coincidence; clearly Graham (next up) wanted to spit fire. But the timing certainly didn't hurt Kavanaugh.

— Philip Bump (@Philip Bump)1538084232.0
@pbump #RachelMitchell let him walk away from it because she's not a "prosecutor" here. She's not there to prosecut… https://t.co/ye9F16agy5

— O.T. Ford (@O.T. Ford)1538087043.0
@ot_ford @pbump Notice they also didn't let her ask anymore questions after that.

— Joy Taylor-Simper (@Joy Taylor-Simper)1538090951.0
@stylecounsel_30 @ot_ford @pbump According to Dems the plan was for her to question BOTH of them.

— Joy Taylor-Simper (@Joy Taylor-Simper)1538139517.0
@serenitynowokay @stylecounsel_30 @ot_ford @pbump Grassley stated that would be the way this hearing would go right… https://t.co/lLW6SnLKIu

— Lauri Boxrucker (@Lauri Boxrucker)1538140873.0
@pbump He also said the drinking age was 18 when he was in highschool. The drinking age in '82 in Maryland was 21.… https://t.co/AgjZ08mFtJ

— Joy Taylor-Simper (@Joy Taylor-Simper)1538090859.0
Dear @JeffFlake: Can you please just ask for a 1 day delay so Committee staff can check to see if the house listed… https://t.co/raakrB2e2l

— Ted Lieu (@Ted Lieu)1538140524.0
The Senate Judiciary Committee hearing for Kavanaugh continues Friday. Then committee chair, Republican Senator Chuck Grassley, can opt to continue the hearing process or call for a vote.