On August 21, after much speculation concerning her stance on President Donald Trump's Supreme Court nominee, Brett Kavanaugh, Maine Republican Senator Susan Collins posted her official statement on Facebook.
Prior to this statement, Collins stated her endorsement of Kavanaugh hinged on his view of "settled law" in regards to women's reproductive rights and the SCOTUS case of Roe v. Wade. Collins long claimed to support women's reproductive rights.
---
After meeting with Kavanaugh for two hours, Collins announced to her constituents she knew where Kavanaugh stood, but would follow the confirmation hearings before making a final decision. In statements to the press, her office reassured Collins performed due diligence.
Here is Collins August 21 Facebook post and the largely unfavorable reactions to it...
[facebook https://www.facebook.com/plugins/post.php?href=https%3A%2F%2Fwww.facebook.com%2Fsusancollins%2Fposts%2F10157616651908362&width=500 expand=1]

...and the Maine Senator's official statement.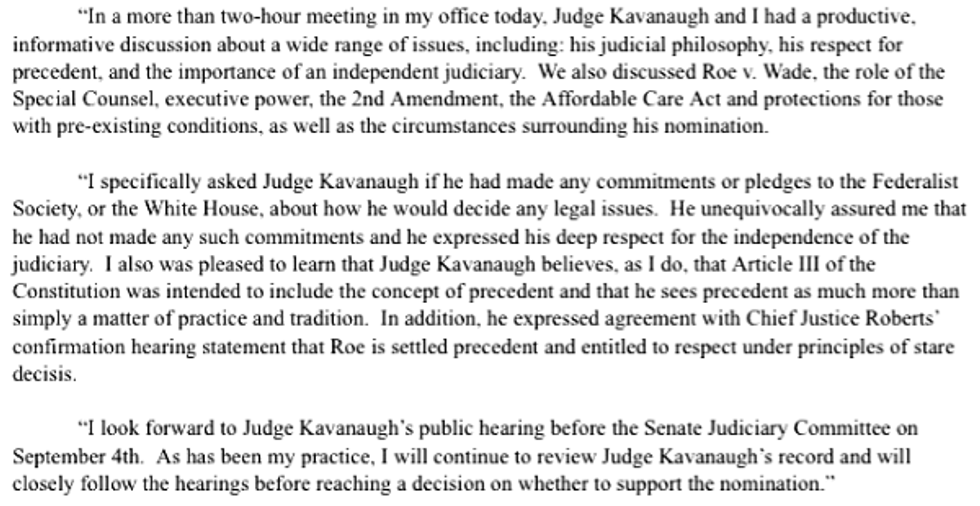 Senator Collins official statement on meeting with Brett Kavanaugh. (Facebook)
But now new information, from the many records suppressed by the Trump White House and Senate Republicans, concerning Kavanaugh's views on Roe v. Wade is available. And it appears Kavanaugh's view of Roe v. Wade as settled law is not as firm as Collins told her constituents.
He lied to Susan Collins. He doesn't believe Roe is settled law. https://t.co/PAVV0qENvD

— Winifred (@Winifred) 1536249032.0
As a staunch pro-choice advocate, any wavering in Kavanaugh's commitment to settled law would change Collin's stance on Trump's nominee.
@WaywardWinifred Now we'll see if she cares

— Third Summers Brother Wants Billionaire Tears🍕 (@Third Summers Brother Wants Billionaire Tears🍕) 1536252593.0
Unless, it did not.
Collins dismisses Kavanaugh 2003 Roe email, noting "he was merely stating a fact, which is that three judges on the… https://t.co/OxvFO53GUm

— Igor Bobic (@Igor Bobic) 1536254490.0
Despite claims of thorough vetting and touting her commitment to women's rights, reproductive and otherwise, Collins announced:
"I am told he was editing an op-ed or something for clarity and was merely stating a fact, which is that three judges on the court were anti-Roe. If that's the case and he was not expressing his view, then I'm not sure what the point of it is."
@igorbobic @AndrewHClark Ha. I love this whole response of "guess we don't know what his views on Roe are." What is… https://t.co/3mSCw9ZY6y

— Jake (@Jake) 1536256715.0
But for supporters of women's rights and many of Collins constituents, there are a few too many "ifs" and "or somethings" in Collins justification of not committing to a Kavanaugh "no" vote.
They make the case that if Collins is unsure of his stance, the proper vote is "no." Many also cited lying as a definite deal breaker.
@WaywardWinifred @jonfavs and she lied to herself. and her constituents.

— stephanie b. (@stephanie b.) 1536249284.0
@WaywardWinifred Susan Collins lied to all of us. She knew the deal. #Kavanaugh #RoeVsWade

— I.F. Thunder (@I.F. Thunder) 1536249821.0
@WaywardWinifred @womensmarch @SenatorCollins ? Do you like to be lied to?

— Beth Steinberg (@Beth Steinberg) 1536250226.0
@WaywardWinifred @womensmarch She knows he lied... she doesn't care

— Indian Hunk (@Indian Hunk) 1536249819.0
@WaywardWinifred @MsAnthropist999 You should tag @SenatorCollins. Remind her Kavanaugh lied...not that will sway he… https://t.co/6yrRQ07h5M

— LarryGJr (@LarryGJr) 1536263307.0
@igorbobic The point is Collins is not pro-choice when it counts.

— (((Riffle))) (@(((Riffle)))) 1536256045.0
@igorbobic @GlennKesslerWP She's either as dumb as a brick or exceedingly good at saying one thing and doing anothe… https://t.co/BFuGrWgjz6

— IM (@IM) 1536257757.0
@Montstradamus @igorbobic @SenatorCollins Hey Sue, how would you interpret Kavanaugh's description of birth control… https://t.co/pGFsLj6n2w

— Group Capt. Mandrake (@Group Capt. Mandrake) 1536268835.0
@igorbobic @SenatorCollins knows that Kavanaugh is anti-choice and will work to overturn Roe v Wade. She's just wil… https://t.co/PGQCQNpRWM

— Meowser (@Meowser) 1536266935.0
A group began accepting donations to support Collins opponent in 2020 when her current term ends.
@igorbobic If she votes yes let's vote her out in 2020. https://t.co/Gaiq20mq9J

— Very Legal & Very Cool (@Very Legal & Very Cool) 1536254829.0
However sources in her home state know Collins considered a run for Governor in 2018 as a means of leaving Washington. Her constituents expect this to be her last term in the Senate before retiring in 2020.
Another troubling email that came to light Thursday included coaching from Kavanaugh for a circuit judge appointee. In it, Kavanaugh stated:
"She should not talk about her views on specific policy or legal issues. She should say that she has a commitment to follow Supreme Court precedent, that she understands and appreciates the role of a circuit judge, that she will adhere to statutory text, that she has no ideological agenda."
If the wording sounds familiar, it bears a striking resemblance to the results of the Kavanaugh Collins meeting.