Jared Kushner, President Donald Trump's son-in-law and senior adviser, failed to disclose during his closed interview with the staff of the Senate Intelligence Committee that he used his personal email accounts to conduct official White House business.
The chairman of the committee, Senator Richard Burr (R-N.C.), and the vice chair, Senator Mark Warner (D-VA), only learned of the personal email account, which Kushner used from January through August of this year, via news reports. The two men were reportedly so upset that they wrote Kushner a letter via his attorney Thursday instructing him to double-check he has turned over every pertinent document for the committee's investigation.
---
"The Committee was concerned to learn of this additional email account from the news media, rather than you, in your closed staff interview," Senators Burr and Warner wrote in an official letter. "Please confirm that the document production that you made to the Committee—and any and all searches of email accounts for that document production—included the additional 'personal email account' described to the news media, as well as all other email accounts, messaging apps, or similar communications channels you may have used, or that may contain information relevant to our inquiry."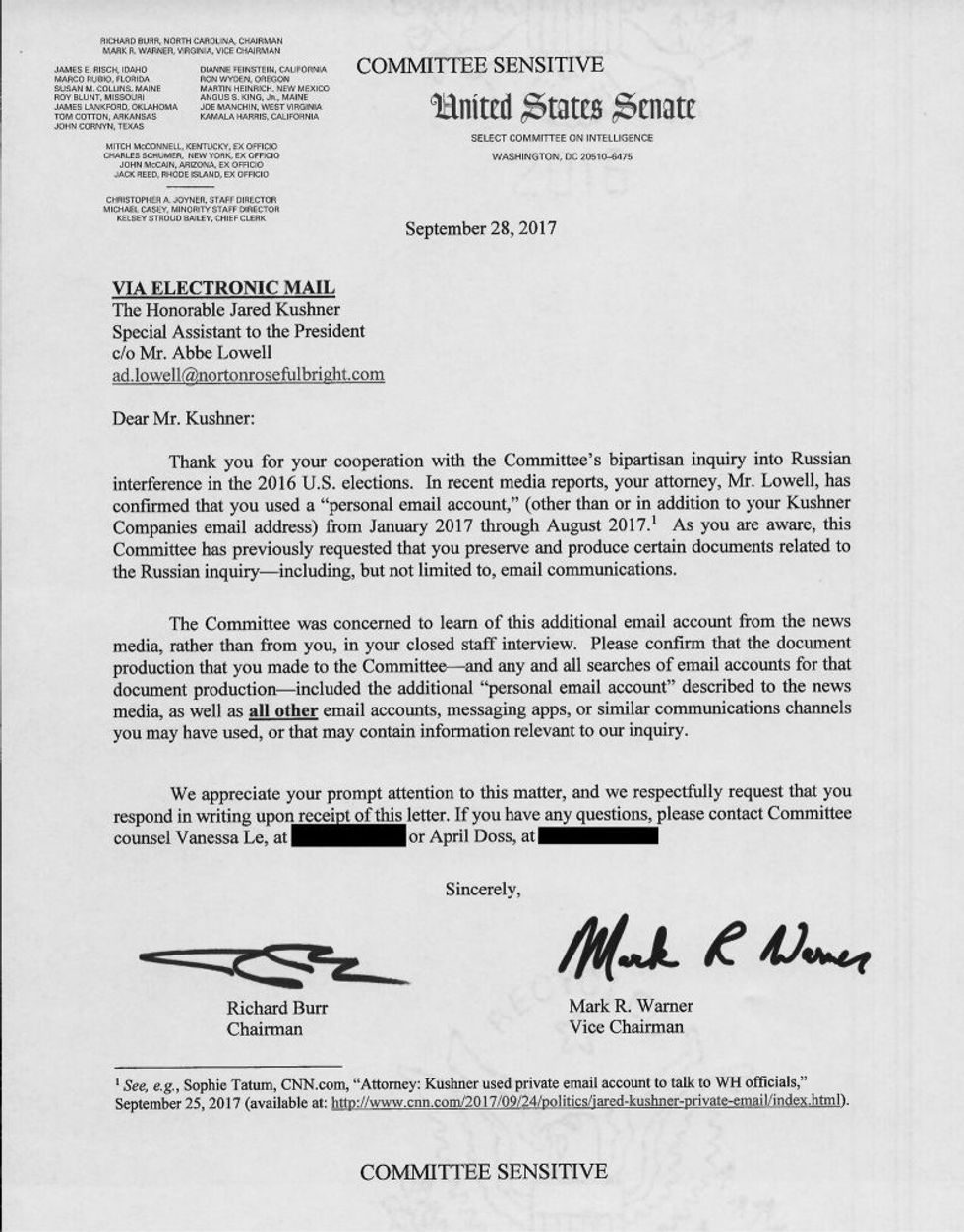 Image: Screengrab from CNN.
"It is perfectly normal that the committees would want to make sure that they received all pertinent records," Kushner's attorney, Abbe Lowell, told CNN. "We did review this account at the time and there were no responsive or relevant documents there. The committee was so informed when documents were produced and there is no issue here."
The matter has become an even larger source of shame for Kushner's legal team––and Lowell specifically––however.
CNN obtained the letter labeled "COMMITTEE SENSITIVE" via James Linton, the self-styled "email prankster" based in the United Kingdom who earlier this year fooled senior White House officials into thinking he was other members of the administration. CNN says Lowell accidentally forwarded the letter to Linton after he, posing as Kushner, had written Lowell confessing "exchanges with a website featuring adult content."
Linton gloated about the ruse on his Twitter account...
**NEW** JARED KUSHNER'S LAWYER, ABBE, sent this to my FAKE JARED email address today!!! 😳😯 pls support 👊🏻 BITCOI… https://t.co/SYaNDyHGXR

— james linton (@james linton) 1506628763.0
...and promptly forwarded the letter to the news media.
The letter signals the committee's frustrations with Kushner, who has faced accusations of attempting to mislead the probe into Russian election interference. A report in June revealed that he still has a security clearance and access to classified information despite reports that he failed to disclose meetings with Russian officials and businessmen. Kushner also omitted dozens of contacts with foreign business leaders on his SF86 security clearance application even though the application asks for a list of all encounters with foreign government officials over the past seven years.
Kushner has come under increased scrutiny after a report surfaced that he met with both Sergey Kislyak, the Russian ambassador to the United States, and Sergey Gorkov, the head of a state-owned Russian development bank, to discuss issues including sanctions. During his meeting with Kislyak, he purportedly suggested establishing a secure communications line between Trump officials and the Kremlin at a Russian diplomatic facility. The meeting occurred as Kushner's company sought to finance its $1.8 billion purchase of an office building on Fifth Avenue in New York, and could, The Washington Post reports, "raise questions about whether Kushner's personal financial interests were colliding with his impending role as a public official."
Kushner has also sought to distance himself from a bombshell report that the president's son, Donald Trump Jr., revealed that he met with a Russian lawyer during the presidential campaign. An intermediary for the lawyer promised damaging information about Hillary Clinton, the Democratic opponent. Trump Jr.'s emails contradict months of denials by the Trump administration of any collusion with Russian operatives. Kushner describes attending the meeting, noting that he arrived late and that when he got there, the Russian lawyer was discussing a ban on U.S. adoptions of Russian children.
Kushner's email scandal has prompted many to accuse the Trump administration of hypocrisy. President Donald Trump regularly admonished Hillary Clinton, his Democratic opponent, for using her own private server to handle her State Department emails. He rallied his supporters in part by threatening to have her face a "special prosecutor."
What if Jared Kushner used his personal email to send WH Officials stories about @HillaryClinton's emails... https://t.co/dkVuBRBCdP

— Amee Vanderpool (@Amee Vanderpool) 1506286369.0
Jared Kushner email situation won't become a scandal just like the Bush-Cheney-Rove emails didn't. It was never the emails. It was Hillary.

— Adam Best (@Adam Best) 1506296398.0