[DIGEST: Indiana Star, San Francisco Globe, Self, Arkansas Online, CNN]
Indiana governor Mike Pence has signed into law a bill that would prevent women from seeking an abortion due to fetal abnormalities. House Enrolled Act 1337 makes Indiana one of the most restrictive states in the nation when it comes to abortion. North Dakota is the only other state that bans abortion for patients who learn their fetus has abnormalities. Indiana's law goes a step further: Physicians could face a wrongful death lawsuit if they grant an abortion to a patient who learns of fetal abnormalities during genetic testing. They are also required to inform patients about fetal hospice care. Additionally, women will be required to provide burial or cremation services to pregnancies lost to miscarriage or abortion. (It is unclear at what developmental stage a miscarriage would require a burial or cremation.) The law goes into effect July 1, 2016.
---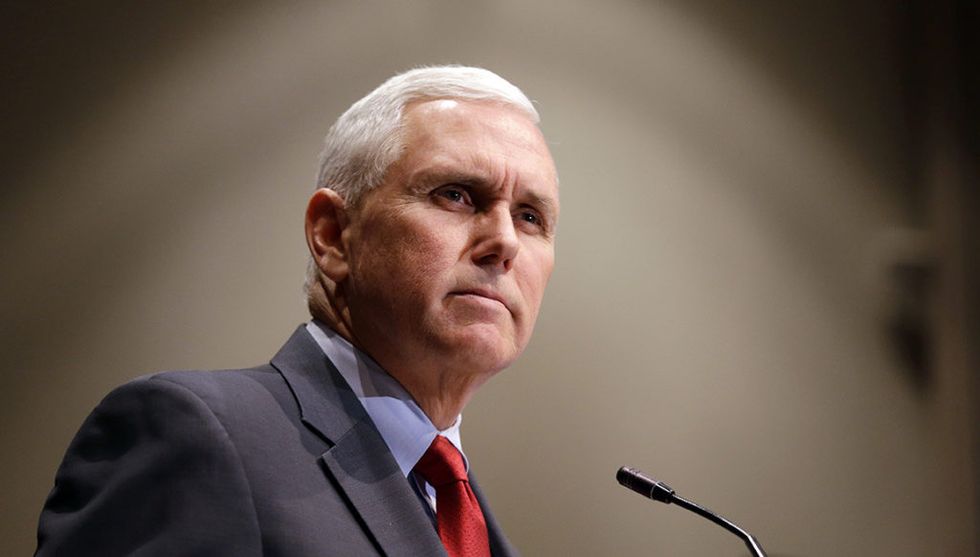 Gov. Mike Pence. Credit: Source.
"HEA 1337 will ensure the dignified final treatment of the unborn and prohibits abortions that are based only on the unborn child's sex, race, color, national origin, ancestry, or disability, including Down syndrome," Pence said in a statement.
Physicians, abortion rights groups and even many Republican lawmakers objected to the measure. Several GOP lawmakers argued against the bill. "The bill does nothing to save innocent lives. There's no education, there's no funding. It's just penalties," said Rep. Sharon Negele (R-Attica), who sponsored a 2015 bill requiring Planned Parenthood to give abortion patients ultrasounds before receiving abortion-inducing drugs.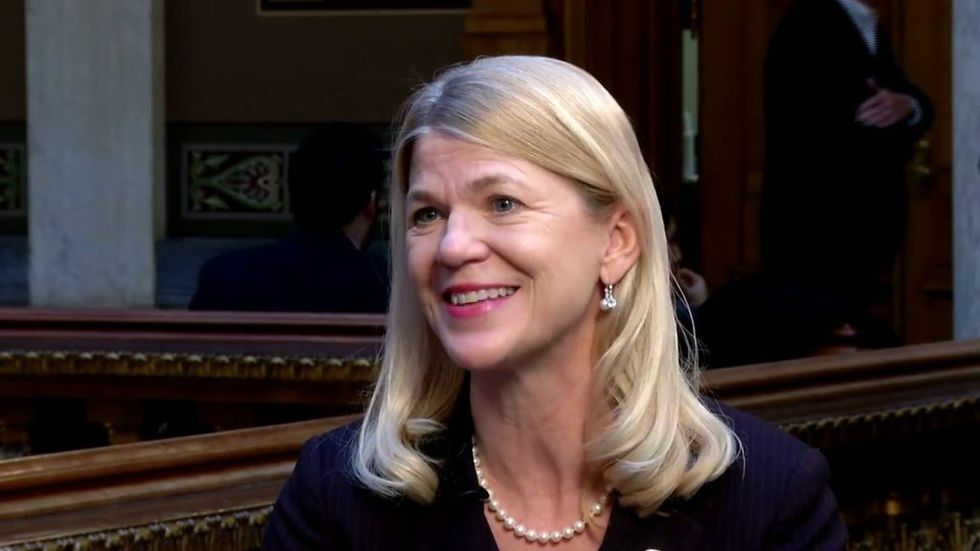 Rep. Sharon Negele. Credit: Source.
No exclusions exist for women whose lives are endangered by continuing pregnancies of fetuses with abnormalities. "I feel this is government overreaching. We haven't done a proper process to vet this," said Rep. Cindy Kirchhofer (R-Beech Grove). "I feel that I'm determining whose life has more importance here."
Terry O'Neill, president of the National Organization for Women, also weighed in. "This bill is a classic example of how you cannot separate abortion care from the entire spectrum of women's reproductive health care," she said. "Pregnancies go wrong and sometimes
fetal abnormalities go so wrong that the woman's health is in danger." Continuing a dangerous pregnancy can also threaten a woman's ability to have a healthy pregnancy in the future, O'Neill says.
"Today is a perfect example a bunch of middle-aged guys sitting in this room making decisions about what we think is best for women," said Rep. Sean Eberhart, (R-Shelbyville). "We need to quit pretending we know what's best for women and their health care needs."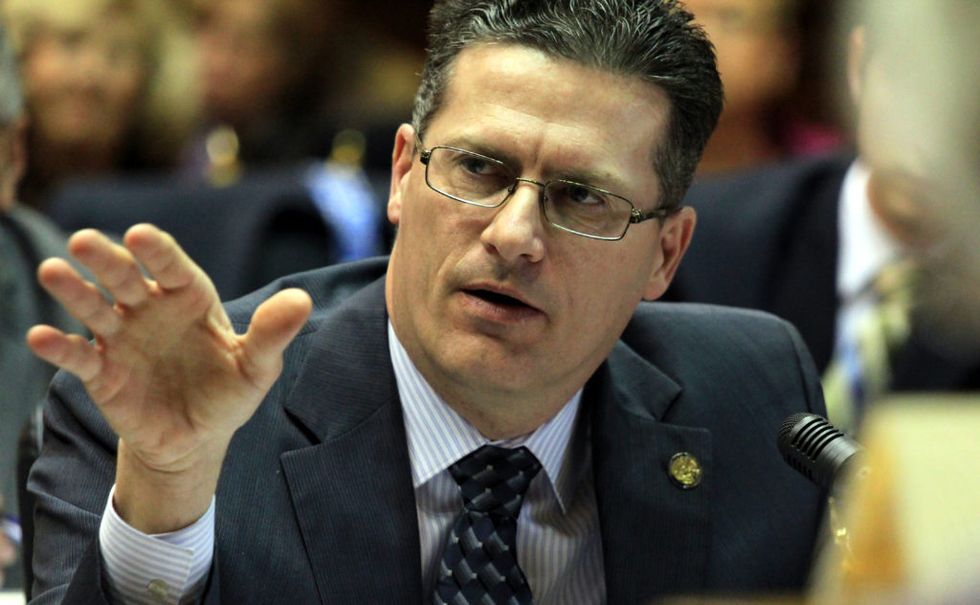 Rep. Sean Eberhart. Credit: Source.
The High Cost of No Choice
[post_ads]
"Some of my most precious moments as Governor have been with families of children with disabilities, especially those raising children with Down syndrome," said Pence, singling out a disorder that is widely included in genetic testing.
However, the bill would include any and all genetic abnormalities, including devastating conditions such as microencephaly, inseparable conjoined twins, missing vital organs and fatal Trisomy disorders.
Critics of the bill say that the bill does not allocate funds to help families manage the financial realities associated with fetal abnormalities, including surgery and other medical procedures; round-the-clock care at home or in a hospital; special education and equipment; or for a foster care system to handle situations when a women is unable or unwilling to care for a profoundly disabled child.
"For babies born with Trisomy 13 and 18, survival beyond a few days is almost never
going to happen," says OB/gyn Jen Gunter. "Are doctors then going to have to do heroic measures for an infant born with these conditions? Who is going to pay for all of that?"
The bill includes no provisions to help women who experience miscarriage with burial or cremation services. Gunter says that the costs associated with the bill may prevent miscarrying women from seeking care—at risk to their health. "People delay care all the time because they worry about cost."
The measure also requires physicians who provide abortions to obtain admitting privileges at nearby hospitals. Brownsyne Tucker-Edmonds, an obstetrician-gynecologist in Indianapolis, said HEA 1337 puts an undue burden on women and their physicians and, by doing so, imperil patients' health.
"It will require a woman, during one of the most devastating times in her life after learning of a fetal anomaly, to prolong her pregnancy even if against her wishes, and to potentially assume the greater health risks associated with doing so," Tucker-Edmonds said. Some women have "cases in which the risk of death during a full-term pregnancy is more than 14 times higher than for a termination of pregnancy."
Indiana Government Gets Personal
Under Governor Pence, Indiana's government has taken a hands-on approach to the private lives of its citizens. In 2015, Pence signed the Religious Freedoms Act that would have permitted businesses to discriminate against gays and lesbians. After an outcry from the
business community that included boycott threats by major corporations and sporting institutions, he promised to add language to the bill that would prevent discrimination. A new bill has been introduced that would once again strip away those protections.
This year, Indiana will also consider imposing some of the nation's most restrictive laws on use of bathrooms by transgendered people, making it a crime for people to use bathrooms that do not correspond with the gender assigned to them at birth.
The bill does not address how bathroom use should be determined for individuals born with ambiguous genitalia or sex chromosome abnormalities such as Klinefelter's syndrome, in which both male and female chromosomes are present. (Klinefelter's occurs in one out of 400 pregnancies and the diagnosis, incidentally, is associated with high rates of pregnancy termination.)
Planned Parenthood of Indiana and Kentucky plans to seek a judicial review of HB 1377 and expects to file a complaint and request for preliminary injunction.