To say the Trump Administration has a credibility problem is like saying the Titanic had minor issues with customer satisfaction. In the last week, The Washington Post, Chicago Tribune, New York Daily News and scores of other newspapers and magazines did stories on the lies told by President Donald Trump with headlines like "All the President's Lies" and "Trump lies. And lies. And lies."
And that reputation extends beyond the United States border. The Toronto Starestablished a Trump fact checker. According to the introduction, the Canadian news organization is "keeping track of every false claim U.S. President Donald Trump has made since his inauguration on Jan. 20, 2017. Why?"
---
Historians say there has never been such a constant liar in the Oval Office. We think dishonesty should be challenged. We think inaccurate information should be corrected. And we think the sheer frequency of Trump's inaccuracy is a central story of his presidency."
Natural Resources Defense Council, Politifact, The Washington Post and other organizations both in and outside the news media are also tracking the lies associated with Trump.
Now, to show some balance, The Huffington Post compiled a video of the truths of Trump. The one minute, 28 second video, features clips from speeches the President made during his campaign and after his election.
Of course, most of the truths are less than flattering.
On May 5, 2016, candidate Trump stated he used to call the election system rigged but once he won the Republican candidacy, he no longer said it. In August of the same year, the presidential candidate said in the heat of the moment he often said the wrong thing.
Then in December, after the election, when his supporters chanted "lock her up" Trump said he did not say that anymore because it only plays great before the election, but post election he didn't care.
In 2018, Trump admitted to saying good things about Kim Jong Un because he made a deal with him but if the deal went south he would find some kind of excuse.
The President also told the truth about lacking social skills but having plenty of social media and only speaking about polls that favor him.
Reactions to the video —posted by Huffington Post on their politics and main Twitter feeds— were equally unflattering, as the following examples show.
However on Facebook, out of several hundred comments made —after 360,000 views and five hours after the video was posted— the President garnered a few supporters.

Facebook comment on video "Trump Tells the Truth"

Facebook comment on video "Trump Tells the Truth"

Facebook comment on video "Trump Tells the Truth"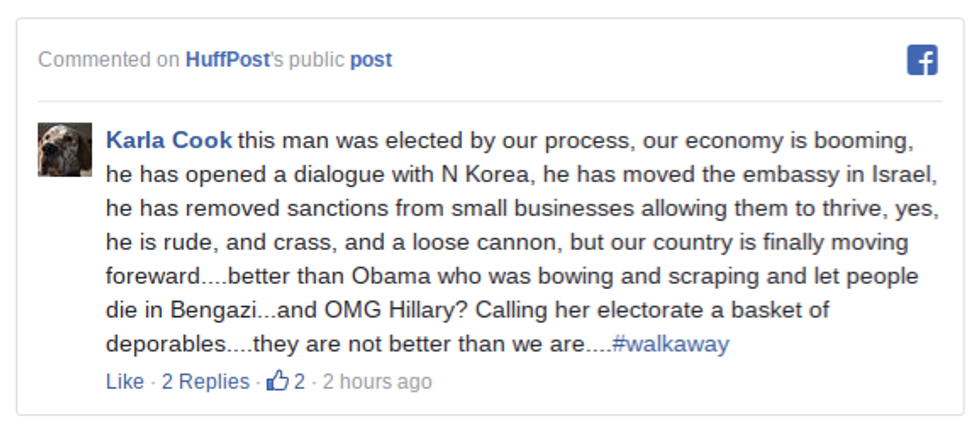 Facebook comment on video "Trump Tells the Truth"
They all mentioned either President Barack Obama, former Secretary of State Hillary Clinton, Benghazi or some combination of those themes. After 5 hours, Twitter failed to show similar supportive sentiments in the comments.