Many people—even those who follow Washington politics—may not know who Kevin Hassett is, but his name is getting notice now. While everyone tries to discern the identity of the anonymous "senior official in the Trump administration...whose job would be jeopardized by its disclosure" who wrote the now infamous OpEd for The New York Times, Hassett's name came up.
Kevin Allen Hassett is an American economist and Chairman of the President's Council of Economic Advisers. Prior to the OpEd mystery, Hassett was best known for his work on tax policy and for co-authoring the 1999 book Dow 36,000.
---
One thing Hassett is not, however, is the author of that New York Times OpEd titled "I Am Part of the Resistance Inside the Trump Administration." And Hassett is willing to go to extraordinary lengths to prove it.
In an on camera interview with YAHOO! Finance, Hassett told The New York Times:
"So, The New York Times, if you're listening, if someone told you I wrote the piece, then you're allowed to announce that publicly."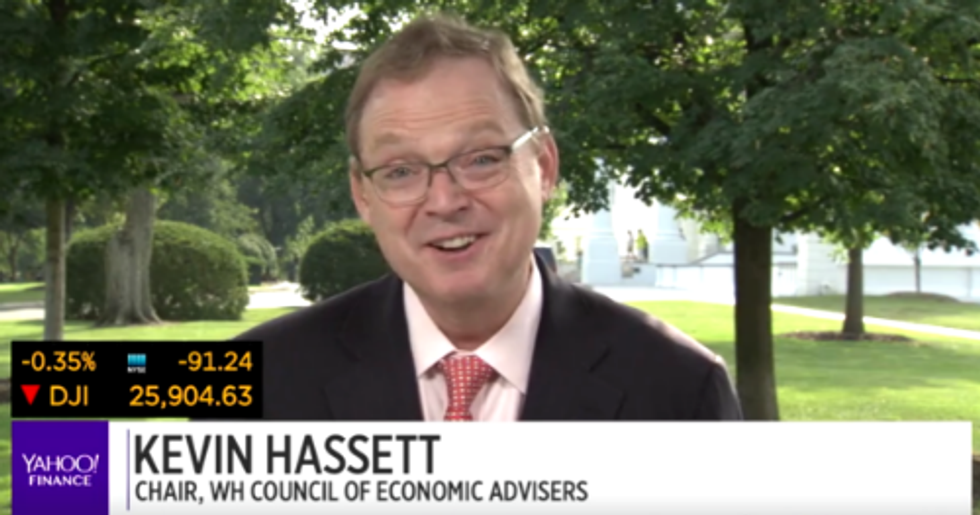 Economist Kevin Hassett asks The New York Times to release his name if he wrote their infamous anonymous OpEd. (YAHOO! screen grab)
Hassett went on to state he officially released any confidentiality agreements that might exist between The Times and "any Kevin Hassett" so if his name is attached to the OpEd, the paper could make it public.
Hassett's friends and former colleagues at The National Review backed his assertion. They stated in a short, 132 word piece online that Hassett is not the guy everyone is looking for.
Kevin Hassett Didn't Write the Op-Ed https://t.co/MqFFF7SH4Z

— Rich Lowry (@Rich Lowry) 1536336961.0
"...Kevin has strenuously denied it," The National Review piece stated, "and as all of us who count him as a friend know, he is a person of honesty and integrity."
"So case closed. Plus, he's not the type of guy who would go in to serve an administration and then undermine it through spectacular subterfuge. He'd simply quit."
The Review piece also pointed out Hassett's call out to The New York Times to please reveal his name if he is their anonymous OpEd writer.
"Finally, lest there be any doubt, Kevin on Yahoo Finance this morning said that if it's him, he releases the Times to share his name with the public."
I never suspected Hassett, but he really sets a new bar for denials -- saying NYT can release his name if it's him.… https://t.co/Pr5ynSWaLA

— Philip Klein (@Philip Klein) 1536349391.0
But how did the name of a relative unknown White House senior official get put in the mix to begin with? The National Review points to their rival, The Weekly Standard, as the culprit.
Weekly Standard editor-at-large, Bill Kristol, put Hassett's name out on Twitter Wednesday afternoon.
"John McCain put it best....We will always have his example—a lodestar for restoring honor to public life & our nat… https://t.co/YjsYkLv5F4

— Bill Kristol (@Bill Kristol) 1536183320.0
A Weekly Standard article posted Wednesday evening also put Hassett on their short list of four people they suspected of being the anonymous senior White House official. They picked:
Larry Kudlow - Chairman of the National Economic Council
Kevin Hassett - Chairman of the Council of Economic Advisers
Dan Coats - Director of National Intelligence
Mike Pompeo - Secretary of State
All four men went on record as not writing the OpEd after The Weekly Standard article published.
In keeping with the rivalry between the two publication, a Weekly Standard writer responded directly to The National Review's assertion that the question was "ridiculous" until a staffer officially denied they wrote the OpEd.
The New York Times did not respond to Hassett's request, however they did point to President Donald Trump's escalating threats as proof of need for their anonymous author to remain anonymous, as evidenced below.
Trump—who invokes the word witch hunt often to decry his own legal issues—mounted a bit of a witch hunt of his own after the OpEd's publication. Senior White House officials scrambled to disavow any knowledge of the piece and disparage the contents.
For those of you asking for the identity of the anonymous coward: https://t.co/RpWYPHa6To

— Stephanie Grisham (@Stephanie Grisham) 1536248644.0
The anonymous editorial published in the @nytimes is disgraceful. The author should resign. My thoughts from Orland… https://t.co/j19zygoI7Q

— Vice President Mike Pence (@Vice President Mike Pence) 1536255802.0
A review of Trump's Twitter feed shows his obvious ire over the content of The New York Times' piece.
Does the so-called "Senior Administration Official" really exist, or is it just the Failing New York Times with ano… https://t.co/SFpcmDDIbU

— Donald J. Trump (@Donald J. Trump) 1536190832.0
As for Hassett, in addition to denying his connection to the OpEd, the economist stated he questioned the validity of it as it "didn't characterize the White House" he knew.
Watch the full YAHOO! Finance interview here:
Top Trump economist says bombshell NYT op-ed 'might be a fraud' https://t.co/mJTn9oM39o via @YahooFinance

— Jennifer Rogers (@Jennifer Rogers) 1536337842.0