UPDATE AS OF 4 PM EST: It's official: North Carolina GOP Gov. Pat McCrory has signed legislation stripping power from the governor's office before his successor, Democrat Roy Cooper, takes office next year.
North Carolina Republicans who control the General Assembly called a surprise special session to present bills designed to strip power from the newly progressive governor and state Supreme Court amid heated ideological battles in the state.
---
Initially, the Republican majority came back to the General Assembly to mull over measures regarding disaster recovery and dealing with victims of hurricane flooding and wildfires in the western part of the state. Their call for another special session surprised Democratic lawmakers––it was then that they introduced bills to end the governor's control over election boards, to require State Senate approval of the new governor's cabinet members, and to remove his power to appoint University of North Carolina trustees. Republicans also proposed a measure which would substantially reduce the number of state employees who serve at the governor's leisure. According to Jeff Tiberii, a political reporter with WNYC, there are 1,500 positions within the administration; the proposal would cut that number to a mere 300.
Should these measures pass, they would significantly roll back judicial independence, weaken environmental standards, sap public education, preserve illicit voter suppression laws, and significantly cripple the state's incoming governor, Roy Cooper, who takes office next month.
Lawmakers barred the public from witnessing the session yesterday after the Assembly decided to close the House and Senate galleries, arrest protesters, and detain Joe Killian, a reporter with North Carolina Policy Watch.
I'm told our reporter @JoekillianPW was arrested #ncga #ncpol

— Melissa Boughton (@Melissa Boughton) 1481839557.0
Authorities arrested those who refused to leave on charges of trespassing.
20-25 protesters arrested, charged with trespassing according to the police officer down here #ncpol #ncga

— Colin Campbell (@Colin Campbell) 1481839851.0
Officers also barred the media from the basement where arrestees were being processed.
...and media just got booted out of the basement where arrested protesters are being taken. Which is typically a public hallway #ncpol #ncga

— Colin Campbell (@Colin Campbell) 1481840025.0
"This is about democracy," this woman said as she walked past me. #ncpol #ncga https://t.co/vgX1qlIrP3

— Colin Campbell (@Colin Campbell) 1481839797.0
The current governor, Pat McCrory, officially conceded last week after a heated governor's race and a monthlong challenge of the vote (there was no evidence to substantiate allegations of voter fraud across the state). Republicans held on to supermajorities in both chambers, however, and Democratic leaders have accused Republicans of trying to undo the election results.
"This is an unprecedented, shameful and cowardly power grab from the Republicans,'' said Jamal Little, a spokesman for the state's Democratic Party. "After losing the governor's office, the G.O.P.-controlled General Assembly is attempting to hold on to power that voters took away from them."
Governor-elect Roy Cooper also rebuked the GOP's actions, and in a public address, said that their "partisan power grab is more ominous... I have offered to work with the Republican leadership, and I'm even ready to negotiate compromises if I think the result will make life a little bit better for everyday North Carolinians... Instead, what's happening now, they look like partisan political games, but the result could hurt North Carolinians."
But David Lewis, a Republican leader in the House, defended the moves, saying that Republicans would "work to establish that we are going to continue to be a relevant party in governing the state."
A "contentious political atmosphere" has engulfed North Carolina this year, notes Jeff Tiberii, and HB2, the Public Facilities Privacy and Security Act, has severely divided the state.
In March, the North Carolina legislature passed a bill that overturns local gay and transgender protections in a special one-day session that cost taxpayers approximately $42,000. Governor McCrory signed the bill into law mere hours after its introduction. The bill was a direct response to a prior nondiscrimination ordinance in the city of Charlotte,
which had offered a wide range of protections. Most notably, the Charlotte ordinance allowed citizens to use the restroom that best matches their gender identity. State lawmakers acted ostensibly out of concern that women and children could be victimized by sexual predators posing as transgender to enter women's restrooms.
The Tar Heel State received almost immediate condemnation as state and local governments around the country began to weigh in. The governors of New York,Washington and Vermont halted most official state travel to North Carolina in response. The mayors of New York, San Francisco and Seattle imposed similar bans. Business leaders vowed to relocate their company headquarters and entertainers resolved not to perform in the state until the law is repealed.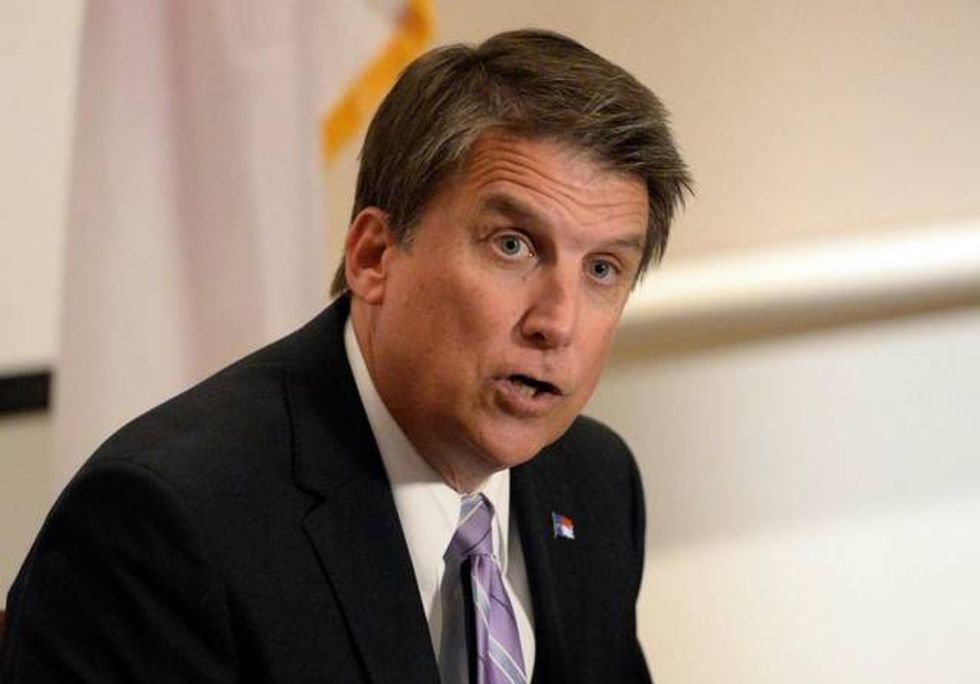 North Carolina Gov. Pat McCrory. (Credit: Source.)
The Department of Justice sent letters to both North Carolina Governor Pat McCrory and North Carolina's university leaders alerting them that the so-called "Bathroom Bill" violates the U.S. Civil Rights Act. The state filed a lawsuit against the DOJ in response, accusing the federal government of overreach and arguing that Title VII does not recognize transgender status as a protected class. "If the United States desires a new protected class under Title VII, it must seek such action by the United States Congress," the suit said in part. It lists Governor Pat McCrory and other state officials as plaintiffs. HB2 is still in effect.
County boards also faced criticism before Election Day. (The governor, under state law, names five members to the state Elections Board, who in turn appoint the 100 county boards.) Some boards had passed rules which critics said shirked a federal court decision striking down a state voting law, including setting limited voting hours, limiting voting locations, and cutting Sunday voting altogether. The court ruled that a 2013 law discriminated against African American voters. Opponents criticized these measures as attempts to suppress black voter turnout.
"Federal courts this year have also struck down boundaries––political boundaries––both state legislative districts and also congressional maps because they describe them––they ruled that they were a legal racial gerrymander," says Jeff Tiberii. "So at the heart of this, this is really about who's going to control the state––Republicans or Democrats and where some of these powers lie, whether it's the legislative branch or the executive branch."