Former Federal Bureau of Investigation (FBI) director James Comey is set to launch his tell-all book on Tuesday. And the Republican Party is trying to get ahead of any fall-out from it by having a launch of their own: an anti-Comey website.
Lyin' Comey received White House approval and is overseen by the Republican National Committee. The GOP plans to discredit Comey, fired by President Donald Trump at the beginning of the Russia investigation.
---
To counteract or mitigate any revelations from his book, their strategy includes the website, digital advertising, and distribution of talking points for Republicans or any of those loyal to President Trump to use.
The website relies heavily on unlikely sources for criticism of Comey. Quotes from Democrats, especially former Secretary of State Hillary Clinton, feature prominently.
"Maybe he's not in the right job," is quoted from Nancy Pelosi. A Maxine Waters quote, "The FBI director has no credibility," is also included. From Chuck Schumer they use, "I do not have confidence in [Comey] any longer."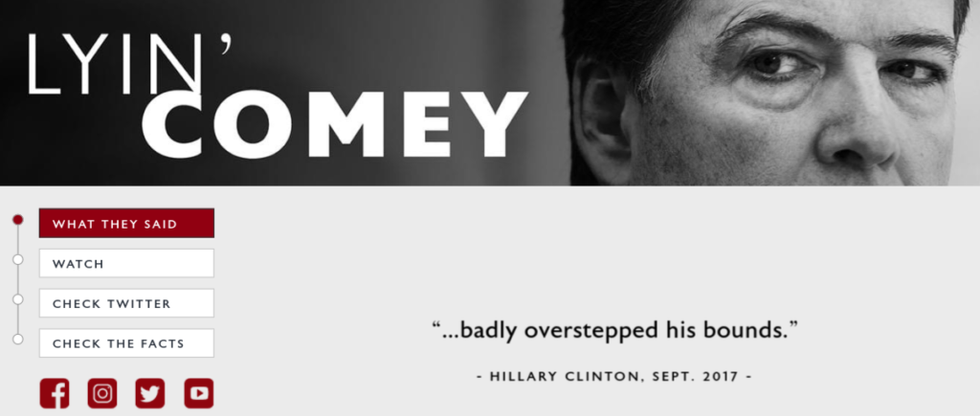 Screenshot from Republican National Committee website Lyin' Comey. (Lyin' Comey)
"Comey is a liar and a leaker and his misconduct led both Republicans and Democrats to call for his firing," GOP chair Ronna McDaniel said in a statement.
If Comey wants the spotlight back on him, we'll make sure the American people understand why he has no one but himself to blame for his complete lack of credibility."
The Comey memoir, titled "A Higher Loyalty," releases Tuesday. The book launches as most high profile ones do, with a series of media appearances.
The first interview is slated to air Sunday. The interview, with former Democratic Party adviser and White House communications director under Bill Clinton, George Stephanopoulos, quotes Comey comparing Trump to a "mob boss."
The Republican plan of attack demonstrates the concern the GOP and Trump's allies have about both Comey's memoir and his forthcoming media blitz.
The GOP plan includes:
"Comey has a long history of misstatements and misconduct," including damage caused to the FBI because of "bizarre decisions, contradictory statements and acting against Department of Justice and FBI protocol."
"Attempts to smear the Trump administration are nothing more than retaliation by a disgraced former official."
"Comey isn't credible -- just ask Democrats." The digital ads show the same Democratic leaders quoted on the home page of the website who called for Comey's resignation after he injected himself into the 2016 presidential race: House Democratic leader Nancy Pelosi, Senate Democratic leader Chuck Schumer and Rep. Maxine Waters.
The firing of Comey created a series of events that still overshadow the Trump administration. Robert Mueller was appointed as special counsel in the Russia investigation after Trump asked Comey to drop the probe into the activities of former national security adviser Michael Flynn.
The President could undermine his allies carefully orchestrated plan to discredit Comey. Trump's habit of Tweeting whatever he wants on the spur of the moment often does more harm than good with all but the president's most loyal supporters.
Comey already sparred a bit with Trump on Twitter, trading barbs. It could intensify after his book release.
Mr. President, the American people will hear my story very soon. And they can judge for themselves who is honorable and who is not.

— James Comey (@James Comey) 1521308604.0
The back and forth is almost certain to intensify after the release of James Comey's memoir and book launch media tour. It will take some time to analyze the complete fall-out.