It is no secret that President Donald Trump loves to communicate through Twitter. And for many, it is their way to send a clear message to the President.
The fact Trump used to block his critics on Twitter—until it was ruled illegal once he became President—indicated he listened.
---
Recently one of the people trying to get the President's attention on his favorite social media platform finally got Trump to retweet one of their posts. Twitter user @giamourizes posted a bait tweet of:
"My husband a New York City firefighter for 15 years will be voting Trump 2020 all the way!!"
But how is this vote of support anything unusual?
President Trump or a member of his team scoured Twitter for messages of support for his 2020 presidential campaign after the largest firefighters union pledged their support to former Vice President Joe Biden in 2020. The above message however was a troll trap.
The Twitter account glamourizes supports President Trump. The Twitter account gIamourizes posted the above message.
Same account? No.
When spelled glamourizes—lower case "L" after the g—and giamourizes—upper case "i" after the g—the two accounts are indistinguishable on Twitter. Both appear as glamourizes/gIamourizes.
However it is the rest of the account of giamourizes—with an "i"—that sent a real message to President Trump and his supporters. See for yourself on a screenshot of President Trump's retweet:

@realDonaldTrump/Twitter and giamourizes/Twitter
The user's name is:
"F*ck Donald Trump"
Their banner photo on their profile proclaims:
"ANYONE BUT TRUMP 2020"
These are details the President missed before retweeting their message of "support." Trump's twitter account has since deleted the retweet.
But not before many people caught what they initially missed, including giamourizes themself who is now using Trump's retweet as part of their Twitter profile.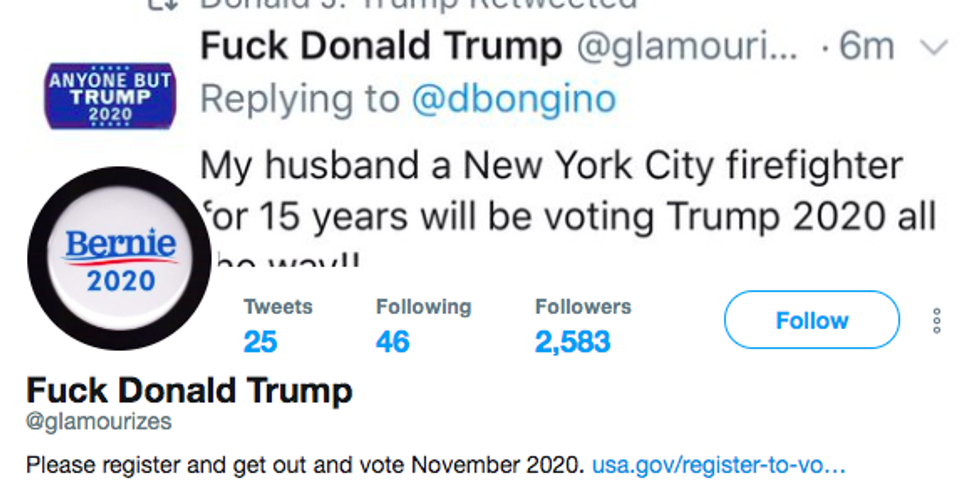 giamourizes/Twitter
People have been heaping praise upon giamourizes ever since or misdirecting it to glamourizes. The former is fine with the attention.
The latter? Not so much.
@glamourizes @gIamourizes It's unfortunate that you support Trump. Voting should not be about "what has Trump don… https://t.co/XCvNbL2Osd

— Peg Forster (@Peg Forster) 1556714562.0
The fact whoever posted the President's retweet mistook one account for the other shows someone is paying attention to which accounts support Trump to look for fodder for his Twitter feed. Apparently giamourizes noticed the pattern and exploited it.
But most people are here for the masterful trolling of giamourizes.
@gIamourizes You were absolutely correct! The dotard has since deleted his RT of your post, but thank goodness for… https://t.co/G8QtLqyZQf

— Jolly Old Saint Slick (@Jolly Old Saint Slick) 1556718622.0
The troller identified themselves only as a 20-something New Yorker who planned this two years ago when they created the clever account name to mirror an actual Trump supporter.
They told Huffington Post:
"I don't think he pays much attention at all when he goes on these RT-ing sprees. I just had to get him to notice once with a stroke of luck and I figured he'd bite."
They added:
"Found it pretty simple to come up with whatever any given avid supporter may tweet at him."
They also updated their profile picture from "ANYONE BUT TRUMP 2020" to "Bernie 2020" so screenshots are available with both messages.
@gIamourizes Bless you. You're doing God's work. https://t.co/cmswMMiuyU

— Dave is thankful (@Dave is thankful) 1556774195.0
@gIamourizes @ChanceFrom79th This calls for a celebration https://t.co/u4nX7YvcMp

— Isaac (@Isaac) 1556784156.0
@gIamourizes Made my day!!😂😂😂😂

— Abigail Freeman (@Abigail Freeman) 1556803123.0
@gIamourizes https://t.co/g7BFJqpNeo

— Leah Podvojski Cronk (@Leah Podvojski Cronk) 1556791603.0
On their Twitter profile, giamourizes urges people:
"Please register and get out and vote November 2020."
They also include the government website for registering to vote or checking your current registration. Now surely that is a message everyone can get behind.