[DIGEST: Yahoo, CNN, The Georgia Voice]
State-sanctioned discrimination is legal, according to the Georgia state Senate's religious freedom bill. The Georgia State Senate passed the GOP-backed legislation on February 19 by a 38-14 margin along party lines. Should the bill get the go-ahead from the Republican-led house, and wind up on the desk of Governor Nathan Deal, his approval could pave the way for legislation that has been heavily criticized for violating the equal protections clause of the Constitution.
---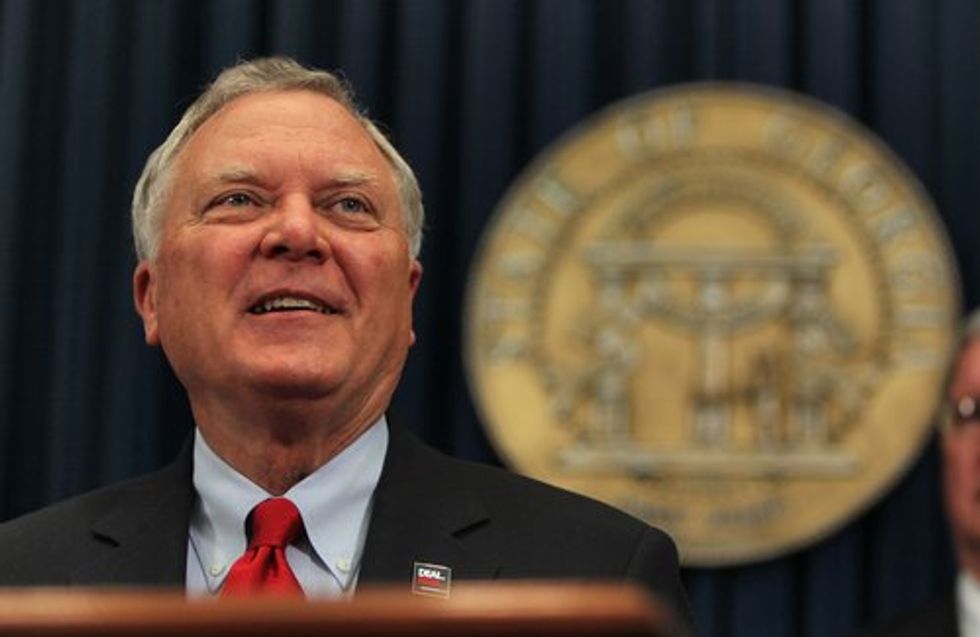 Governor Nathan Deal. Credit: Source.
But the bill's future is not certain. Responding to pressures from the business community, the governor expressed reservations about the bill: "We're working with the leadership of the General Assembly now as that bill is continuing to move through the process," he said. "So we'll see. I don't comment until things are finalized, and, by far, it's not finalized yet." According to Kaleb McMichen, a spokesman for House Speaker David Ralston, the bill was expected—but did not come to the House—by February 22. But Ralston can choose to call for a vote (or no vote) at any time during the session, which is scheduled to end March 24.
In a decision which troubled many, the bill was allowed to pass without any amendments. Sen. Nan Orrock (D-Atlanta) was the most vocal critic. "Disabuse yourselves of any notion that this has been vetted and that the input has been made and has been weighted and considered," she said. She then pointed out the bill's potentially negative and discriminatory effects on the LGBT community. "Untold numbers of gay, lesbian and transgender people are holding their breath in fear that we will pass this legislation. It says to them you're vulnerable, you're on your own."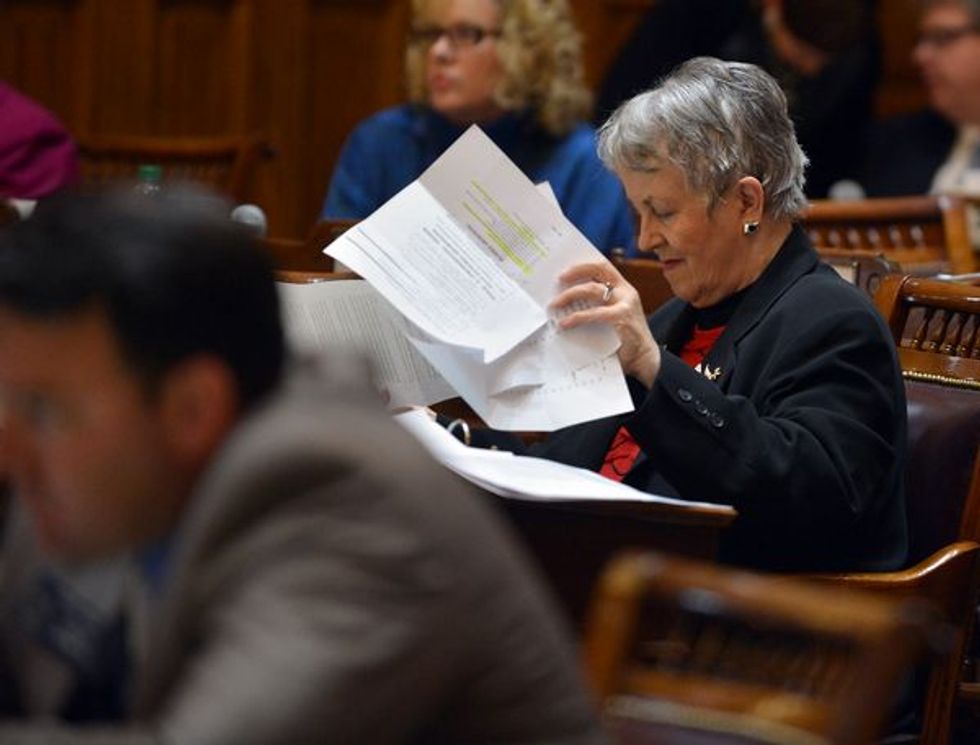 Sen. Nan Orrock. Credit: Source.
Many business leaders have expressed concern over the bill, fearing negative publicity, widespread boycotts and billions of dollars in lost revenue. A number of major Georgia-based businesses—Coca-Cola, Home Depot and Arby's among them—have joined the Georgia Prospers coalition in response to the bill. Members of the coalition pledge to
promote diversity in the workforce.
One Georgia-based telecom company, 373K, decided to move their headquarters to Nevada. "I'm gay, our CFO is gay, we have people from every walk of life working here," said co-founder Kelvin Williams in a telephone interview with The New Civil Rights Movement. "I've got Muslims, Buddhists, atheists here. We've got great Christians working for us. They've never thought of not serving anyone—that's not the message of Christ."
The complete bill is actually a hybrid of two bills. The Pastor Protection Act enables members of the clergy to refuse to perform same-sex marriages, while the First Amendment Defense Act (FADA) has faced the more scathing criticism of the two. FADA, according to Sen. Elena Parent (D-Atlanta), "sanctions discrimination against single mothers, unwed couples, interfaith couples, and interracial couples." [post_ads] The bill also grants religious organizations the right to deny services if they cite "a sincerely held religious belief or moral conviction" against same-sex marriage. Notably, the bill extends the right to discriminate to locally-funded and state-funded nonprofit organizations such as hospitals, adoption centers and even homeless shelters. Sen. Greg Kirk (R-Americus), the chief sponsor behind the legislation, countered Senator Parent's opposition with an impassioned defense of the bill's promise to "protect[s] the constitutional rights of individuals and faith-based organizations."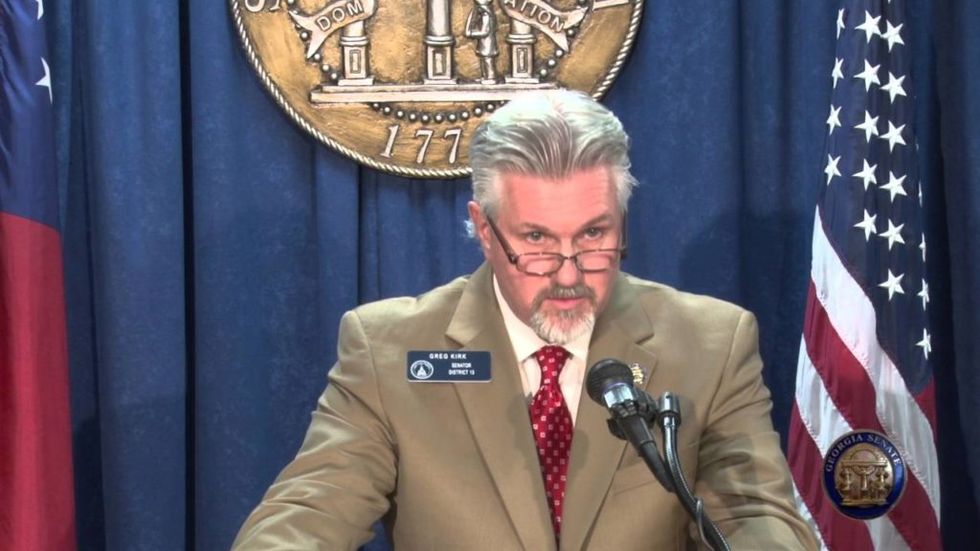 Sen. Greg Kirk. Credit: Source.
Kirk's claim that this is a "live-and-let-live" bill prompted local gay rights activist Robbie Medwed to lambast him in a column for the Atlanta-based magazine Creative Loafing. "Kirk really thinks that allowing anyone to discriminate against anyone makes the bill fair," he wrote. "Apparently he hasn't thought that maybe he should just not endorse discrimination, which would be far easier." The bill's overreach is unsettling, he writes, because it wouldn't necessarily only be the LGBT-community that could face retribution for supporting same-sex marriage. A disabled person who supports same-sex marriage, for instance, could, under this legislation, be denied care in private hospitals. A private transportation agency could deliver another painful hit by denying them a ride—the bill would place them well within their rights to do so.
Critics point out that nonprofits and other agencies sign contracts which require them to operate in accordance with federal or local non-discrimination ordinances as a condition to their establishment. There are currently no state-level ordinances within the state of Georgia which explicitly protect LGBT citizens from discrimination. Under FADA, these organizations would be permitted to violate these ordinances, which poses a conundrum: Any organization that violates such ordinances risks losing its grant money due to breach of contract. The costs of state legislation in a battle between Georgia's local municipalities and national organizations—or even the federal government—would be enormous.
The bill's passage by the Senate comes after a recent poll showing that two-thirds of Georgia residents support anti-discrimination legislation for LGBT people. In contrast, only 37% of Georgia residents support allowing small business owners to deny services to LGBT people on the basis of their religious beliefs. Religious freedom bills have regularly made the rounds in the United States: According to the National Conference of State Legislatures, there were 15 states which debated religious freedom bills last year. Georgia was among them.