Democrat John Ossoff very nearly pulled off a complete victory in Tuesday's special election in Georgia's 6th Congressional District, besting his rivals with 48.1 percent of the vote, his nearest GOP competitor (Karen Handel) a distant second at 19.8 percent with all 210 precincts now reporting.
Still, Democrats had been hoping for an outright victory with more than 50 percent of the vote in order to avoid a run-off, a prospect that had grown more tantalizing and possible as Ossoff's momentum grew with his popular anti-Trump messaging. Republicans were so concerned at this possibility that even the president began to weigh in via Twitter, taking more than a few swipes at Ossoff.  "Just learned that Jon @Ossoff, who is running for Congress in Georgia, doesn't even live in the district," Trump warned, "Republicans, get out and vote!"
---
Earlier, Trump had tweeted, "Republicans must get out today and VOTE in Georgia 6. Force runoff and easy win! Dem Ossoff will raise your taxes-very bad on crime & 2nd A" and "Democrat Jon Ossoff would be a disaster in Congress. VERY weak on crime and illegal immigration, bad for jobs and wants higher taxes. Say NO"
Trump and the GOP had reason for concern. The seat up for grabs, after Trump appointed Rep. Tom Price to his cabinet as Health and Human Services Secretary, had not been held by a Democrat since Jimmy Carter and was the long-time unassailable stronghold of Speaker Newt Gingrich. But the district, which includes the suburbs outside of Atlanta, had been undergoing a demographic change in recent years and had become more educated and diverse. Hillary Clinton narrowly lost the district to Trump in the 2016 race, even though Tom Price had received a commanding 62 percent of the vote.
Ossoff will only need to garner an additional two percentage points to win the seat, but with the GOP now able to galvanize around a single candidate instead of 11, those votes may prove challenging to scrounge together. Ultimately, the race will be determined by turn-out, and the Democrat may be able to press his advantage with an energized base that very nearly flipped a solidly red district.
A nationwide groundswell of support for Ossoff accounted for his ample campaign coffers (he'd raised over $8 million) as well as an army of volunteers. Early in the day, it seemed that returns from early voting might well put him over the top. But final results did not trickle in until late that night, and it became clear Ossoff would fall just shy of an outright majority. The day was also marred by confusion and reports that voters were being turned away from polling places, even though they had just voted there in November.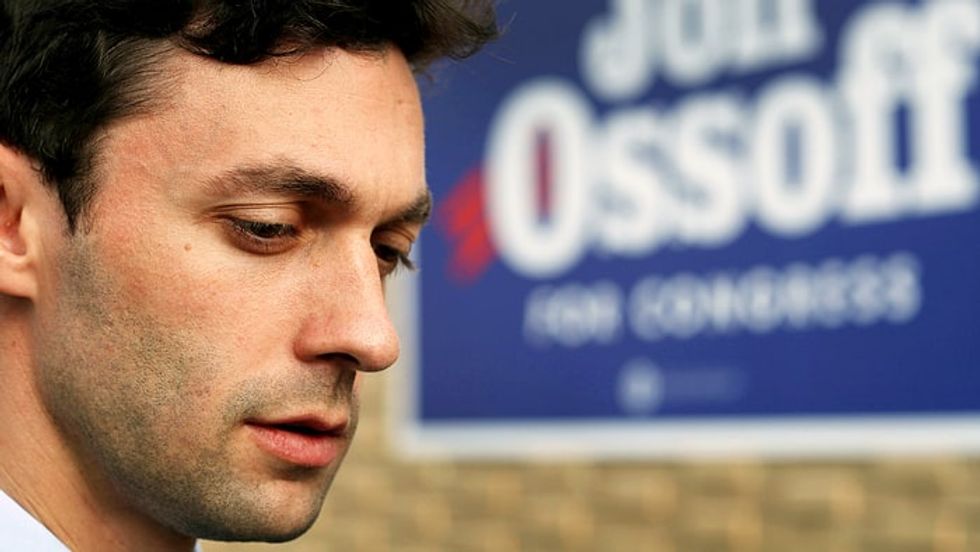 Credit: Source.
The race now becomes a run-off election to be held on June 20th between Ossoff and Handel. Ossoff was upbeat and optimistic despite narrowly failing to win an outright majority of votes. "Bring it on," Ossoff told a crowd of his supporters late on Tuesday night, in a speech that evoked and even appeared to intentionally impersonate Barack Obama.
Osseff's opponent in the run-off is a self-described Trump supporter and well-known GOP candidate who has faced controversy after being fired from Susan G. Komen for the Cure following attempts to foist her anti-abortion stance onto the organization. Handel is also a veteran campaigner, having made two unsuccessful bids to be senator and governor of the state. Her support of Trump and her staunch social conservatism may turn off more moderate GOP voters, however, making the run-off even more of a referendum on both Trump and on whose values should be represented in Washington.