Former President George Herbert Walker Bush, who as the nation's 41st president (1989-1993) dedicated himself to traditional American values and once pledged to use American strength as a "force for good," has passed away at the age of 94.
Born in Milton, Massachusetts, on June 12, 1924, Bush was an esteemed student who held several leadership positions including class president and secretary of the student council at Phillips Academy in Andover, Massachusetts. After graduating in 1942, he decided to enlist in the armed forces, and became a naval aviator at the age of 18. Bush's superiors commissioned him as an ensign in the United States Naval Reserve upon completion of a ten-month course; he was the youngest naval aviator to that date. Bush would fly 58 combat missions during World War II and received the Distinguished Flying Cross for bravery in action after he was shot down by Japanese forces and rescued by a U.S. submarine.
---
Mere weeks after his return from combat, Bush married Barbara Pierce. The union produced six children: George Walker Bush (who would become the nation's 43rd president), Pauline Robinson "Robin" Bush (who died as a child), John Ellis "Jeb" Bush (who served as the 43rd governor of Florida) and Neil Mallon Pierce Bush, Marvin Pierce Bush and Dorothy Bush Koch (all of whom distinguished themselves politically and within the private sector).
Bush attended Yale University after his discharge from the armed forces.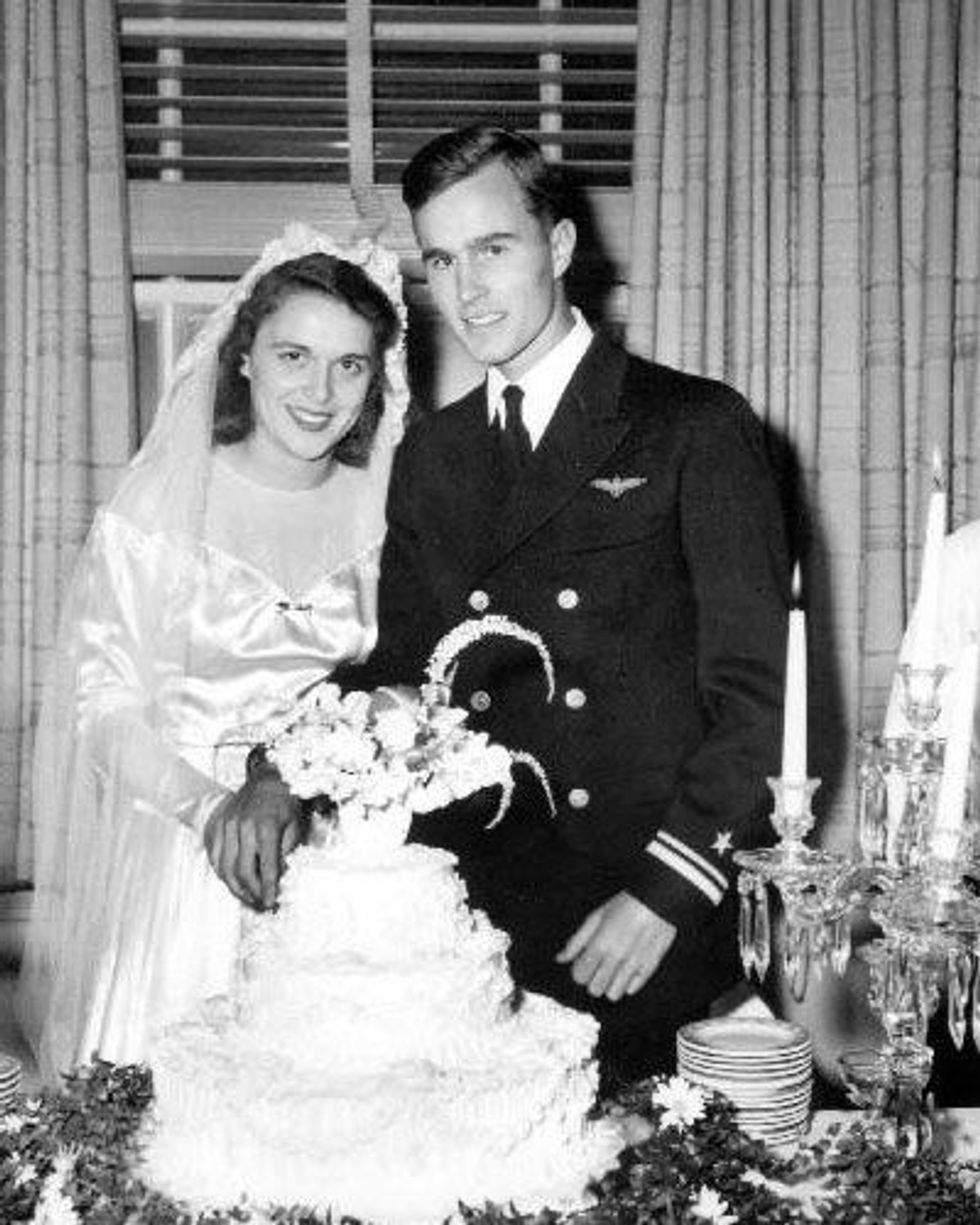 Young George H.W. Bush and Barbara Bush. (Credit: Source.)
Bush's father–United States Senator Prescott Bush–enjoyed business connections which gave the younger Bush the foothold he needed in the oil industry and by the 1960s, he was a millionaire. By that time, however, he had already gravitated toward public service and politics.
He served as Chairman of the Republican Party for Harris County, Texas in 1964, served two terms as a Representative to Congress for Texas and found the time to make two (unsuccessful) bids for the state Senate. The Senate loss would prove a boon, however, for his political ambitions.
In 1970, President Richard Nixon commended him for sacrificing his Congressional position and appointed him Ambassador to the United Nations. He served in this capacity for two years before Nixon, then in the throes of the Watergate scandal, asked him to become the chair of the Republican National Committee. Bush accepted and established himself as one of Nixon's staunchest defenders. But as Nixon's complicity in Watergate became clear, Bush pivoted (while still maintaining loyalty to Nixon) to defending the Republican Party. It was Bush who formally requested Nixon's resignation from the presidency for the good of the GOP; Nixon did so on August 9, 1974.
Under the leadership of President Gerald Ford, Nixon's successor, Bush became the United States Envoy to China, and the 14 months he spent in the country were key to strengthening US-Chinese relations. Bush had been on Ford's shortlist for the vice presidency, but Donald Rumsfeld, then the White House Chief of Staff, preferred Nelson Rockefeller. Bush was passed over a second time when Ford chose Bob Dole (who would become Bush's future presidential rival) as his running mate for his 1976 re-election bid. Instead, Bush served as the Director of the Central Intelligence Agency. He was an instrumental figure in the national security briefings of President Jimmy Carter and was largely credited with preserving the agency's morale following a host of scandals.
Bush campaigned for the 1980 Republican presidential nomination but lost to Ronald Reagan. Reagan, however, would choose Bush as his running mate. As the second-in-command, Bush avoided making critical decisions, but spearheaded federal deregulation of the government and anti-drug programs. In March 1981, Reagan was shot and seriously wounded by would-be assassin John Hinckley, Jr. and Bush, who was in Texas at the time of the assassination attempt, immediately flew back to Washington. Bush's leadership during this period earned Reagan's respect. The two men won their 1984 re-election bid in a landslide.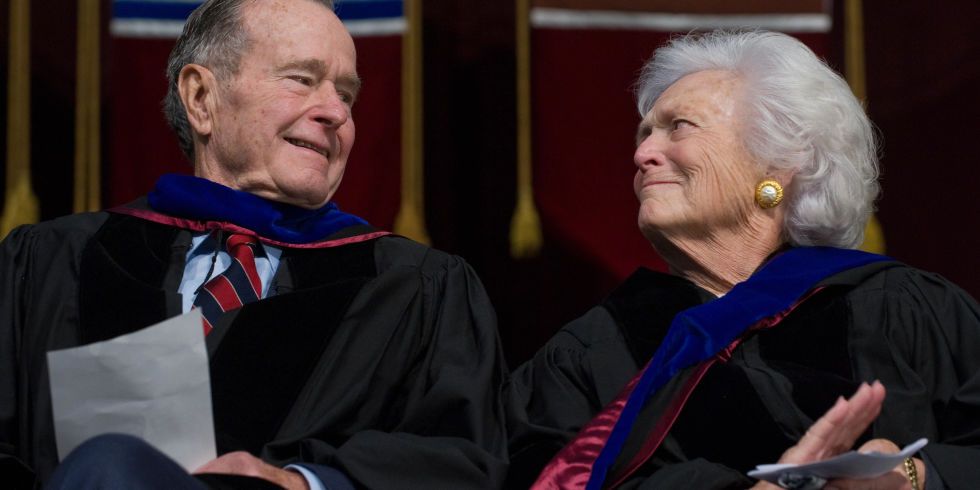 George H.W. Bush and Barbara Bush in recent years. (Credit: Source.)
In 1988, Bush won the Republican presidential nomination and defeated Massachusetts Senator Michael Dukakis in the general election. Bush entered office at the dawn of a new world: the Cold War was over. The fall of the Berlin War and the collapse of the Soviet Union were early hallmarks of his presidency. Bush f democracy, but U.S. policy toward the new nation's post-Soviet breakup remained cautious.
At one point, Bush enjoyed a 90 percent approval rating, but saw his popularity dive after he pledged to free Kuwait following Iraqi President Saddam Hussein's invasion. Bush sent over 400,000 American troops (joined by allied nations) and after several weeks, the battle, now known as Desert Storm, successfully halted the advancing Iraqi army. In 1992, he lost his bid for re-election to Bill Clinton. In 1993, Bush became the target of a foiled assassination plot by the Iraqi Intelligence Service after he traveled to congratulate the coalition for their victory over Iraq in the Gulf War.
In recent years, the elder Bush and his son, George W. Bush, made headlines for their refusal to back Donald Trump as the Republican presidential nominee and neither one chose to attend last year's Republican National Convention. The elder Bush revealed a few years ago that he suffered from a form of Parkinson's Disease that left him unable to walk, and he was not expected to attend Trump's inauguration due to health concerns.
Bush's death follows that of his wife of 73 years, Barbara Bush, who passed away on April 17, 2018.