Congressman Matt Gaetz (R-FL) is in hot water after tweeting what many believe to be a threat to President Donald Trump's former attorney Michael Cohen ahead of Cohen's public testimony against Trump before the House Oversight Committee.
Gaetz implied that Cohen's alleged extramarital affairs would be exposed to his wife and father-in-law and that his wife would leave him after he reports to serve his prison sentence in two months. The tweet has since been deleted.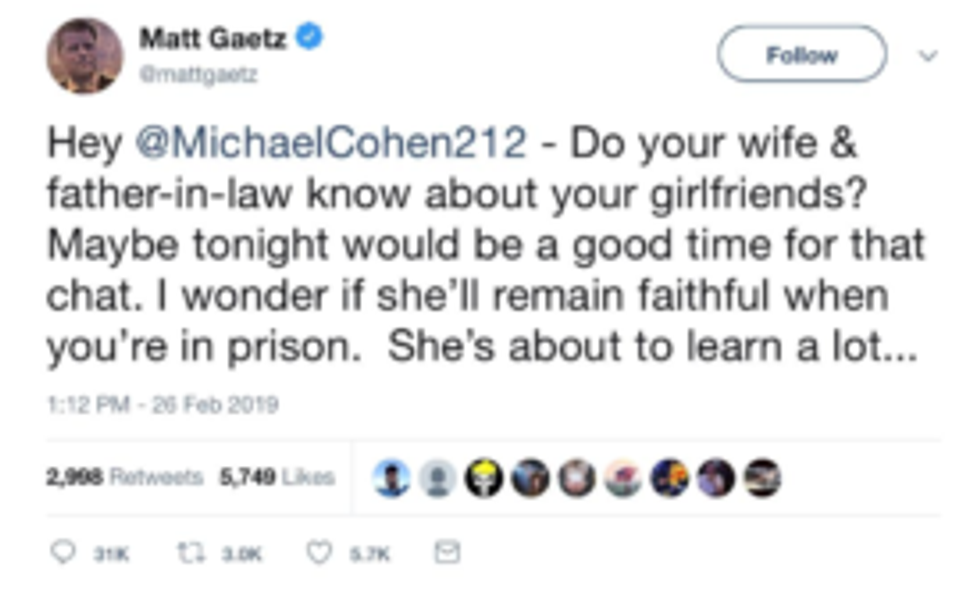 ---
@mattgaetz/TwitterThough it may seem like just another low blow from one of Trump's staunchest allies in Congress, others think Gaetz crossed a whole other line.
Specifically the line stipulated in Title 18 of the US Code, as former head of Government Ethics Office Walter Shaub pointed out.
According to Section 1512 of Chapter 73 of Title 18, anyone who uses intimidation or threats to "influence, delay, or prevent the testimony of any person in an official proceeding" (like a congressional testimony) will be fined and could even serve up to 20 years in federal prison.
Congressman Bill Pascrell, Jr. (D-NJ) reached the same conclusion as Shaub and called for his colleagues to investigate.
One of my colleagues, a duly elected member of Congress, has taken to twitter to intimidate a witness. This is gros… https://t.co/TAb7NNRSgQ

— Bill Pascrell, Jr. (@Bill Pascrell, Jr.)1551220853.0
Many see Gaetz's tweet as a perfect example of witness tampering.
@mattgaetz @MichaelCohen212 1st q asked by @NicolleDWallace about this despicable tweet was "is this illegal?" Answ… https://t.co/eB9kKGPM4Z

— Jill Wine-Banks (@Jill Wine-Banks)1551218705.0
@mattgaetz @MichaelCohen212 I'll be making a phone call to the Speical Counsel today. In legal parlance, this is ca… https://t.co/NPzzGPeG5V

— Christopher J. Hale (@Christopher J. Hale)1551216550.0
Gaetz, however insisted that his tweet doesn't amount to witness tampering, but that
"It is challenging the veracity and character of a witness. We do it everyday. We typically do it during people's testimony. This is what it looks like to compete in the marketplace of ideas."
He continued to assert that the tweet is simply "witness testing."
Watch below:
"I think my tweet speaks for itself ... This isn't witness tampering, it's witness testing." @mattgaetz on his twee… https://t.co/lNXKsnNPMx

— Hardball (@Hardball)1551226249.0
That's not how the American public saw it.
@maxwelltani @jonathanvswan @samstein Wow. You learn something new every day. It used to be called witness tampering.

— Jimmy (@Jimmy)1551219480.0
@maxwelltani @yashar @samstein 'The marketplace of ideas'... Just unfuckingbelievable

— Kathleen (@Kathleen)1551219071.0
@maxwelltani @samstein #AlternativeFactsDictionary: Witness tampering/intimidation is now 'competing in the marketplace of ideas'.

— D Villella ❄️ (@D Villella ❄️)1551220498.0
Nice try.
The tweet was seen by many as a new low for Gaetz.
@mattgaetz @MichaelCohen212 Matt, i didn't think you could sink any lower. I hope at some point in your life you t… https://t.co/AIpc1p6XuQ

— Matthew Dowd (@Matthew Dowd)1551217904.0
@mattgaetz @MichaelCohen212 Matt Gaetz is truly one of the most depraved people in power today. What a disgrace to… https://t.co/kmnjfhMCdW

— Ahmed Baba (@Ahmed Baba)1551219768.0
@maxwelltani @samstein Matt Gaetz needs to clear any further comments regarding this Tweet through his attorney. A… https://t.co/HWzF9cWfzA

— Dave Smith (@Dave Smith)1551220530.0
Gaetz is known to be one of Donald Trump's most dedicated allies in Congress, and some think this tweet sounds suspiciously Trumpian.
Did Trump tell Gaetz to do this? Because a federal conspiracy charge would make Gaetz getting investigated for witn… https://t.co/A44wCogvTb

— Seth Abramson (@Seth Abramson)1551220291.0
Let's be real. That Cohen threat wasn't from Gaetz. It was from Donald Trump.

— Scott Dworkin (@Scott Dworkin)1551222124.0
Just the other day the NYT reported on Gaetz's calls with Trump... https://t.co/hhVoT5uWED https://t.co/tRh5yh4je6

— Andrew Prokop (@Andrew Prokop)1551216302.0
Gaetz insists that Donald Trump had nothing to do with the tweet, and Gaetz has yet to apologize.
Wednesday's hearing just got even more interesting.