Monday night, President Donald Trump's embattled Supreme Court nominee Brett Kavanaugh sat down with his wife Ashley and Fox News host Martha MacCallum to try to appeal to the public in an exclusive interview. A major factor in the decision for the Kavanaughs to appear on Fox News together is likely the results of a new Fox News poll.
Support for Kavanaugh's confirmation to the SCOTUS bench dropped since August.
---
Last month, voters polled by Fox News split evenly with 45 percent supporting Kavanaugh and 46 percent opposed. But now support for Kavanaugh dropped to 40 percent and opposition to his being made a SCOTUS justice for life is at 50 percent of voters.
Democrats and Republicans oppose and support Kavanaugh largely along party lines and in equal numbers to balance each other out, but independent voters tipped the scales against his confirmation.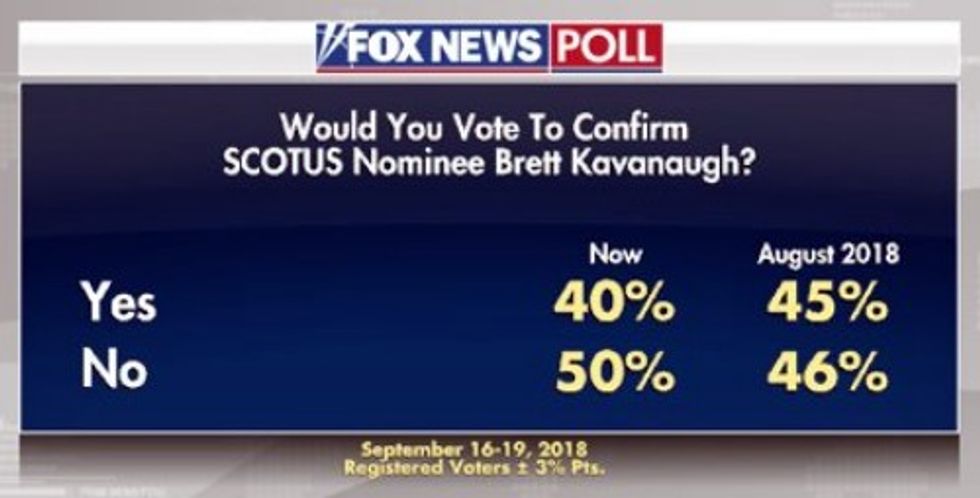 Comparison of results from August 19-21, 2018 to September 16-19, 2018. (Fox News)
Opposition to a SCOTUS nominee by 50 percent of voters is the highest ever since Fox News began polling on the question in 2005.
BREAKING: Record number of voters now oppose #Kavanaugh nomination: The number favoring Kavanaugh's confirmation d… https://t.co/HcwB7F074Q

— Fox News Poll (@Fox News Poll) 1537709460.0
But Kavanaugh's prior 46 percent opposition already broke the record in August.
The former record holder was another Trump appointee. Neil Gorsuch saw the previous high opposition percentage of 39 percent back in March 2017.
The reason for the defection by Kavanaugh's supporters? Credibility.
While a higher percentage than normal felt undecided, more voters believe Dr. Christine Blasey Ford than Kavanaugh. 34 percent of voters remain uncertain who to believe, 36 percent believe Ford, while only 30 percent believe Kavanaugh.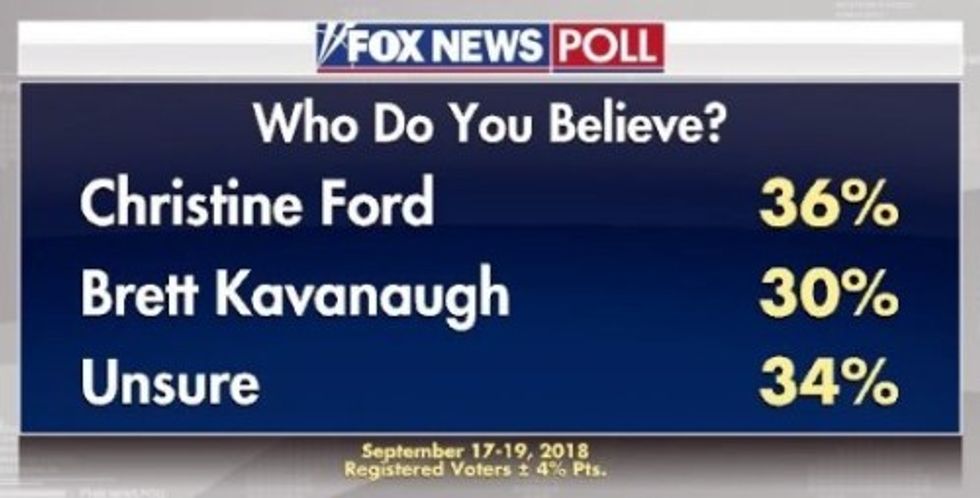 Voters results when asked who they believe, Dr. Ford or Kavanaugh. (Fox News)
Both men and women believe Ford over Kavanaugh, but women believe her at a higher margin. Men believe Ford by only 1 percentage point while women believe her by 10 percentage points.
With half of all voters opposed to Kavanaugh's confirmation, Republicans seeking reelection in Novembers midterms may look to distance themselves from the unpopular nominee. Fox News asked voters how important an incumbent candidate's stance on Kavanaugh was to their voting decision.
Democrats and Republicans placed on almost equal percentages of voters who stated the candidate's stance on Kavanaugh was extremely important. However approval and disapproval of Kavanaugh's confirmation also split equally among the GOP and Dems.
Once again, independent voters are likely to be key to winning in November.
As for postponing the confirmation process, more people support a postponement than not postponing. 56 percent of voters support postponing a vote for Kavanaugh's confirmation.
Men support postponing by 53 percent while only 33 percent think the process should proceed on the prest schedule. Among women, 58 percent want a postponement with only 29 percent saying no to a delay.
Fox News Poll https://t.co/9MaGHBGEac

— D Klems (@D Klems) 1537841473.0
Of particular interest were results related to the voters knowledge of the events. Voters following the news of Kavanaugh's nomination and confirmation process as well as Dr. Ford's allegations were more likely to believe Ford over Kavanaugh.
36 percent of all voters believed Ford, but the percentage increased to 44 percent among informed voters. Calls for postponement also increased from 56 percent to 62 percent.
Clearly, Kavanaugh needs to work on his image which is where Monday night's Fox News exclusive interview came in.
After the announcement of his nomination, which his family attended, Kavanaugh appeared on the news solo. Monday night's interview sought to reassert Kavanaugh in the public's mind as loving husband and devoted father.
To that end, his wife Ashley appeared with him during the interview instead of being interviewed separately.
Voters getting to experience how uncomfortable the discussion of sexual assault allegations against her husband were by watching her onscreen intended to invoke empathy. Stories of how their children were affected by the accusations hoped to do the same.
However the interview being exclusive to Fox News could backfire. The network finds themselves in a similar situation to the President who supports them.
Viewers loyal to Fox News, believe Fox News. Those not counted among their fans, do not.
Could an exclusive interview on Fox sway those who oppose Kavanaugh? That is unlikely, but the undecided remain up for grabs.
Watch an excerpt from the interview with the Kavanaughs here.
Supreme Court nominee Brett Kavanaugh and his wife Ashley respond to the sexual misconduct allegations against him.… https://t.co/HhUtsmAqFB

— Fox News (@Fox News) 1537845951.0