President Donald Trump's national support continues to erode, according to the most recent Fox News poll released yesterday. The president's approval rating reached the lowest mark it has been in any Fox News poll, 38 percent.
Additionally, the percentage of voters who approve of the president's performance dropped 4 percentage points from September and 10 points since the poll's first post-inaugural results in February. 57 percent of those surveyed say they disapprove––a new high under the administration.
---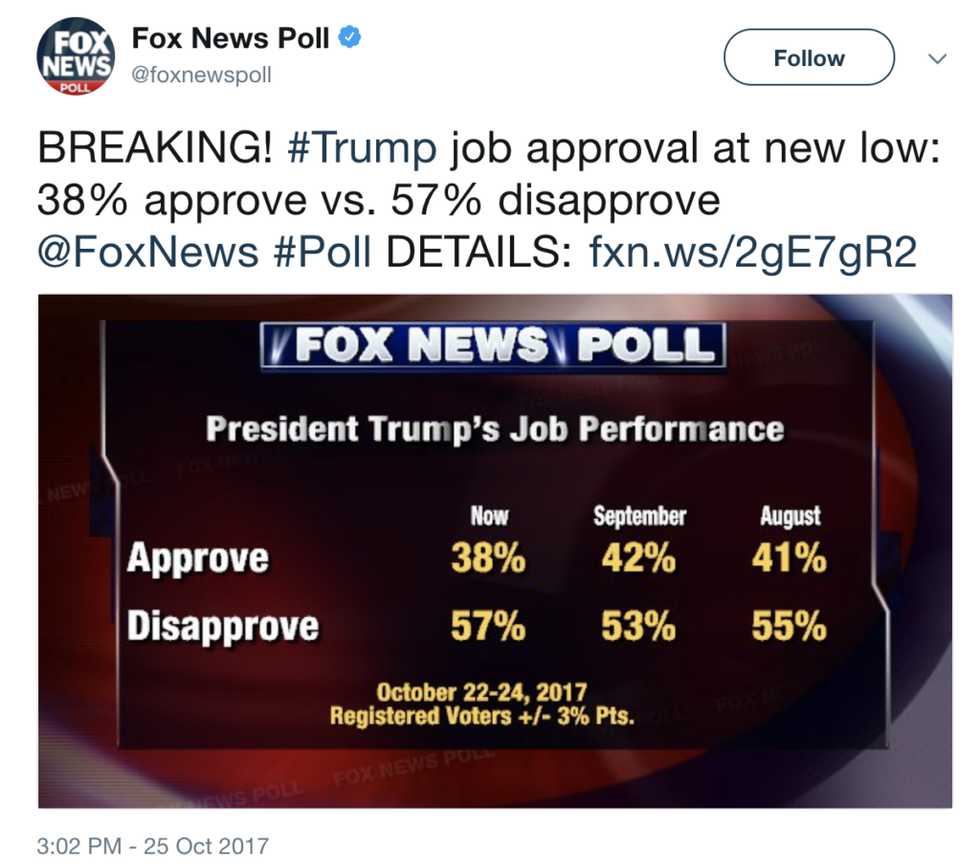 Twitter
Fox News notes that "some of the drop comes from white men without a college degree, as 56 percent approve of the president, down from 68 percent last month.  Working-class white men were a key voting bloc for him in the election."
The results also show Trump foundering when graded on honesty, knowledge, compassion, and judgment:
Thirty-three percent think Trump is honest and trustworthy, though that's hardly changed from just before the election when 35 percent felt that way (November 2016).
Roughly 4-in-10 think Trump has the knowledge (38 percent), compassion (37 percent), and judgment (37 percent) to serve effectively as president.
A similar 38 percent believe Trump "cares about people like me," while 6-in-10 disagree (60 percent).  Those most likely to feel he doesn't care include non-whites (79 percent), women (68 percent), voters under age 45 (68 percent), and lower-income voters (67 percent).
Trump received his lowest remarks yet when graded on his handling of the economy, with 44 percent approving (a drop of 5 percentage points from September).
He also scored poorly on foreign policy, including his stances on Iran and North Korea, with just over 1 in 3 approving of each. In perhaps the most damning result of the survey, 64 percent felt the Trump administration's handling of Puerto Rico's hurricane relief was "only fair" or "poor."
More devastating numbers from the poll:
And perhaps most devastating for the President:
Not to mention for Republicans' Congressional majority:
The Fox News poll was conducted by telephone and live interview from October 22 to 24 and sampled 1,005 registered voters. It had a margin of sampling error of plus or minus 3 percentage points.