[DIGEST: Global Citizen, Dezeen, Competitor, Adidas, Wired]
Adidas has unveiled a new line of swimwear made with recycled ocean plastic and used fishing nets.
---
The collection for men and women, which debuted in Europe in February, features swim trunks and one-pieces emblazoned with word art and nautical imagery. The suits, which range from $30 to $50, are part of a larger partnership between Adidas and Parley for the Oceans, an initiative that encourages artists, musicians, filmmakers, scientists, and other influencers to develop ecologically sustainable methods and products.
"As one of the leading sportswear brands in the world, it is our responsibility to be the guardians of the spaces of sport, and this range is testament to the part we can — and should —  all play to safeguard the oceans for future generations,"  Tim Janaway, general manager of Adidas Heartbeat Sports, told Swimming World Magazine in January.
The swimwear release follows the 2016 announcement of Adidas' UltraBOOST Uncaged Parley, the first mass-produced shoe made from ocean plastic. Also a collaboration with Parley for the Oceans, the $220 athletic sneaker features seafoam green-colored thread stitched into a wave pattern. Adidas made 7,000 of them in 2016, and hopes to produce 1 million in 2017. Each shoe comprises the equivalent of 16 ½ bottles and 13 grams of plastic from gill nets; the only virgin material is the thermoplastic polyurethane used in the sole.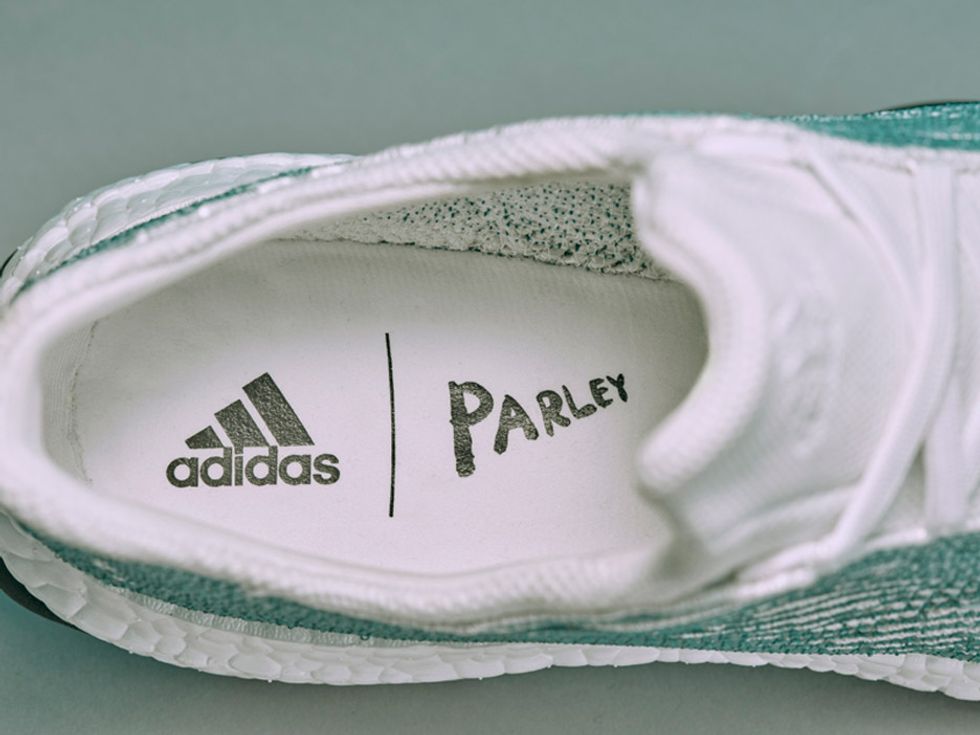 Credit: Source.
The dangers of ocean plastic are widely known: Each year, 8 million tons of non-biodegradable trash, from bags and bottles to straws and industrial byproducts, end up in oceans. Not only do marine animals end up eating and becoming entangled in it, but the plastic leaches toxic chemicals into the water as it breaks down. According to Parley, "the majority of the plastic in our oceans is broken into small pieces 1/4 of an inch or smaller and scattered over massive areas."
Further, these pieces can actually end up in people's stomachs when they consume fish that have eaten the plastic. In fact, there are more than 5 trillion pieces of microplastic in the oceans, and diners who eat seafood digest approximately 11,000 of them each year.
In order to make the shoes and swimsuits, Parley focuses on smaller countries particularly vulnerable to pollution like the Maldives, Grenada, and Jamaica, cleaning up dump sites and processing PET plastic into pellet form. Parley then supplies the PET pellets, along with cleaned, ground-up and re-extruded gill nets recovered off the coast of Africa, to Adidas.
Though Adidas isn't the only company making clothing with ocean plastic—artist Pharrell Williams and denim company G-Star RAW notably partnered with Parely in 2015 to release a line of jeans made from recycled ocean plastic—it's the only one thus far to make apparel designed for professional athletic performance. (In addition to the shoes and swimsuits, Adidas also made recycled-ocean-plastic soccer jerseys for Real Madrid CF and FC Bayern Munich in 2016.)
"Nobody can save the oceans alone. Each of us can play a role in the solution. It's in the hands of the creative industries to reinvent faulty materials, products, and business models," said Cyrill Gutsch, founder of parley for the Oceans, upon the Adidas shoe release in 2016: "The consumer can boost the demand for change. But it's up to eco innovation leaders, like Adidas, to make change a reality … we demonstrate what's possible."