Elizabeth McNamara, the outside counsel for Simon & Schuster, the publisher behind Omarosa Manigault Newman's new book, Unhinged, wrote a letter responding to the Trump campaign's filing for arbitration earlier this week, and she criticized President Donald Trump for attempting to intimidate and silence her client.
Omarosa's book publisher to the Trump campaign: "My clients will not be intimidated by hollow legal threats and hav… https://t.co/PJ6qPB2aYQ

— Kyle Griffin (@Kyle Griffin) 1534455000.0
---
"My clients will not be intimidated by hollow legal threats and have proceeded with publication of the Book as [scheduled]," McNamara wrote, continuing:
While your letter generally claims that excerpts from the book contain 'disparaging statements,' it is quite telling that at no point do you claim that any specific statement in the book is false. Your client does not have a viable legal claim merely because unspecified truthful statements in the Book may embarrass the president or his associates. At base, your letter is nothing more than an obvious attempt to silence legitimate criticism of the President. S&S will not be silenced by legal threats grounded in vague allusions to "disparaging statements."
Elsewhere, McNamara reminds the Trump campaign that the government "has no legitimate interest in censoring" Simon & Schuster, particularly when the publisher "legitimately reports on information that is plainly newsworthy and highly relevant to matters of public concern":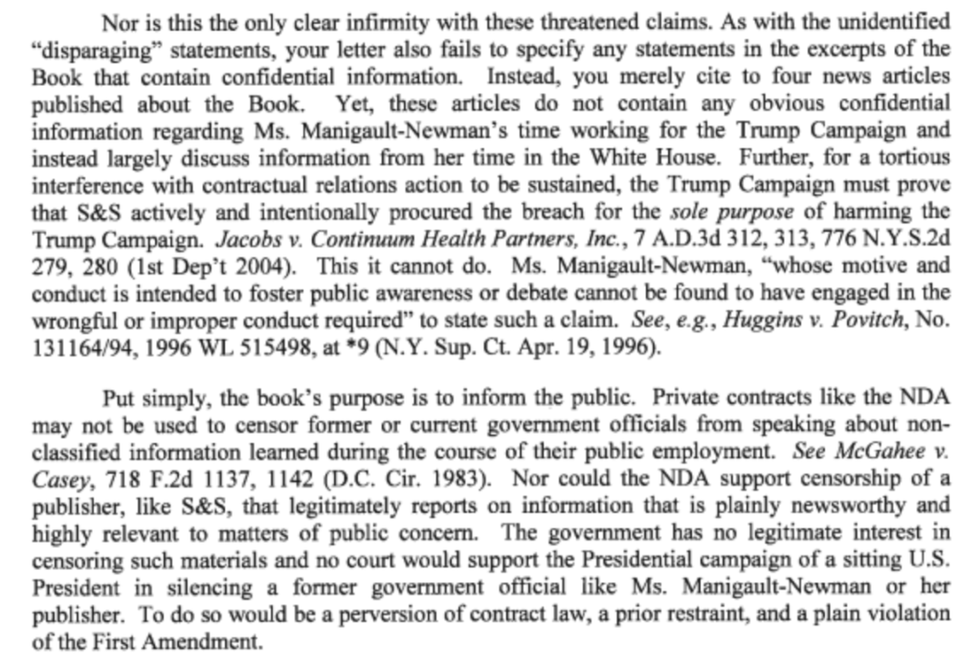 McNamara is no stranger to dealing with the Trump campaign. Earlier this year, she fired off another letter after the president's attorneys sent publisher Henry Holt and Company a cease-and-desist letter over journalist Michael Wolff's book Fire & Fury: Inside The Trump White House, addressing their claim that the book is libelous:
Mr. Trump is the President of the United States, with the 'bully pulpit' at his disposal. To the extent he disputes any statement in the book, he has the largest platform in the world to challenge it ... Though your letter provides a basic summary of New York libel law, tellingly, it stops short of identifying a single statement in the book that is factually false or defamatory.
While the furor around Fire and Fury appears to have died down, there's no telling how long the feud between Manigault Newman and Trump will last.
In their arbitration action, the Trump campaign alleges that Manigault Newman, a former reality show contestant on Trump's The Apprentice whose formerly close relationship with the president landed her a position as the Director of Communications for the Office of Public Liaison. At least one campaign aide claimed that Manigault Newman's book and subsequent tour breached her 2016 confidentiality agreement with the campaign.
Manigault Newman has acknowledged signing a confidentiality agreement in 2016, and writes in her book that following her termination from the White House in December 2017, the Trump re-election effort offered her a $15,000 per month position on the condition she sign a new confidentiality agreement. Manigault Newman says she declined that offer and yesterday she released exclusively to MSNBC a secret tape of campaign official Lara Trump offering her the position, appearing to corroborate the claims she makes in her book.
In one excerpt from the recording––NBC has heard the recording in full and has confirmed that the clips of this conversation are in context–– Lara Trump, who is married to Donald Trump's son Eric, tells Manigault Newman that "the only thing that we have to consider, where we're talking salary as far as the campaign is concerned, is that, as you know, everything is public," adding:
And that all the money that we raise and that pays salaries is directly from donors, small-dollar donors for the most part. So, I know you, you were making 179 at the White House. And I think we can work something out where we keep you right along those lines. Specifically, let me see, I haven't even added up the numbers. But we were talking about, like, 15K a month. Let me see what that adds up to. Times 12. Yeah.

So that's $180,000. Does that sound like a fair deal for you?
LISTEN: Omarosa's secret recording of a call she had with Lara Trump in which they discuss Omarosa's potential sala… https://t.co/k8v5udkCw1

— Aaron Rupar (@Aaron Rupar) 1534439268.0
Manigault Newman said the recording was proof of "an attempt" by the Trump team "to buy my silence, to censor me, and to pay me off." Asked if she considers the offer "hush money," she responded, "Absolutely."
The New York Timesreports that "Mr. Trump's aides have been concerned that they will make appearances on other tapes, of which Ms. Manigault Newman is believed to have as many as 200."