America's love affair with scooters lasted about a minute, if that. As companies like Lime, Skip and Bird roll out their pay-per-minute electric scooter rental programs, cities across the country are dealing with the fallout, and it's not pretty.
In California, where electric scooters have become part of the high-tech industry's impact on urban culture, the scooters are being vandalized and destroyed—and those doing the damage are bragging about it. On the most exhibitionistic corners of the Internet, scooter abuse is being documented and proudly displayed. The Instagram account Birdgraveyard , which has more than 24,000 followers, features images and films of scooters that have met their tragic demise by being burned, tossed into the sea, festooned with dog doody bags, and otherwise desecrated.
---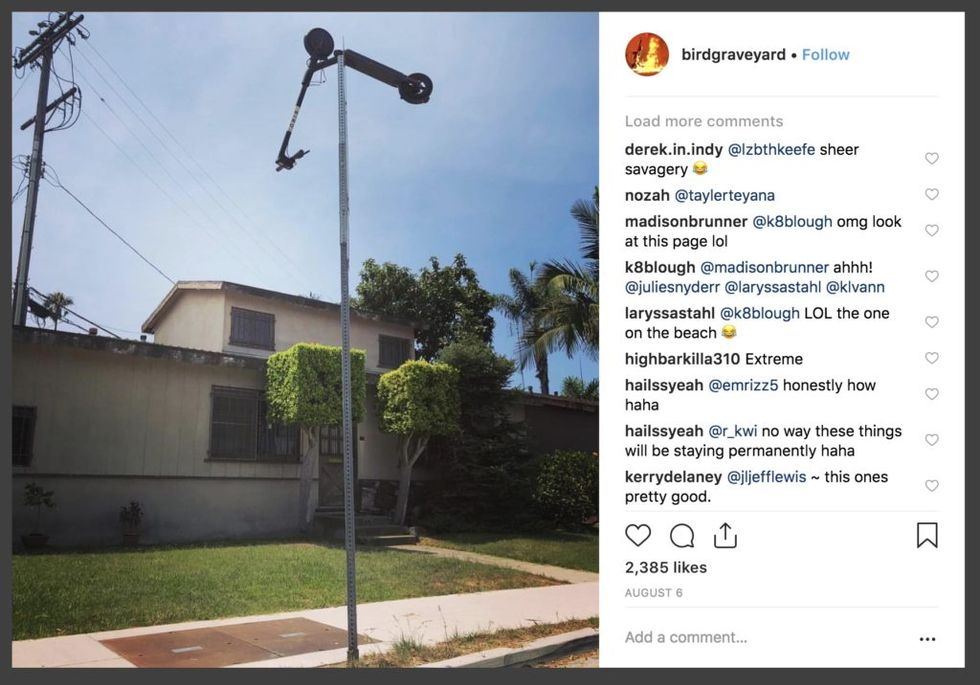 birdgraveyard/Instagram
"They throw them everywhere: in the ocean, in the sand, in the trash can," said Robert Johnson Bey , a Venice Beach, California, maintenance worker. "Sunday, I was finding kickstands everywhere," Bey said. "Looked like they were snapped off."
The scooters, which have an estimated value of about $1,000, cost users just $1 to unlock and 15 cents per minute to ride, making them an affordable, environmentally friendly alternative to urban gridlock and public transportation. But they have been met with bureaucratic dismay in many cities due to their unregulated and difficult to categorize nature, and because the scooters are often scattered around at street corners, in unsightly piles, in the middle of sidewalks, on wheelchair ramps , and wherever they may end up. Likewise, citizens who don't love them seem to hate them, or the companies that own them, or the people who ride them, or scooters in general purely as a symptom of change.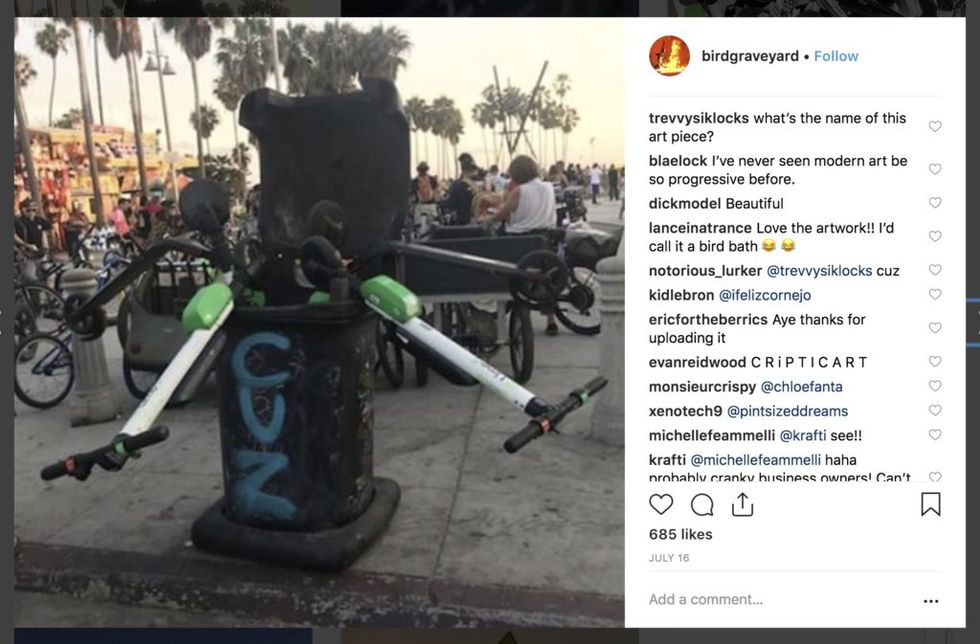 birdgraveyard/Instagram
The scooters zip along sidewalks at speeds of up to 15 miles per hour, generating animosity from pedestrians. Some cities have questions about safety , as emergency room doctors report a sudden onslaught of scooter-related broken bones, concussions, and other injuries. Worse, fatalities have occurred in several cities as inexperienced riders meet unprepared automobiles.
"You have a public that hasn't been aware of the inherent dangers in what they see as a fun recreational vehicle," said Dr. Sam Torbati , co-chair of the emergency department at Cedars-Sinai Medical Center in Los Angeles. "They're no safer than any other motorized vehicles, and in some ways, are more dangerous than a bicycle."
Seattle banned scooters, although some scooter supporters note that when the Alaskan Way Viaduct, which runs through downtown, closes for reconstruction in January 2019, a Seattle that is already facing crushing traffic will become even more difficult for car commuters. Scooters could bring some relief by reducing the number of cars stuck in traffic.
"January's viaduct closure will be acutely felt by everyone traveling," said Jonathan Hopkins , director of Commute Seattle, a nonprofit that contracts with the city. "Just like walking, biking, transit and telework, scooters can be effective tools to reduce car trips, save limited road space and reduce congestion."
"Scooters, bikes, e-bikes, we should be trying them all right now because we don't have a lot of options that are going to continue to move through downtown," said Gabriel Scheer, director of strategic development for Lime. "They will get through traffic when cars won't."
Ultimately, that message might win over the haters. Every scooter in motion frees up road and parking spaces for cars, reducing congestion and pollution. There are just a few growing pains as the vehicles enter unregulated cityscapes and people get used to the new mode. Regulations could help, as right now most cities don't specify whether scooters should stay on the streets or on sidewalks, whether riders should be compelled to wear helmets, and how dockless scooters should be stored. One thing is certain though: Riding while under the influence is not cool.
While Los Angeles has not pursued most of the vandals who have destroyed or damaged the scooters in the city, it fined a Los Angeles man $550 plus restitution for riding an electric scooter while intoxicated and knocking over a 64-year-old pedestrian on a sidewalk. It is the city's first scooter-related DUI . Or should that be SUI?