It was windy in Düsseldorf, Germany on Monday, with worse weather still to come, but that didn't stop thousands of Germans from attending the Rose Monday (Rosenmontag) parade.  the event is the highlight of Carnival, which—like Mardi Gras in the United States—represents a period of celebration  ahead of Ash Wednesday and the season of Lent.
While the events were widely joyous, there are undoubtedly some who weren't celebrating the parade: world leaders, especially United States President Donald Trump.
---
The parade is famous for skewering various political figures around the world with its ornate, almost explicit, floats. One of this year's floats called out Donald Trump's subservience to Vladimir Putin, with one float showing the pair ripping apart a copy of the Intermediate Range Nuclear Forces Treaty (INF) as the cities below them burn.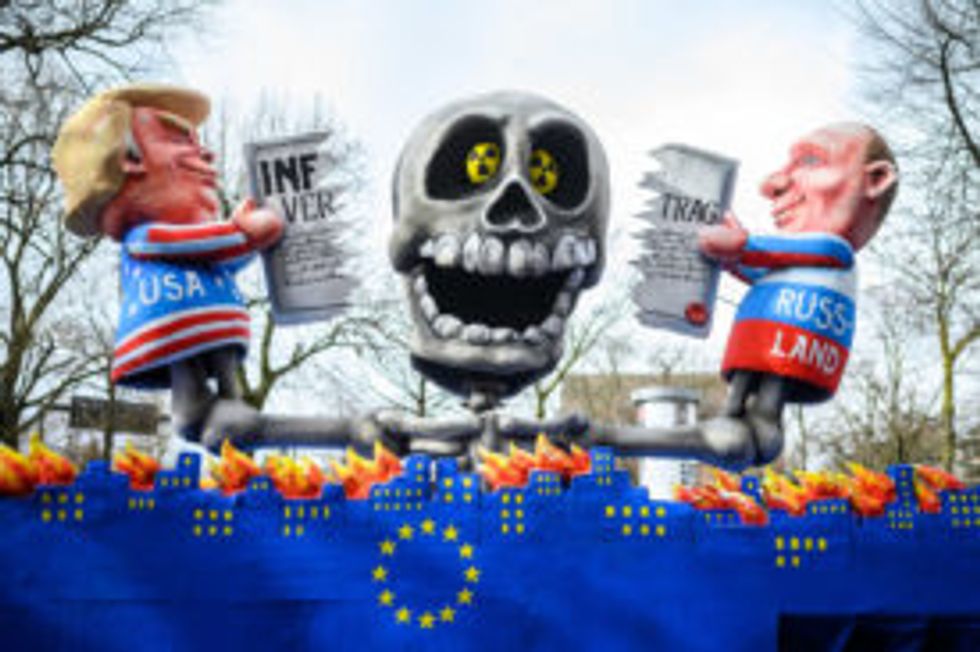 (Photo by Lukas Schulze/Getty Images)
The float reflected similar concerns of Americans that the recent suspension of the INF Treaty is another instance of Trump acting in accordance with Putin's interests that could result in a nuclear arms race.
Putin's hand made stronger, free now to place land-based mobile nukes anywhere he likes. Trump posturing of shreddi… https://t.co/0BraqGWHQD

— Bob Brockett (@Bob Brockett) 1551804732.0
Odd how Russia is calling the US an "adversary" when Trump is a Russian agent controlled by Putin. Almost as if Tru… https://t.co/uZWLgpoMSX

— Hector (@Hector) 1551585041.0
President Trump is doing as ordered by Russian President Putin on the INF treaty? https://t.co/hnkeXq3M53

— Lou D. Lesko (@Lou D. Lesko) 1551787264.0
Another float featured Donald Trump as a naked guardian angel hovering over Saudi Crown Prince Mohammed bin Salman. Bin Salman is believed by US intelligence agencies to have ordered the brutal murder of Washington Post reporter Jamal Khashoggi.
As he did with Vladimir Putin and North Korean leader Kim Jong-un, Trump defended bin Salman after the murder, stressing the importance of good relations with Saudi Arabia. Trump ordered no sanctions against the country for bin Salman's brutal act.
Float designers in Germany took him to task for it.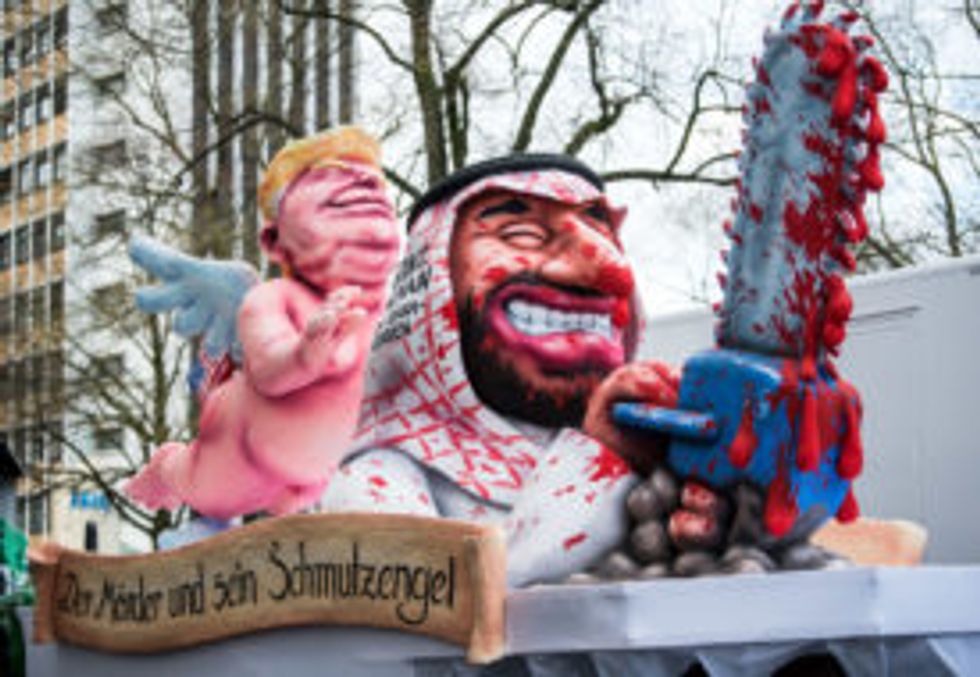 (Photo by Lukas Schulze/Getty Images)
As Trump protects bin Salman, the Prince holds the bloody chainsaw used to saw Khashoggi's body to pieces. The inscription reads, "The Murderer and his Dirty Angel."
The float reflects the consensus of American lawmakers and private citizens alike: that Trump was complicit at best in the murder of an American journalist.
Even close Trump allies are not happy about administration handling of Khashoggi aftermath, yesterday's briefing to… https://t.co/YCHpabYSeO

— Manu Raju (@Manu Raju) 1551809024.0
@elwasson @pressfreedom Sure there is, it's the fact that the Saudis own Trump. $$$$

— Wilf (@Wilf) 1551801020.0
@thehill And why does this shock you ? Trump isn't concerned about this killing.

— Michael Johnson (@Michael Johnson) 1551752084.0
@politico Trump kneels to MBS. https://t.co/v2WNQksKD4

— John Dawkins (@John Dawkins) 1551753657.0
The President isn't the only one being blamed for his softness on bin Salman.
The President's son-in-law, Jared Kushner, is getting some heat as well. As recently as last week, Kushner met with bin Salman.
@AJEnglish I wonder what they talked about. Comparing notes on the size of their yachts, how many houses, cars or p… https://t.co/Tkifomcddr

— Julie (@Julie) 1551343385.0
@politico It's because Jared and Donald don't want to hurt their cozy relationship with the Saudi's and the Crown Prince.

— Michael Ross Chernick (@Michael Ross Chernick) 1551749923.0
A reminder that Jared Kushner, with his golden security clearance that his daddy-in law gave him, advised his murd… https://t.co/blvvPSjdYH

— Karen Attiah (@Karen Attiah) 1551394579.0
"Jared may think he can sweep the piles of cadavers MBS is responsible for under some magic carpet, but neither the… https://t.co/4GnmKFRgq5

— Sarah Leah Whitson (@Sarah Leah Whitson) 1551468030.0
No matter how tenaciously the Trump administration tries to ignore it, the stain of Khashoggi's death won't be forgotten any time soon.