The National Weather Service on Sunday had to assure residents of Alabama that the state was not in the path of the rapidly approaching Hurricane Dorian, after President Donald Trump tweeted that Alabama would most likely be hit.
This resulted in Trump doubling down on the claim, tweeting "under certain original scenarios, it was in fact correct that Alabama could have received some 'hurt.'"
---
On Wednesday, while giving an update on Dorian from the Oval Office, Trump held up a forecast altered with what appears to be permanent marker to show Hurricane Dorian possibly hitting Alabama in an attempt to prove himself right.
Watch below:
President @realDonaldTrump gives an update on Hurricane #Dorian: https://t.co/CmxAXHY5AO

— The White House (@The White House) 1567617968.0
In case you need a closer look: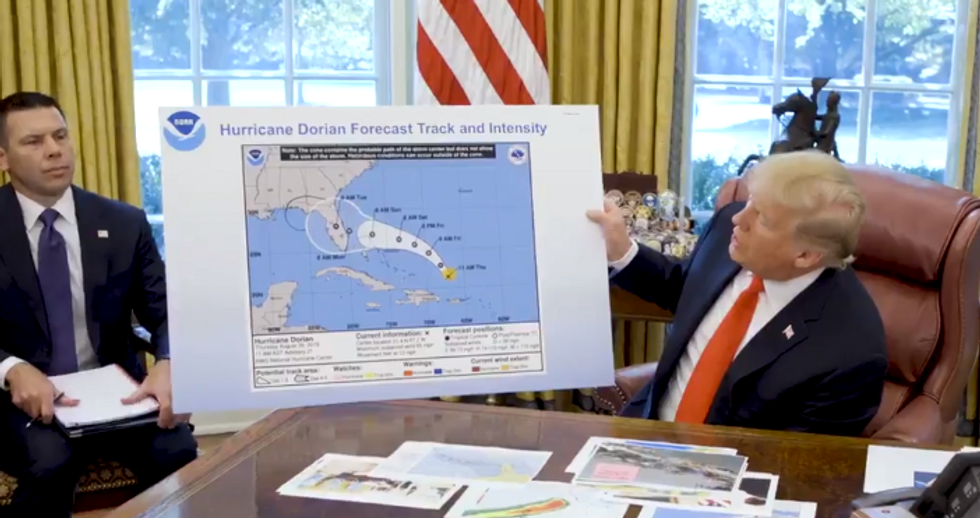 @JProskowGlobal/Twitter
Even closer: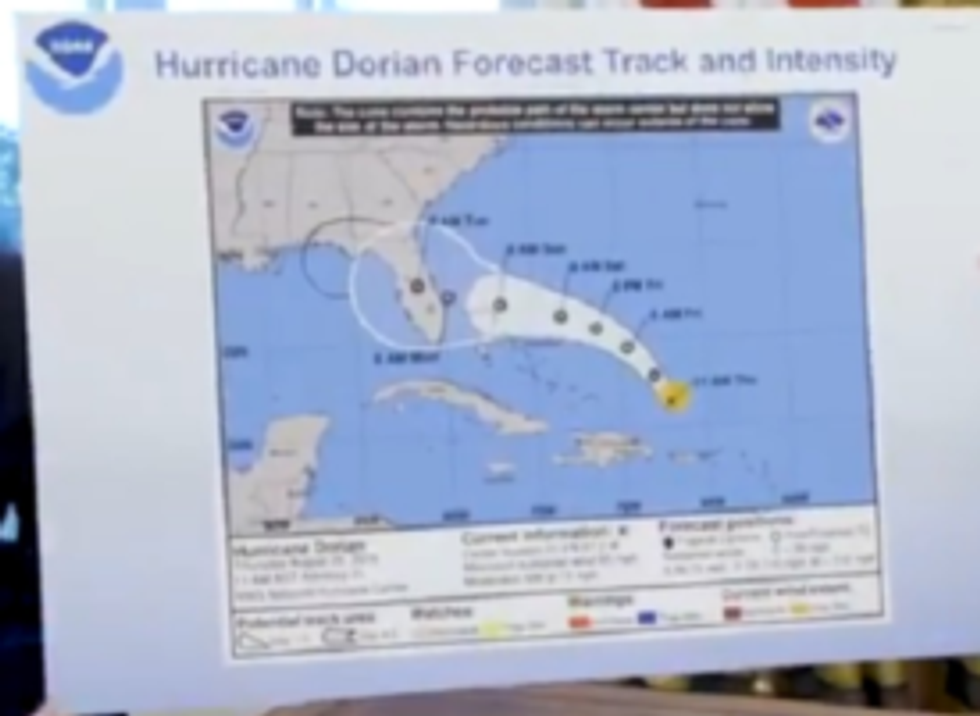 @wxdam/Twitter
Not only has the map been sloppily altered, but it's also six days old. Since this map, the hurricane took a right turn and is now approaching the Carolinas.
Below is the unedited version of the map.
The real map for the hurricane.. Guess what?? NEVER COVERED ALABAMA. https://t.co/OAuGFpKUGp

— Carma (@Carma) 1567624539.0
A reporter asked Trump about the map, observing that it "looks like someone just took a Sharpie..."
"I don't know. I don't know." Trump responded before insisting that Alabama was in Dorian's path at one point (Again, this was refuted by the National Weather Service).
REPORTER: That map you showed us today, it looked like it almost had like a Sharpie on it. TRUMP: I don't know, I… https://t.co/3sPmqgncw1

— JM Rieger (@JM Rieger) 1567625405.0
It's no secret that Trump lies or that the White House and his Allies enable the lying, often going to great lengths to spin them as accurate. But the blatant attempt to prove the President right on what could've been brushed off as a misstatement during a time of crisis?
That was pettiness of a new depth, and people were flabbergasted.
Think about how dangerous this is. Trump's ego is so ridiculously fragile they blatantly faked a hurricane map so h… https://t.co/AEmxMWKjzq

— Phil Plait (@Phil Plait) 1567621907.0
This is incredible. The White House doctored the map to retroactively justify Trump saying the hurricane will hit A… https://t.co/eU9MYcMXWv

— Amanda Terkel (@Amanda Terkel) 1567621927.0
NONE OF THIS IS REAL. WE ALL DIED AND WE LIVE IN A SIMULATION. THE SIMULATION KEEPS GLITCHING. THERE'S NO WAY ANY O… https://t.co/041oR8wMvb

— Oliver Willis (@Oliver Willis) 1567624856.0
And for what? So Trump wouldn't have to admit he was wrong.
Not that it matters, but it's a violation of federal law to doctor a National Weather Service report.
------
Listen to the first episode of George Takei's podcast, 'Oh Myyy Pod!', where we explore the racially charged videos that have taken the internet by storm.
Be sure to subscribe here and never miss an episode.