Dion Cini, a former Marine who lives on New York's Upper West Side, was banned from Walt Disney World after he held up a "Trump 2020" sign on the park's Splash Mountain Ride.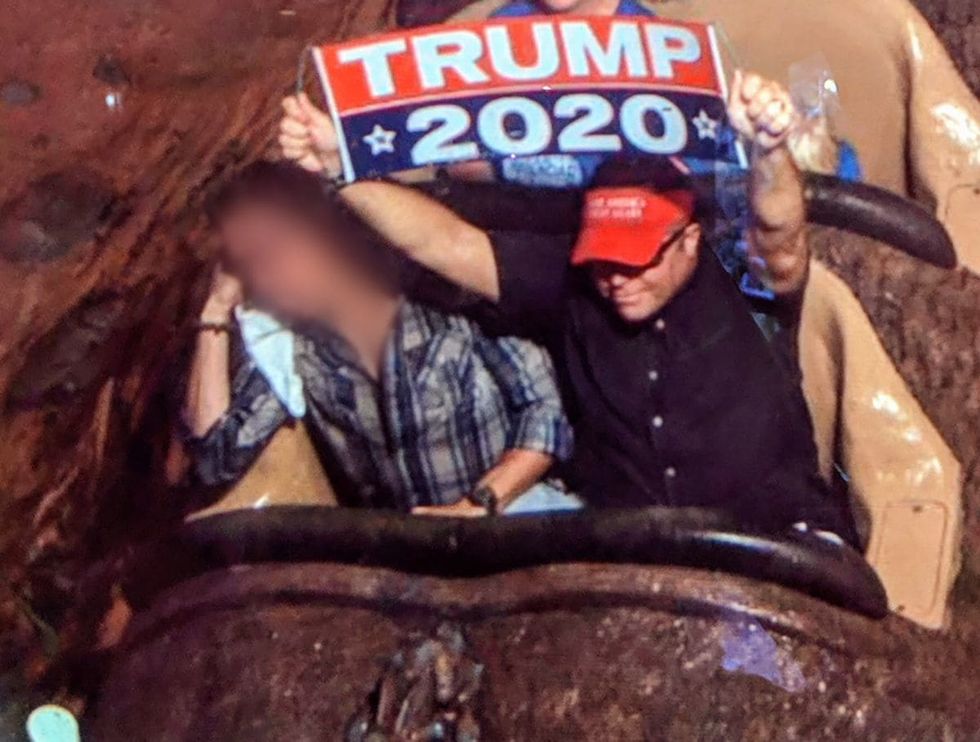 Disney World banned Cini for partaking in one of the park's "prohibited activities," which includes "unauthorized events, demonstrations or speeches, or the usage of any flag, banner or sign for commercial purposes, or to incite a crowd."
---
The policies also state that any item Disney deems "harmful or disruptive" is not permitted.
"Walt Disney World welcomes all Guests to enjoy our parks; however, demonstrations and the display of signs and banners is not permitted on the premises," a spokesperson for the theme park said. "We have previously reminded this guest about our rules."
It's true: Cini made headlines in September after he hung a banner at Magic Kingdom which read "Re-Elect Donald J. Trump. Keep America Great. 2020."
At the time, Cini told reporters that he wanted a "viral effect."
"There were security guards watching me," he wrote to Newsweek. "If they wanted me, they could have grabbed me. Now, if they do come after me or ban me, it will be for political reasons, not policy."
As for his most current stunt: Cini insists he's not a rulebreaker.
"I did not break the rules," he told The Washington Post. "I was on a ride. I was not inciting a crowd. There was no crowd."
He had a slightly different explanation for a Florida news outlet.
"I wanted to actually abide by their rules, and not hold up a flag to incite a crowd, but I kind of wanted to test them," he told WFTV. "I just really wanted to find out whether or not it had to do with unfurling a flag, or what was written on the flag."
Cini took to Facebook to share both a photo of himself on the ride and a note which says he's been "Trespassed from all of Walt Disney World properties."
[facebook https://www.facebook.com/plugins/post.php?href=https%3A%2F%2Fwww.facebook.com%2Fphoto.php%3Ffbid%3D10157549618099587%26set%3Da.10150091992354587%26type%3D3&width=500 expand=1]
The reaction to his Facebook post has been generally positive, with many of his friends and acquaintances lauding him as a "superhero." Others pointed out that the sign could be a hazard on a fast-moving ride.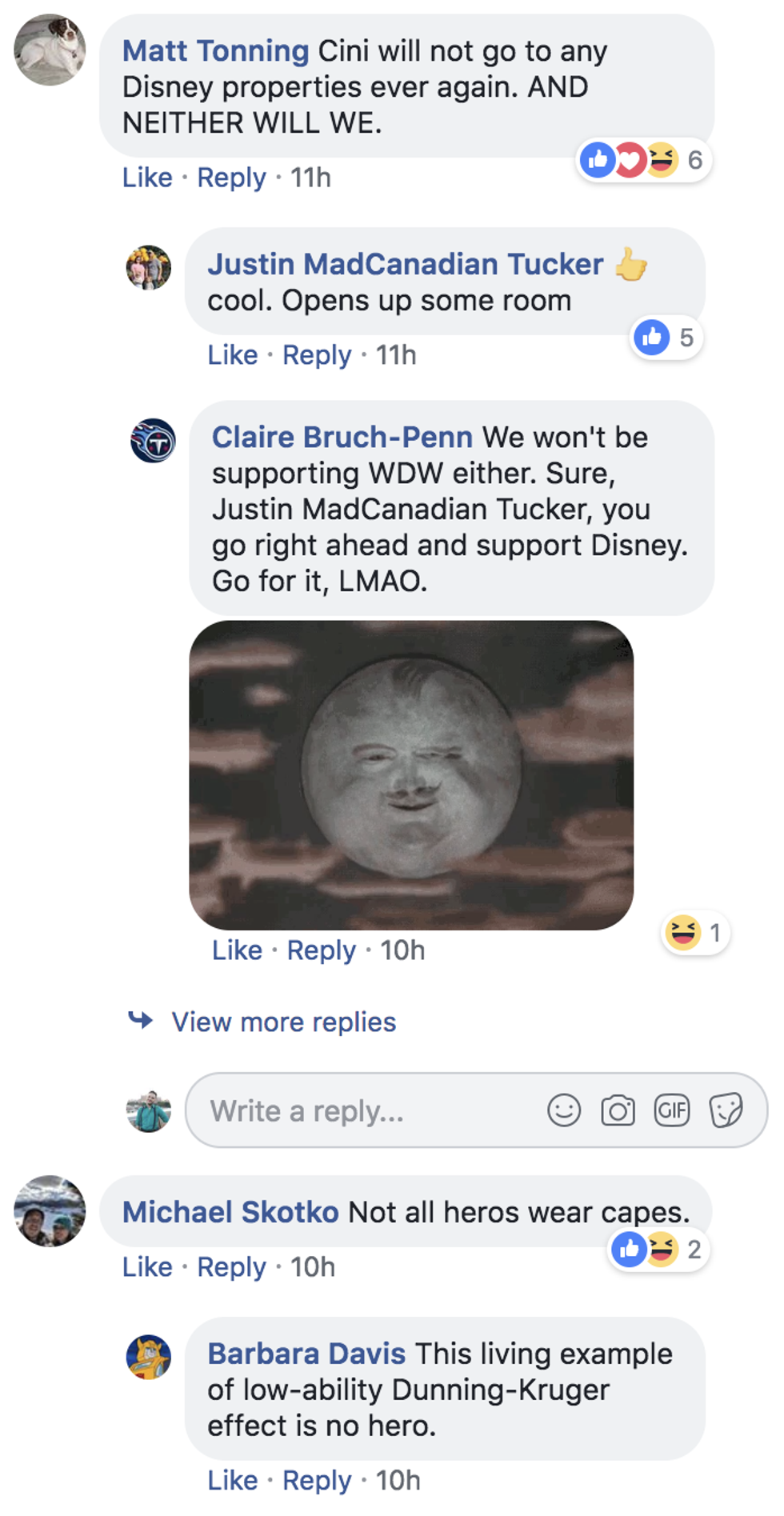 Facebook
His stunt has received a mixed reaction elsewhere.
this guy was banned from #Disney because HE BROKE THE RULES. it has nothing to do with Trump. Once again y'all are… https://t.co/KuDdJ9m681

— A GIRL (@A GIRL) 1542204402.0
The "You Big Dummy Award" of the Day goes to Dion Cini who had a Disneyworld pass for 26 years. Now... he can nev… https://t.co/1w6zx2Sb35

— Sleepy Richmond (@Sleepy Richmond) 1542137091.0
@dioncini it's hard to believe that my family and I can be inundated with gay pride week but it's intolerable that… https://t.co/FyigqJEB0T

— Justin (@Justin) 1542157167.0
He says he counted on going viral as a means of contributing to President Donald Trump's re-election campaign.
"I do things differently," he said. "I do things that will go viral to support the president. I'm trying to let other Trump supporters know that you don't have to go to rallies. You can do this on your own. One person can have a bigger voice than a thousand people."
Cini says he plans to contest the ban in court. He held an annual pass for 24 years and claims Disney did not explicitly warn him about taking his sign on Splash Mountain.
"They never mentioned the fact that there was some kind of safety issue on the ride. That I was holding up a sign and I shouldn't be doing that," he said.