In United States politics, voter apathy sometimes decides elections more than voter turnout. In the 2014 midterms, the lowest voter turnout since 1942 led to control of the House and Senate going to the GOP.
Midterm elections, those falling in the years between presidential elections, always see lower counts at the polls. But voter apathy in 2014 reached new levels.
---
Nationwide voter turnout in 2014 totaled just 36.4 percent, a drop of 40.9 percent since the 2010 midterms. But according to the latest numbers from the Pew Research Center, the 2018 midterms—slated for Tuesday, November 6, 2018—look to be a different story.
The compelling reasons drawing people to the polls this year over 2014? President Donald Trump and Republicans in Congress.
Unfortunately for both, voters do not appear headed to the polls to support them. So far through primary season, polling places drew more Democrats than Republicans.
Analyzing poll numbers through June 2018, Pew found 13.6 million people voted in Democratic House primaries. This compares to only 7.4 million in 2014. That translates to an 84 percent increase.
On the Republican side, 10.7 million voters turned out for GOP House primaries, compared to 8.6 million in 2014. While it represents an increase, it works out to only 24 percent.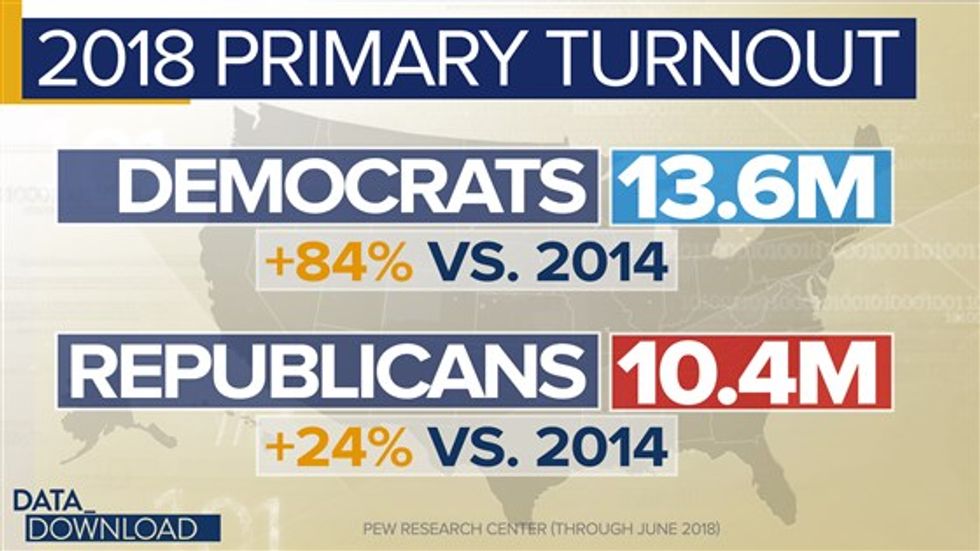 Pew Research Center analysis of 2018 primary voter turnout through June (Pew/NBC News)
However, the GOP holds more incumbent seats in Congress. That fact alters the impact of lower Republican primary turnout slightly, but not enough.
And seats in uncontested races still saw higher Democratic numbers going to the polls.
In Iowa's 2nd district, the Democrat and Republican both ran unopposed, but the Democratic primary drew 27,000 more voters than in 2014, while Republican turnout dropped by more than 8,000 voters.
While it is way too early for Democrats to declare victory, the numbers clearly indicate higher engagement by Democratic voters over their GOP counterparts. But primaries and general elections are two different things.
Will Democrats sustain enthusiasm going into November? Or will there be a repeat of 2016 where Democrats stayed only long enough to support their candidate then stayed away from the general election?
Democratic presidential primaries and caucuses drew record numbers in 2016. Those numbers failed to sustain all the way to November costing Democrats not just the White House, but also Congress.
Voter turnout in the 2016 presidential election, despite the contentiousness of the race, failed to break records on percentage of voters. And the United States still didn't come close to the voting numbers from other first world countries.
The U.S. last hit comparable numbers during a presidential race in the 1800s when 83 percent of voters went to the polls over Rutherford Hayes and Samuel Tilden. Recent years show a steady hover between 50 to 60 percent voter engagement.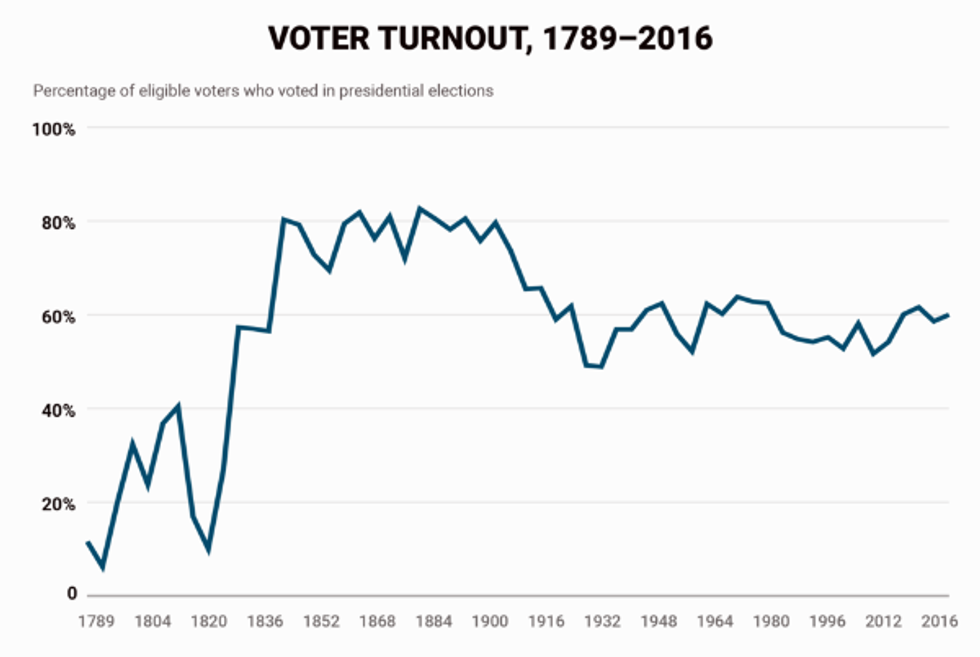 Voter turnout in presidential elections from 1789-2016 (Skye Gould/Business Insider)
If only about 60 percent of voters will show up to decide on the presidency, lower numbers when the fate of Congress is on the line are assured. People online are rightfully concerned about voter apathy and expressed it after the Pew numbers were released.
Even when people were cautiously optimistic they still voiced concerns.
And the Pew Research Center made a point about who votes and who does not. While Gen-X, Millennials and post-Millennials—those younger than 54 in 2018—now make up the majority of eligible voters, they fail to vote in midterm elections.
While these state primary numbers suggest Democratic enthusiasm runs high right now, the real test occurs on Tuesday, November 6, 2018. Will Democrats show up or stay home?
If you plan to vote in November or by absentee ballot, but do not know your voter registration status, you can check here through HeadCount, a non-partisan organization that works with musicians to promote participation in democracy through voter registration.