New York Governor Andrew Cuomo has responded to statements made by businessman Carl Paladino, his former rival in the 2010 gubernatorial election. Paladino, whose campaign emphasized regressive fiscal reform and was endorsed by the Tea Party movement, sparked controversy after he told reporters he would like to see President Barack Obama die of mad cow disease and compared First Lady Michelle Obama to a gorilla.
"Paladino has a long history of racist and incendiary comments. While most New Yorkers know Mr. Paladino is not to be taken seriously, as his erratic behavior defies any rational analysis and he has no credibility, his words are still jarring," Cuomo said in a statement. "His remarks do not reflect the sentiments or opinions of any real New Yorker and he has embarrassed the good people of the state with his latest hate-filled rage."
---
Paladino, who sits on the Buffalo, New York school board, has made headlines for inflammatory comments before. In 2010, for example, he was criticized for anti-gay remarks to Orthodox rabbis and found himself at the center of an email scandal after a progressive website exposed a litany of racist and sexually explicit messages from his private account. But his racially charged responses to a survey by Artvoice, an alternative weekly magazine, have received sharp rebukes from both sides of the aisle:
ARTVOICE: What would you most like to happen in 2017?
PALADINO: Obama catches mad cow disease after being caught having relations with a Herford. He dies before his trial and is buried in a cow pasture next to Valerie Jarret, who died weeks prior, after being convicted of sedition and treason, when a Jihady cell mate mistook her for being a nice person and decapitated her.
ARTVOICE: What would you most like to see go in 2017?
PALADINO: Michelle Obama. I'd like her to return to being a male and let loose in the outback of Zimbabwe where she lives comfortably in a cave with Maxie, the gorilla.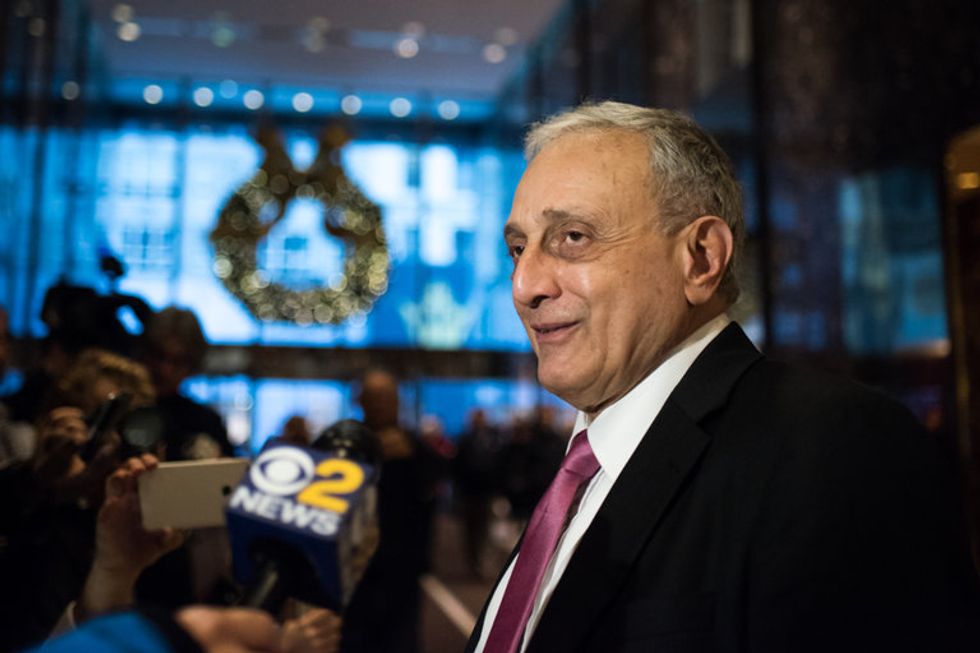 Carl Paladino. (Credit: Source.)
Paladino has denied that his comments were racist. "It has nothing to do with race," Paladino told the Washington Post. "That's the typical stance of the press when they can't otherwise defend the acts of the person being attacked. It's about 2 progressive elitist ingrates who have hated their country so badly and destroyed its fabric in so many respects in 8 years."
As recently as December 5, Paladino visited Trump Tower to work on President-elect Donald Trump's transition efforts, but a spokeswoman for Trump denounced his comments. "Carl's comments are absolutely reprehensible, and they serve no place in our public discourse," said spokeswoman Jessica Ditto. (She did not comment on Paladino's future on the transition team.)
But Paladino, who has sought to have Trump's portrait hung in all of Buffalo's schools, says that he doesn't believe Trump "particularly cares what I have to say."
"He knows me," he added. "I was active with him, and I still am active with him."
As of this afternoon, nearly 6,000 people have signed an online petition calling for Paladino's removal from
the school board. "Carl Paladino has proven himself time and again with disgusting comments to be a racist," it reads. "His most recent outrageous comments in Artvoice should be the final straw."
Community leaders have also come forward to condemn the businessman.
Paladino should resign immediately, suggested Erie County Executive Mark C. Poloncarz, who called his comments "outrageous, dangerous and disturbing."
The Partnership for the Public Good asked today for "elected officials and candidates to pledge not to take campaign donations from Carl Paladino and for businesses, non-profit groups, and individuals to pledge not to rent from his development companies or otherwise do business with him."
Buffalo School Board President Barbara Nevergold suggested the school board would seek to remove Paladino from office. "Silence is not permissible," Nevergold said. "Silence is agreement. Silence to this would be agreement to what Mr. Paladino has said… There's a time and place for you to stand up and confront people who are saying things unjustly and bullying, or abusing their power. People have a right to call for his resignation or for his removal."
Dr. Barbara Nevergold held a press following remarks Carl Paladino made about President Obama and the First Lady in… https://t.co/EsNyWXJOza

— John Hickey (@John Hickey) 1482517411.0
Paladino's alma mater, St. Bonaventure University––where Paladino once served on the board of trustees–– issued a statement of its own. "Mr. Paladino's remarks in ArtVoice are reprehensible and in complete contradiction to the values of St. Bonaventure University," said Andrew Roth, the University's president. "At St. Bonaventure we believe in an inclusive community that values diversity as a strength. While as educators we know we never attain 100%, it is reasonably certain that the vast majority of St. Bonaventure's extended family – students, Franciscans, faculty, staff and alumni – share in the rejection of Mr. Paladino's comments and the comments of any who violate our shared values of individual dignity, community inclusiveness and service to others."
Paladino has claimed in several interviews after the release of Artvoice that he meant to shed light on President Obama's "transgressions" and that his statements were indicative of the "deprecating humor which America lost for a long time. Merry Christmas and tough luck if you don't like my answer." As he told the New York Times, "I did it to wake people up; I did it to get people's attention."