During the Senate Judiciary Committee Hearing this morning, Senator Cory Booker (D-NJ) announced his intention to "knowingly violate" Senate rules by releasing an email from when Brett Kavanaugh served under President George W. Bush, which shows Kavanaugh supported racial profiling by police.
"No Senate rule and no history of the Senate accounts for what is going on right now," Booker said, saying that he is prepared to engage in "civil disobedience" with the understanding that the penalty could be a "potential ousting from the Senate."
---
Sen. Cory Booker at Kavanaugh hearing says he is releasing email "about racial profiling" to "expose" that document… https://t.co/ciwnX9Pcys

— ABC News (@ABC News) 1536242703.0
"If Senator [John] Cornyn believes that I violated Senate rules, I openly invite and accept the consequences of my team releasing that email right now," he added, saying he is willing to do so to "expose" that documents "being withheld from the public have nothing to do with national security, nothing to jeopardize the sanctity of those ideals that I hold dear."
"Instead, what I am releasing this document right now to show, sir, is that we have a process here for a person, the highest office in the land, for a lifetime appointment, we're rushing through this before me and my colleagues can read and digest the information," he continued.
Senator Cornyn harshly rebuked Booker's action, calling it "unbecoming" for Booker to "willingly flout the rules of the Senate."
"Running for president is no excuse for violating the rules of the Senate or of confidentiality of the documents that we are privy to," Cornyn said of Booker.
Sen. Booker: "I'm knowingly violating the rules...I am releasing committee confidential documents" Sen. Cornyn: "R… https://t.co/Xikz62SoQ0

— ABC News (@ABC News) 1536242986.0
Later in the morning, he tweeted a link to the documents:
These are the 4 documents marked committee confidential that I brought up in my questioning of Supreme Court nomin… https://t.co/EYeg2oF9Mm

— Cory Booker (@Cory Booker) 1536246251.0
He summed up the reason he was willing to make such a bold move with this tweet earlier in the morning:
What you do matters. What you say matters. No matter how big the fight Or inevitable the conclusion seems Sta… https://t.co/C3zzZ76Qht

— Cory Booker (@Cory Booker) 1536240609.0
Booker's decision received praise from fellow Democrats, including Illinois Senator Dick Durbin, who said:
I just want to say to my colleagues, particularly my colleague from New Jersey, I completely agree with you. I concur with what you are doing. And let's just into this together. I hope my other colleagues will join me. So if there is going to be some retribution against the senator from New Jersey, count me in.
Booker was also praised by average citizens who've been following the hearings and oppose a potential Kavanaugh confirmation. Booker is a favorite to run in the 2020 presidential election.
@ABC @edizzle1980 @SenBooker This is the leadership we need. 👏👏👏👏

— Mary Q. Contrary (@Mary Q. Contrary) 1536242972.0
@ABC He's taunting them: go ahead, oust me, and see how well that goes over, you-ousting-me-for-revealing-secrets.

— Michael Bruce Hill (@Michael Bruce Hill) 1536242843.0
@ABC Now that's sacrificing for the greater good if he does this.

— Tuscana (@Tuscana) 1536242802.0
@ABC Trump's week just got worse. And Kavanaugh has to be sweating what other emails they have. It's going to be a long long day.

— Fed up 🌊🇺🇸 (@Fed up 🌊🇺🇸) 1536242975.0
The documents Booker released can be found here and are embedded below. They indicate that Kavanaugh, then an aide to President Bush, entertained the use of racial profiling to combat terrorism after 9/11.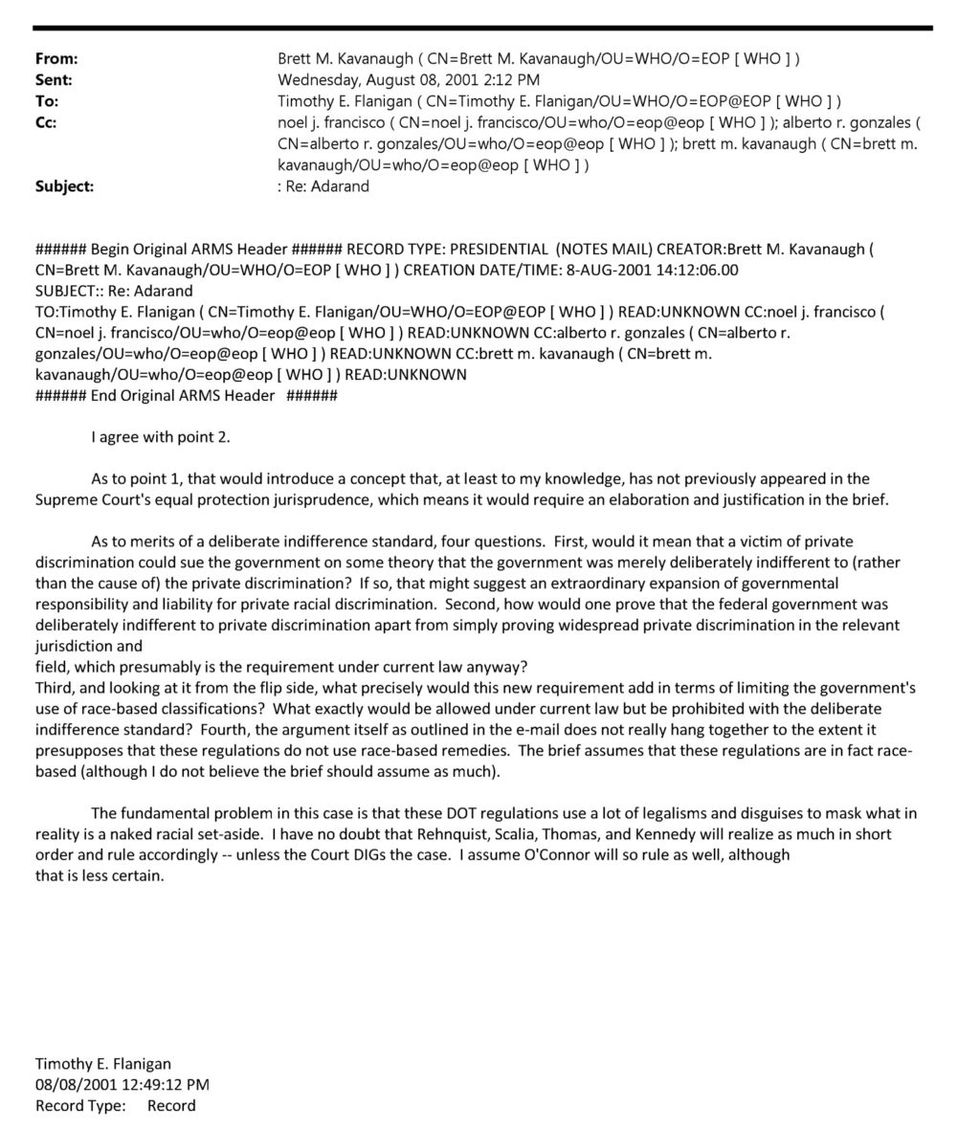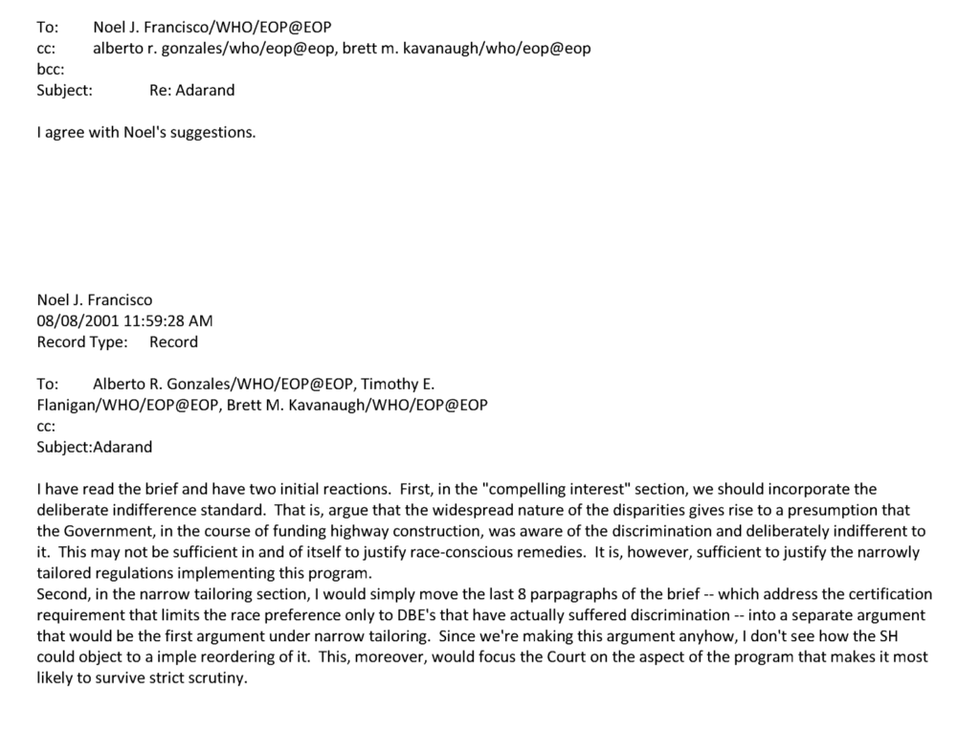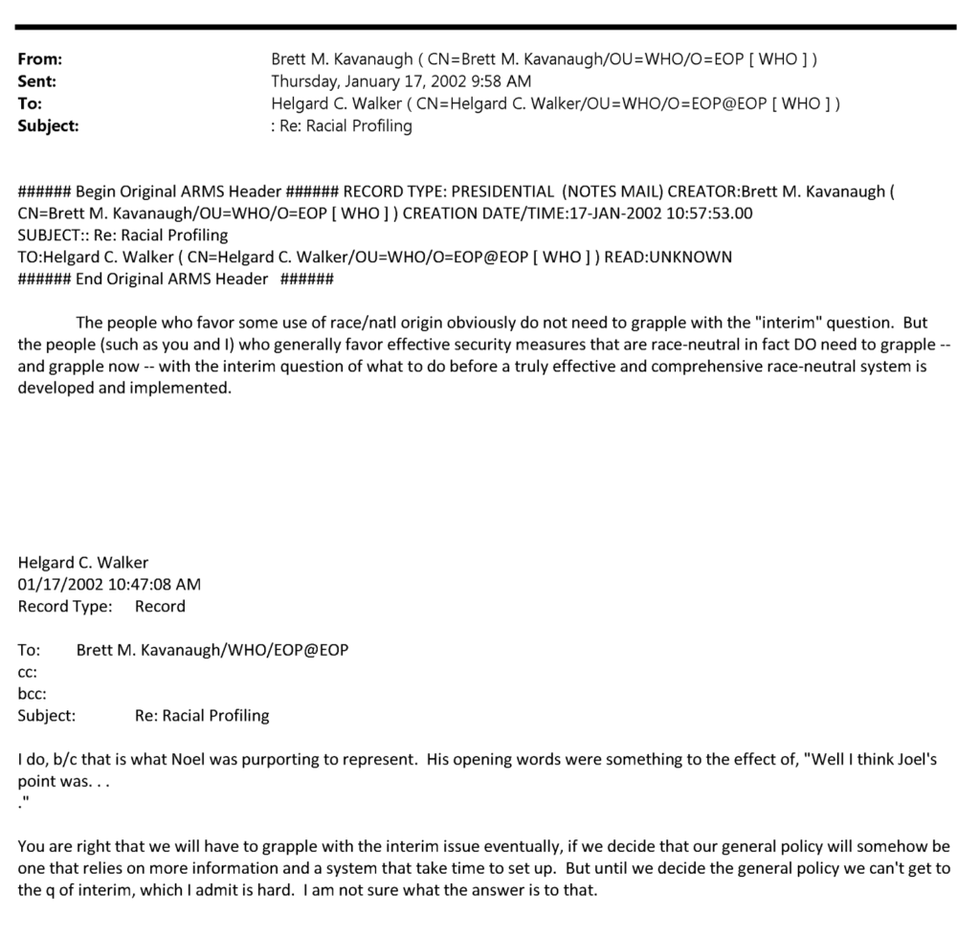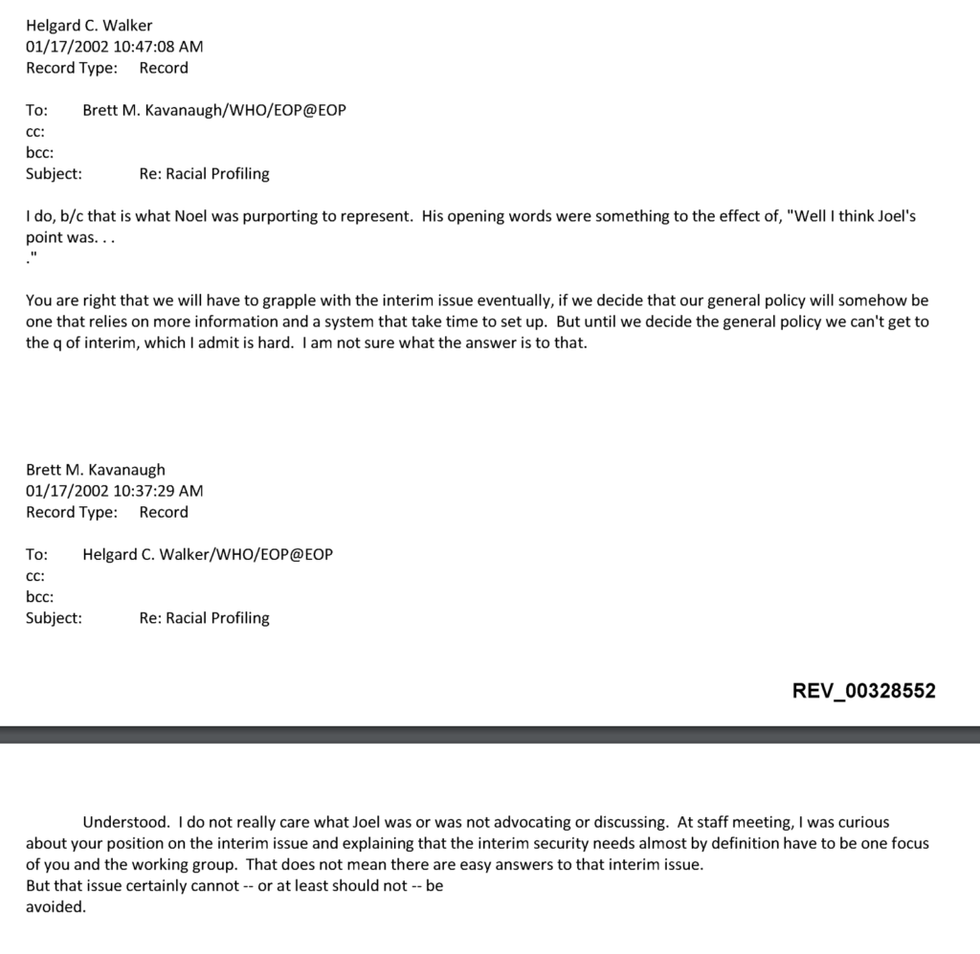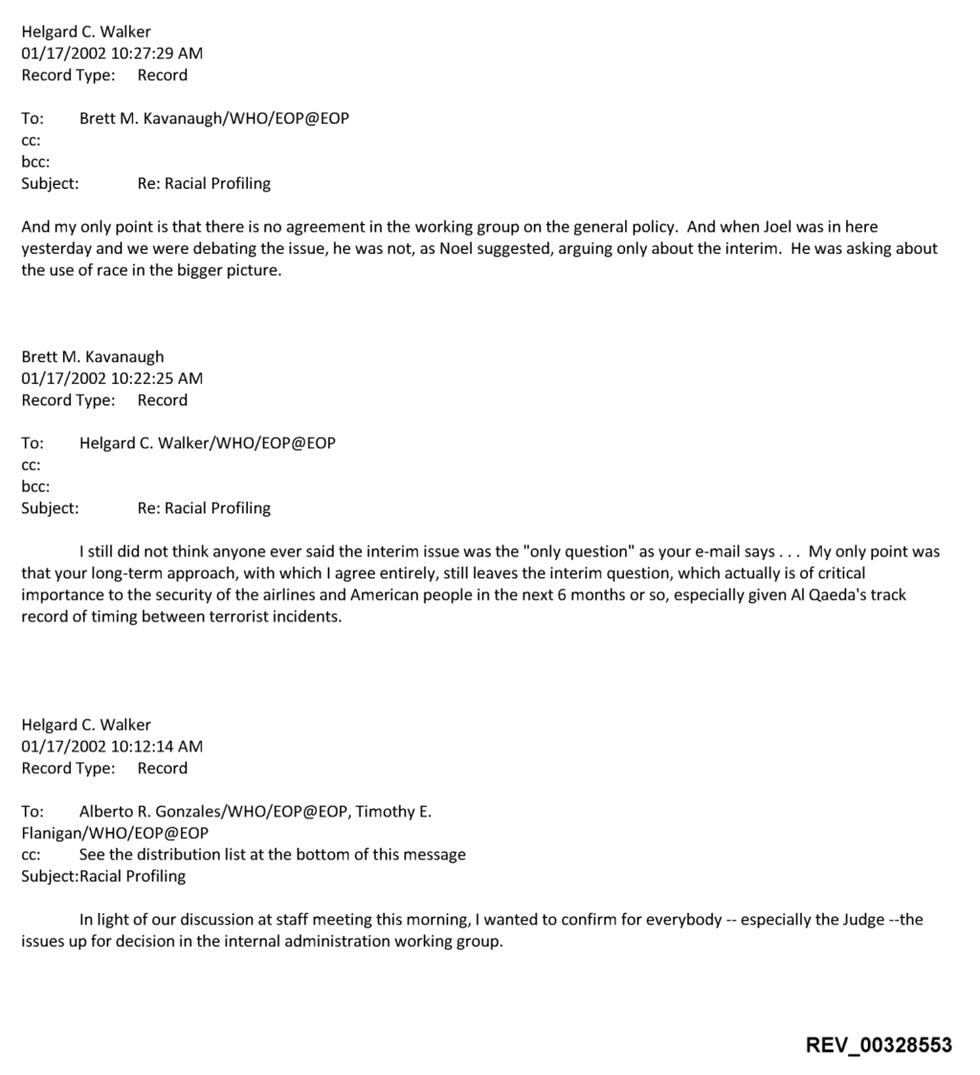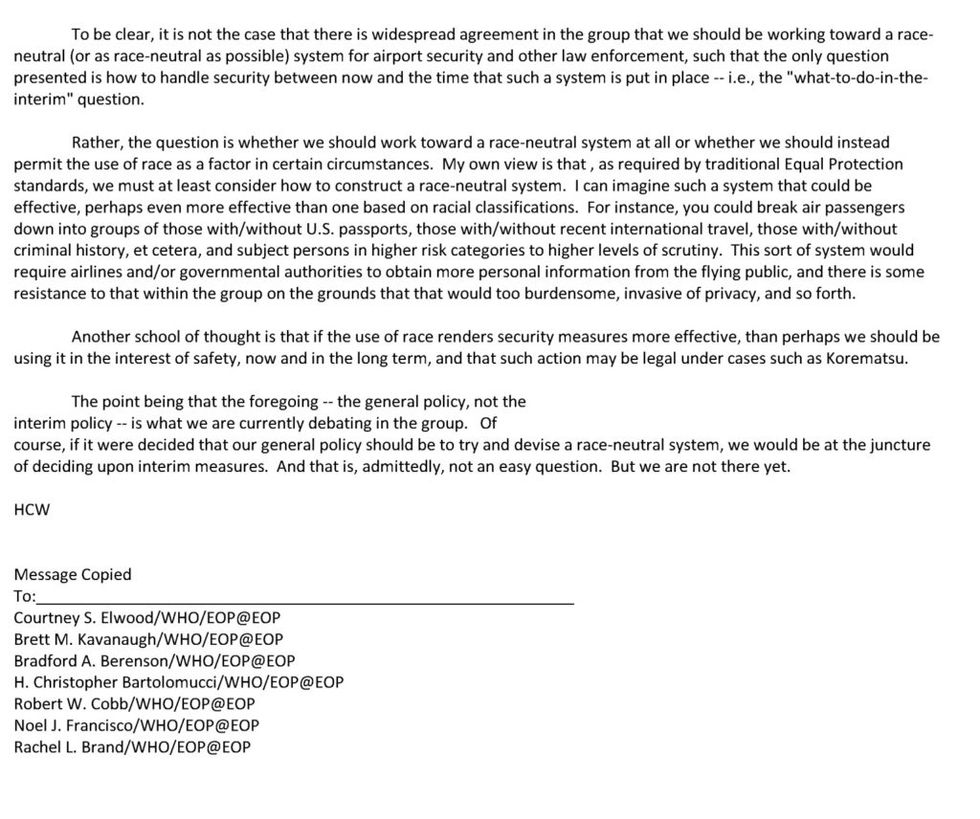 Senator Mazie Hirono (D-HI) also posted some documents to Twitter, saying that Republicans wish to withhold the documents because Kavanaugh "wrongly believes that Native Hawaiian programs are Constitutionally questionable."
In an email dated June 4, 2002, Kavanaugh wrote that "any program targeting Native Hawaiians as a group is subject to strict scrutiny and of questionable validity under the Constitution."
These are the docs Rs don't want you to see—because they show that Judge Kavanaugh wrongly believes that Native Haw… https://t.co/Z9qzgjeSXR

— Senator Mazie Hirono (@Senator Mazie Hirono) 1536247139.0
There is no rule which justifies the withholding of the documents, and President Trump has claimed executive privilege on more than 100,000 pages of Kavanaugh's records from the White House Counsel's Office.
The reason why the documents should be released are outlined rather succinctly in a letter Senator Dianne Feinstein (D-CA), the ranking member of the committee, sent Trump counsel Donald McGahn. She points out that executive privilege "has never before been invoked to block the release of presidential records to the Senate during a Supreme Court nomination" and pointed to examples from prior administrations:
As you know, executive privilege has never before been invoked to block the release of presidential records to the Senate during a Supreme Court nomination. In fact, when Elena Kagan was nominated, President Obama announced he would not invoke executive privilege over any of her White House records. When John Roberts was nominated, President Bush announced he would not invoke executive privilege over any of his White House records. And when Justice Rehnquist was nominated, the Committee refused to go forward with hearings until the White House produced records over which it initially indicated it might claim privilege.

By contrast, the Trump White House is withholding thousands of pages from Brett Kavanaugh's record from Congress and admits that it is doing so without actually asserting a legal privilege. Rather, taking advantage of the unprecedented process used by Republicans to rush this nomination through the Senate with just a fraction of the nominee's records, the White House is now asserting that it can withhold whatever documents it wants without formally invoking executive privilege.
Feinstein also points out that "the requirements of the Presidential Records Act are not merely a matter of convenience":
Rather, the law ensures that executive privilege claims are taken seriously and used sparingly to ensure accountability and public transparency. Under the Act, the President must "personally" assert the privilege over each record and notify the National Archives and Congress the same day. This ensures that Congress and the public know what records are being withheld and that Congress has an opportunity to engage in the good-faith accommodation process required by the courts as a means of balancing the legitimate needs of both branches.

The decision to hide a significant portion of Judge Kavanaugh's White House record—announced on the eve of his confirmation hearing for a lifetime appointment to the Supreme Court—is deeply concerning. We have previously expressed our concern that the Committee is receiving only a small fraction of Judge Kavanaugh's White House record, filtered through an opaque private review process being conducted by outside private lawyers rather than the nonpartisan National Archives. Now, for the first time ever, a sitting President is blocking the release of documents during a Supreme Court nomination without even asserting executive privilege.
This post has been updated from its original version to reflect Senator Hirono's release of "committee confidential" documents.