President Donald Trump's administration suffered another legal blow yesterday after the Fourth U.S. Circuit Court of Appeals upheld a district court's nationwide injunction against his revised travel ban. The 10-3 vote halts Trump's plans to deny visas from seven Muslim-majority countries.
Chief Judge Roger Gregory delivered the stinging rebuke to Trump in the court's majority opinion, writing that the order was unconstitutional because of its bias against Muslims:
---
From the highest elected office in the nation has come an Executive Order steeped in animus and directed at a single religious group.

We are ... unmoved by the Government's rote invocation of harm to 'national security interests' as the silver bullet that defeats all other asserted injuries. The Government's asserted national security interest in enforcing [the ban] appears to be a post hoc, secondary justification for an executive action rooted in religious animus and intended to bar Muslims from this country.
The president does have the "broad power to deny entry to aliens," Gregory acknowledged, but that power "cannot go unchecked when, as here, the President wields it through an executive edict that stands to cause irreparable harm to individuals across this nation."
Alhough the Trump administration has argued that anti-Muslim animus did not motivate either of the president's travel bans, Gregory declared that "the government's national security purpose was proffered in bad faith." He cited Trump's anti-Muslim rhetoric and proposal for a Muslim ban during his presidential campaign, and "his subsequent explanation that he would effectuate this ban by targeting 'territories' instead of Muslims directly" for the decision.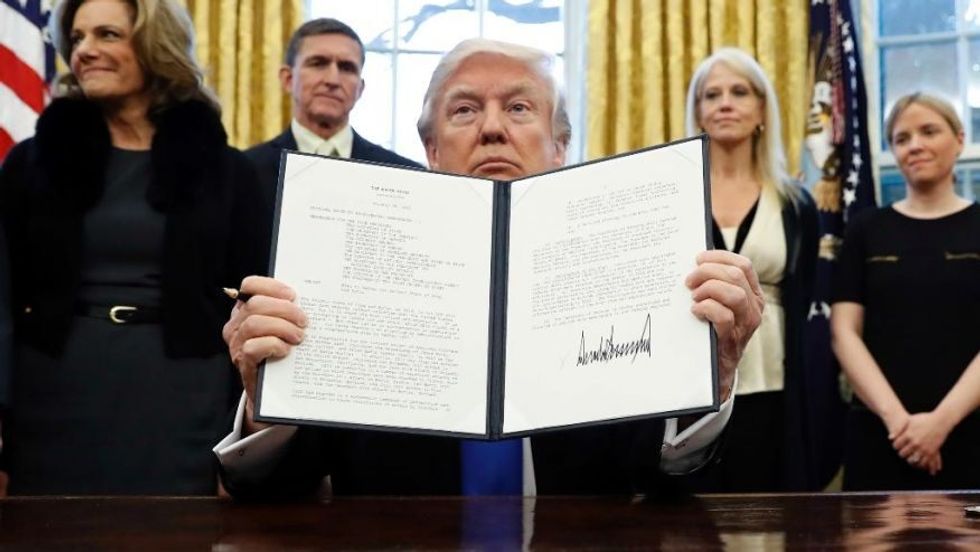 The president after signing his travel ban in January. (Credit: Source.)
The dissenting opinion argued that the court's majority disregarded public safety by interfering with the judgment of the Executive Branch and its response to terror threats. Judge Dennis Shedd, joined by Judges Paul Niemeyer and Steven Agee, wrote:
As [sic] the end of the day, the real losers in this case are the millions of individual Americans whose security is threatened on a daily basis by those who seek to do us harm.

The security of our nation is indisputably lessened as a result of the injunction. Moreover, the President and his national security advisors (and perhaps future Presidents) will be seriously hampered in their ability to exercise their ability to exercise their constitutional duty to protect this country.
Neimeyer, in particular, expressed his anger with his colleagues for their willingness to examine Trump's past statements "to recast the plain, unambiguous, and religiously neutral text of an executive order."
He predicted the Supreme Court "surely will shudder at the majority's adoption of this new rule that has no limits or bounds — one that transforms the majority's criticisms of a candidate's various campaign statements into a constitutional violation."
In a statement, Attorney General Jeff Sessions promised the administration would appeal the decision before the Supreme Court:
The Department of Justice strongly disagrees with the decision of the divided court, which blocks the President's efforts to strengthen this country's national security.

The President is not required to admit people from countries that sponsor or shelter terrorism, until he determines that they can be properly vetted and do not pose a security risk to the United States....This Department of Justice will continue to vigorously defend the power and duty of the Executive Branch to protect the people of this country from danger, and will seek review of this case in the United States Supreme Court.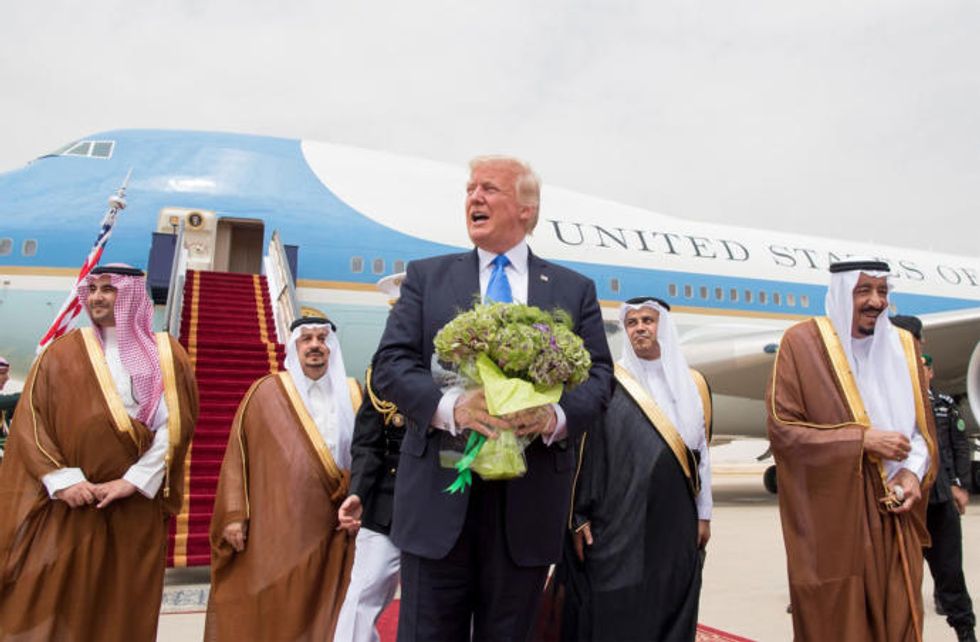 Trump visits Riyadh, Saudi Arabia, earlier this week. (Credit: Source.)
White House spokesman Michael Short echoed Sessions' sentiments in a statement which appeared to allude to this week's bombing in Manchester, England, which killed 22 people and injured scores of others. The bomber, Salman Ramadan Abedi, was a 22-year old British national of Libyan descent.
"These clearly are very dangerous times and we need every available tool at our disposal to prevent terrorists from entering the United States and committing acts of bloodshed and violence," he said. "We are confident the President's executive order to protect the country is fully lawful and ultimately will be upheld by the Judiciary."