With his first 100 days as president coming to a close tomorrow, President Trump faces yet another major defeat as his efforts to make good on a key campaign promise to repeal and replace the Affordable Care Act once more are on hold. Congressional vote counters agree that, while it appears the conservative Freedom Caucus is on board with the revised plan, they have failed to secure enough moderates who can still support it. Presently, there are 15 moderate members of the party still balking at its terms and refusing to vote for it, with another 20 leaning no or still undecided.
Without a single Democrat in support, the revised Republican Healthcare bill can only afford to lose 22 GOP votes, and as of Thursday, 21 had come out against it. In a late-night huddle last night, House Speaker Paul Ryan and his lieutenants decided to delay a vote until next week.
---
"We are not voting on health care tomorrow," Majority Leader Kevin McCarthy (R-Calif.) told reporters upon emerging from the meeting. "We're still educating members."
The failure on this second go around to achieve a workable compromise means that Trump will end his first 100 days without a single major legislative accomplishment, despite controlling both houses of Congress. It is a stunning setback for the president, who had laid out 10 bold promises to voters in his first 100 days, none of which have come to pass. Mindful of the symbolism of this first time period, the White House had initially raised expectations that the vote would occur this week, and they had quietly urged Ryan to give Trump something he could point to at the end of the first 100 days.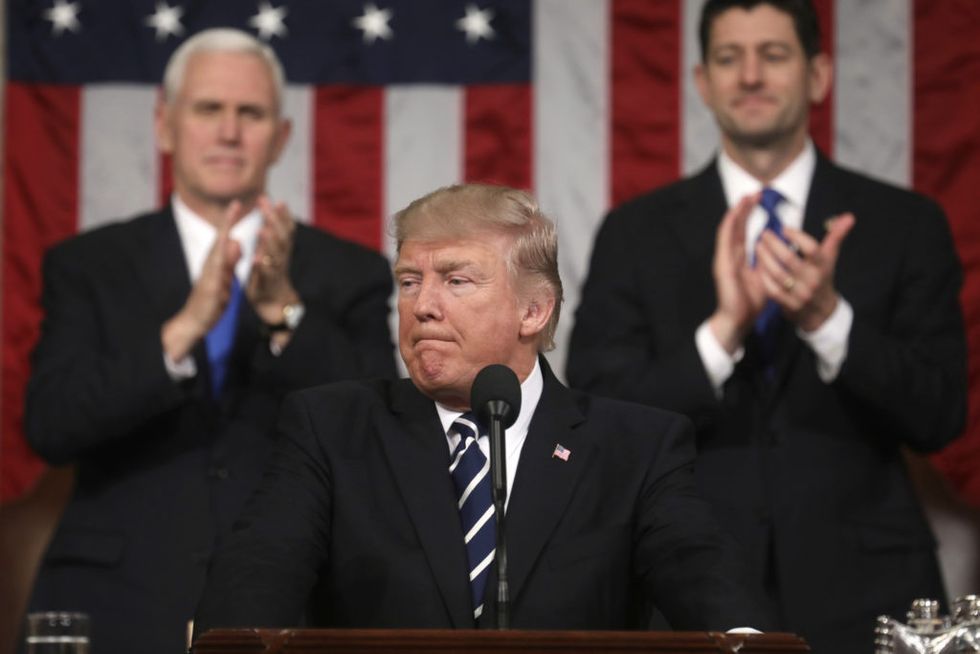 Credit: Source.
That is now not going to happen, and the future of the ACA repeal itself still remains unclear. None of the those presently opposed, who had already rejected the earlier bill, is likely to vote for an even harsher, more restrictive one. And some Republicans who backed earlier versions of the proposal, including centrists from blue states, are now saying they are undecided.
"Protections for those with pre-existing conditions without contingency and affordable access to coverage for every American remain my priorities for advancing health care reform, and this bill does not satisfy those benchmarks for me," said Rep. Ryan Costello (R-PA) , who actually had voted for an earlier version of the bill in committee. "I remain a no vote on this bill in its current form."
Three other GOP Congressmen--Pat Meehan of Pennsylvania, Jamie Herrera Beutler of Washington state and John Katko of New York--also issued statements on Thursday opposing the bill, with Meehan specifically citing concerns over its exclusion of those with pre-existing conditions.
GOP leaders nevertheless remain optimistic they can secure the votes. According to Politico, three senior House GOP sources claimed Thursday that they've now secured a "yes" from House Appropriations Chairman Rodney Frelinghuysen, who had opposed the bill several weeks ago. The Chairman's office had no comment.