[DIGEST: Huffington Post, Think Progress]
Twin amendments in the House and Senate are a win for veterans and veteran rights advocates, and for the medical marijuana movement in general, after two unsuccessful efforts to pass similar legislation.
---
The Veterans Equal Access Amendment passed in the House in a 233-189 vote on Thursday,  and the Senate also approved a broader appropriations measure with similar language. The amendment will prohibit the Department of Veterans Affairs from enforcing a policy that bars government doctors from prescribing medical marijuana to veterans experiencing pain, post-traumatic stress, or other conditions. Doctors legally can prescribe medical marijuana in 24 states and Washington D.C. Veterans, however, currently must seek recommendations outside the V.A. system and pay out-of-pocket expenses. Both measures would go into effect next year pending final passage of an omnibus spending bill and approval from President Obama.
Medical marijuana advocates hailed the victory while criticizing the current regulatory regime. "Prohibiting VA doctors from recommending medical marijuana does nothing to help our veterans," said Marijuana Policy Project's Robert Capecchi. "Current VA policy is preventing physicians from thoroughly monitoring patients' medication decisions and engaging in frank conversations about available treatment options. It dramatically undermines the doctor-patient relationship."
Rep. Earl Blumenauer (D-Oregon), who introduced the Veterans Equal Access Amendment, believes that in five years "everyone will have access to some form of medical marijuana." He credits strong bipartisan support for the measure and the country's changing attitudes on marijuana for the measure's passage after two unsuccessful attempts. Blumenauer's proposal came close to passing last year, but failed 213-210 in the House.
Earl Blumenauer. (Credit: Source.)
In an interview following the vote, Blumenauer explained why he supports the measure, pointing to the high rates of suicide and opioid use among veterans. "I have been deeply troubled about our inability to adequately deal with our returning veterans from Iraq and Afghanistan," he said. "A lot of them are suffering from PTSD, chronic pain, traumatic brain injury, and these are all conditions that have been shown to respond to medical marijuana. The notion that the VA would not allow its doctors to consult with and work with veterans regarding medical marijuana in states where it's legal I thought was outrageous."
Tom Angell, a chairman of Marijuana Majority, echoed Blumenauer's sentiments
in a statement. "Cannabis has shown great promise in helping veterans deal with PTSD and treat chronic pain, and it's an increasingly attractive alternative to opioids," he said. "There's absolutely no reason the V.A. should be preventing its doctors from helping veterans who served our country find relief with medical marijuana."
Veterans have increasingly turned to marijuana as an alternative to painkillers or antidepressants. The Drug Enforcement Agency (DEA), however, classifies all forms of cannabis as Schedule I. According to the DEA's website, "Schedule I drugs, substances, or chemicals are defined as drugs with no currently accepted medical use and a high potential for abuse. Schedule I drugs are the most dangerous drugs of all the drug schedules with potentially severe psychological or physical dependence." The DEA lists heroin, methaqualone, peyote and ecstasy alongside marijuana. The DEA stated in April it would consider rescheduling marijuana later this year. The agency also approved a study on the effects of marijuana on PTSD, raising hope for reclassification among marijuana advocates.
At a briefing in January, White House Press Secretary Josh Earnest said marijuana reform is not on President Obama's agenda, and further hinted that any hope for reform would have to come directly from Congress. "There are some in the Democratic Party who have urged the president to take this kind of action," Earnest said. "The president's response was, 'If you feel so strongly about it, and you believe there is so much public support for what it is that you're advocating, then why don't you pass legislation about it and we'll see what happens.'"
President Obama's stance has long frustrated activists like Angell, who fired back on the President's position in an email to TheWashington Post. "This isn't the first time President Obama has unnecessarily tried to pass the buck on marijuana rescheduling to Congress," said Angell. "It's unacceptable and frankly embarrassing for a president who has so nonchalantly acknowledged his own marijuana use to allow the federal government to continue classifying cannabis in such an inappropriate category."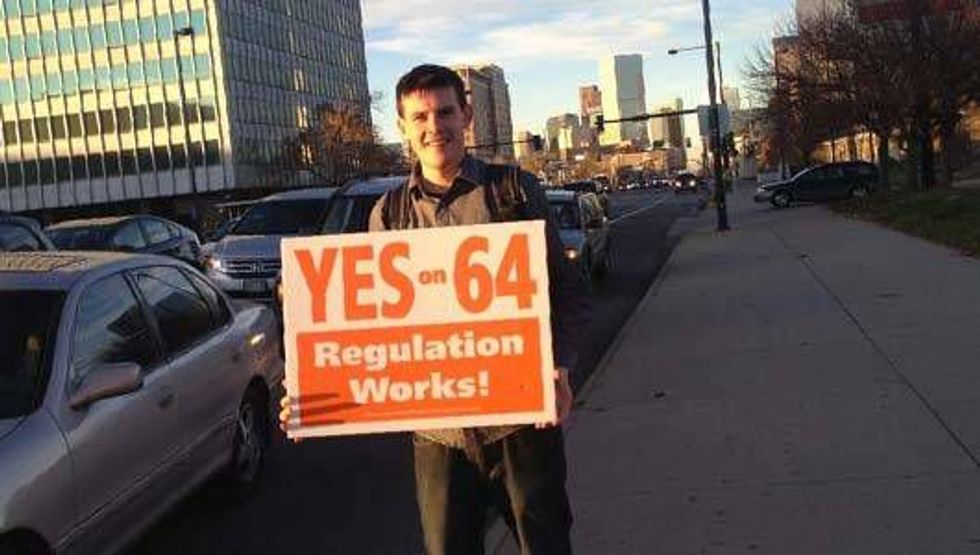 Tom Angell. (Credit: Source.)
Tom Angell believes Obama in this instance will not halt the medical marijuana measure because, he notes, "its provisions are attached to funding bills that keep the Department of Veterans Affairs and other government agencies operating through the end of Fiscal year 2017."