Attorneys for Dr. Christine Blasey Ford, a Stanford University professor who alleges Supreme Court nominee Brett Kavanaugh sexually assaulted her in high school, are insisting that the FBI should investigate her allegation despite pushback from Republicans critics say are eager to confirm Kavanaugh to the nation's highest court. Republicans have claimed that to initiate an investigation would significantly delay a vote which has already been postponed.
But a CNN timeline shows that in 1991 an FBI investigation of Anita Hill's allegations that Justice Clarence Thomas sexually harassed her when he was her supervisor at the United States Department of Education and the Equal Employment Opportunity Commission only took three days.
---
Here's the breakdown:
In July 1991, then-President George H.W. Bush nominated Clarence Thomas, then a federal appeals court judge, to succeed Justice Thurgood Marshall.
On September 3, 1991, Hill was approached by the Senate Judiciary Committee and asked to provide background information on him because the two of them had worked together. A written statement from Hill, then a tenured law professor at the University of Oklahoma Law Center, sent to news organizations noted that Hill decided to submit an affidavit after "numerous discussions" with the Judiciary Committee's staff.
Thomas's initial hearing before the Judiciary Committee began on September 10, 1991. Two days later, according to the recollection of Joe Biden, who was then the head of the committee, Hill first told the committee that Thomas had harassed her. Hill had requested anonymity and that Thomas not be told of the accusations.
Eight days later, on September 20, 1991, "an FBI investigation was suggested" to Hill.
"I spoke with the Judiciary Committee about it early in September, and through a number of discussions, it was not until the 20th of September that an F.B.I. investigation was suggested to me," Hill said during a news conference the following month, adding, "There was a further breakdown even after that, what information would be shared. So there are a number of different points at which the communication broke down, understandings were not carried through."
During the conference, Hill criticized the way the Judiciary Committee handled the allegations against Thomas saying she had tried for nearly two weeks in September to put a confidential account of her allegations before the committee's 14 male members. At the time, the New York Times observed that Hill's account "differed markedly from the accounts offered" by the White House and Biden, "who said Ms. Hill's demand that her statements be kept confidential had impeded the committee."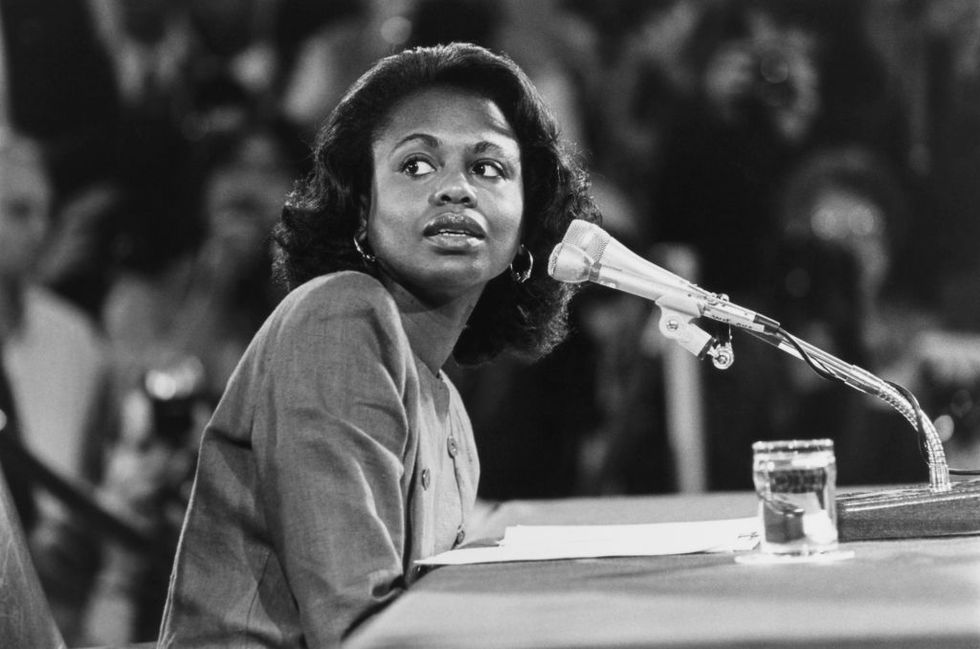 Anita Hill testifies before Senate Judiciary Committee on Oct. 14, 1991. (Photo by Laura Patterson/CQ Roll Call via Getty Images)
On September 23, 1991, according to a statement from Biden reported in the Times, Hill agreed to allow the FBI to investigate the allegations. Judy Smith, who was then the White House Press Secretary, said in a statement published October 6 in Newsday that Hill's allegations were brought to the attention of the Judiciary Committee on September 23, which differs from Hill's own account. The committee, Smith continued, then informed the White House, which then "promptly directed the FBI to conduct a full, thorough and expeditious investigation."
The FBI completed its investigation on September 26, 1991––three days later. According to Smith's statement, the White House reviewed the FBI's findings "and determined that the allegation was unfounded."
The following day, the committee deadlocked 7-7 on whether to recommend the Senate confirm Thomas. Then the committee voted 13-1 to send Thomas's nomination to the Senate floor without a recommendation.
The public first heard of Anita Hill's allegations on October 6, 1991, when NPR's  Nina Totenberg obtained a copy of the FBI report and reported on them.
On October 11, 1991, Hill testified that Thomas harassed her while she was in his employ. Thomas denied that he had ever asked Hill out on dates or asked Hill to describe her sexual interests. There were four female witnesses waiting in the wings to support Hill's credibility, but they were not called.
The Los Angeles Timesdescribed the decision not to call the women "a private agreement that kept the woman off national television" and that the compromise "meant that Angela Wright, who had been fired by Thomas at the Equal Employment Opportunity Commission, did not provide the testimony" that Hill's supporters had "deemed crucial to buttressing her credibility."
Hill's testimony was in vain. Four days later, on October 15, 1991, the Senate confirmed Thomas in a 52-48 vote. This was the narrowest margin since the 19th century. He was sworn in as an associate justice of the Supreme Court the following week.
Hill herself has found herself center stage once more now that the allegations against Kavanaugh threaten to usher in a repeat of recent history.
"The American public really is expecting something more," she said in an interview on ABC's "Good Morning America."
"We are really under the impression that the Senate doesn't take this seriously and doesn't see this as part of their core responsibility," she added.
EXCLUSIVE: Anita Hill advises Senate to "push the pause button" on Supreme Court nominee Brett Kavanaugh after sexu… https://t.co/09szh8bGMe

— ABC News (@ABC News) 1537358110.0
"All of this is really something that I don't think can be avoided if you really want to get to the truth, if that's the purpose of this hearing," Hill said, further noting that history could repeat itself with Kavanaugh and Blasey, "whether or not it is going to be anything more than just a sham proceeding so that the senators can say, 'We gave her a chance to talk,' and then move on to doing exactly what they were intending to do before she came forward."
Many have chimed in supporting Hill's call for an investigation.
I remember the Thomas confirmation hearings. And I remember the mistreatment of Anita Hill vividly. That committee… https://t.co/wfKGFuMiGg

— Michael Avenatti (@Michael Avenatti) 1537365787.0
Senate Republicans are still not taking these allegations seriously. They're rushing into a hearing that is complet… https://t.co/TyE3vMDgVN

— Senator Dianne Feinstein (@Senator Dianne Feinstein) 1537313580.0
The Anita Hill hearings were a travesty but even then there was an FBI investigation and 22 witnesses over 3 days… https://t.co/90a6k5ukqk

— Judd Legum (@Judd Legum) 1537371882.0
Senator Kirsten Gillebrand (D-NY) also weighed in with a plea for her colleagues to not "fail" Dr. Ford the way they failed Hill 27 years ago.
In 1991, Anita Hill stepped forward to tell disturbing stories of sexual harassment by Justice Clarence Thomas. The… https://t.co/ElP8OFbTJk

— Kirsten Gillibrand (@Kirsten Gillibrand) 1537372784.0
We can't fail Dr. Ford the same way – but she hasn't even been granted the FBI investigation Anita Hill received. W… https://t.co/HiDM8Z8fnX

— Kirsten Gillibrand (@Kirsten Gillibrand) 1537372807.0
Hill also wrote an op-ed in the New York Times urging lawmakers not to repeat their mistakes:
As that same committee, on which sit some of the same members as nearly three decades ago, now moves forward with the Kavanaugh confirmation proceedings, the integrity of the court, the country's commitment to addressing sexual violence as a matter of public interest, and the lives of the two principal witnesses who will be testifying hang in the balance. Today, the public expects better from our government than we got in 1991, when our representatives performed in ways that gave employers permission to mishandle workplace harassment complaints throughout the following decades. That the Senate Judiciary Committee still lacks a protocol for vetting sexual harassment and assault claims that surface during a confirmation hearing suggests that the committee has learned little from the Thomas hearing, much less the more recent #MeToo movement.

With the current heightened awareness of sexual violence comes heightened accountability for our representatives. To do better, the 2018 Senate Judiciary Committee must demonstrate a clear understanding that sexual violence is a social reality to which elected representatives must respond. A fair, neutral and well-thought-out course is the only way to approach Dr. Blasey and Judge Kavanaugh's forthcoming testimony. The details of what that process would look like should be guided by experts who have devoted their careers to understanding sexual violence. The job of the Senate Judiciary Committee is to serve as fact-finders, to better serve the American public, and the weight of the government should not be used to destroy the lives of witnesses who are called to testify.
Unfortunately, President Donald Trump has stalled on calling for an FBI investigation.
Speaking to reporters, Trump said that it's not up to the FBI to reopen the investigation and that the responsibility falls on the Senate.
"Well, it seems that the FBI really doesn't do that … let the senators do it, they're doing a very good job," the president said.
Pres. Trump on the FBI investigating the Kavanaugh allegation: "Well, it seems that the FBI really doesn't do that… https://t.co/YK5OUHwJbE

— ABC News Politics (@ABC News Politics) 1537364469.0
This was quickly proven false by journalists and fact checkers.
False. The president can order FBI to investigate as President Bush did in 1991 with Anita Hill allegation. https://t.co/JLGPxYmGi2

— Jim Sciutto (@Jim Sciutto) 1537364860.0
Trump, asked about the FBI investigating the Kavanaugh allegation, falsely says, "the FBI really doesn't do that."… https://t.co/vhcYPOSIVq

— Kyle Griffin (@Kyle Griffin) 1537365047.0
Yesterday, Trump said he remains "totally supportive" of Kavanaugh, and believes, although he hasn't spoken with him personally about the accusation, that "he can handle himself better than anybody, he's a very outstanding guy."
Kavanaugh maintains his innocence, but has balked at speaking with the FBI. His longtime friend Mark Judge, whom Dr. Ford says was present during the attack, wrote a letter to the Senate Judiciary Committee in which he stated he has no intention of cooperating with the committee in any way.
"I did not ask to be involved in this matter nor did anyone ask me to be involved," Judge wrote in the letter signed by his attorney yesterday.
Judge's refusal has prompted calls for the FBI to issue a subpoena.