CNN's Chris Cuomo and Don Lemon eviscerated Fox's Tucker Carlson Tuesday night over Carlson's recent racist remarks about immigrants.
Carlson last week claimed immigrants made the United States "poorer and dirtier," prompting advertisers to pull their support of his show, Tucker Carlson Tonight.
---
Spurred by public outcry, advertisers like Career Builder and IHOP began dropping like flies.
Cuomo posted a graphic of the baker's dozen companies that have cut ties with Carlson.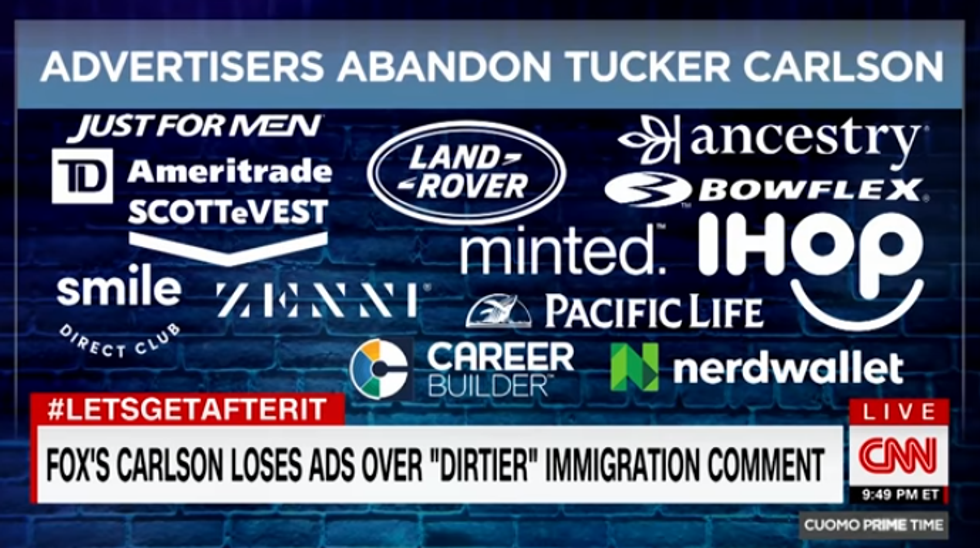 Source: CNN
IHOP said of its decision:
"We stand for welcoming folks from all backgrounds and beliefs into our restaurants and continually evaluate ad placements to ensure they align with our values."
Just for Men echoed the sentiments:
"Just for Men has no further plans to advertise on Tucker Carlson's show. The brand is always considering ways to remain responsible, and this includes aligning with partners who share our brand value."
Seventeen other advertisers followed suit, with Twitter commending them for it—and blistering the ones who remain.
Some advertisers have left Tucker Carlson's show after he said immigrants would make the U.S. "poorer and dirtier."… https://t.co/9z0AxcxQUY

— Bette Midler (@Bette Midler) 1545220031.0
At least 12 advertisers flee Fox News hatred hour as Tucker Carlson digs in his xenophobic heels GOOD! Racists nev… https://t.co/zbPHH7rQln

— CarenMaxGlamour (@CarenMaxGlamour) 1545244723.0
Good. And so that you know who to boycott, the advertisers who have said that they're sticking with Tucker Carlson… https://t.co/6I84T2U9P2

— Ishta Mercurio (@Ishta Mercurio) 1545245535.0
Cuomo and Lemon also called out Carlson's comments.
Watch below:
"Is he really talking about human beings that way?" Cuomo asked. "I don't ordinarily play hateful speech on the show, but it's important for people to see what someone's trying to pass off as news."
Lemon savaged Fox News as "the CNN, MSNBC criticism channel" that "almost always" airs something those networks "hate, and they hate because we're actually talking about real news and the Mueller investigation and what's actually going on." Lemon said he refrains from disparaging other anchors because of "glass houses," meaning that "one day it could be you or me," referring to Cuomo.
Lemon added that TV personalities should not be "boycotted for something they should do that's a one-off." But when a platform is used "comprehensively" to spread hate and fear, it needs to be met with "truth, journalism, and telling people what is real and what is not."
Lemon said Fox is full of "opinion journalists" who "don't have to abide by" the same rules.
"For the most part," Lemon said, "Tucker Carlson uses his platform to demonize immigrants almost on a nightly basis; to demonize this network almost on a nightly basis; to spread false information, misinformation, to spread the president's lies, to cover the president's back, to carry his water on a nightly basis."
Carlson's remarks about immigrants were "completely false," Lemon charged. "We're all better" because of immigration, he said.
"Diversity is our greatest strength," said Cuomo. Carlson is not "my colleague," adding that "it's worse" if Carlson says outrageous things merely for ratings than if he really believed his own claims.
Cuomo concluded the segment by reminding Lemon that while he does not want to give Carlson's hateful rhetoric additional attention, "we gotta call it out."
President Donald Trump has set the tone, and Carlson's comments were nothing short of racist.
@HuffPost When one becomes ill with the Trump Fever it happens. Hear there is no vaccine or antidote at present. Th… https://t.co/r4Q3aACPOW

— patricia l johnson (@patricia l johnson) 1545229995.0
@HuffPost Thank u CNN. His behavior was horrible. His comments are just unacceptable. Unacceptable unacceptable https://t.co/mekiXHorYV

— 🇺🇲❤Zelda❤🇺🇲🧢💎💙💦🌊💧❄🦋🐳🐋🐬🐟🌏📘👓👗🗨👕 (@🇺🇲❤Zelda❤🇺🇲🧢💎💙💦🌊💧❄🦋🐳🐋🐬🐟🌏📘👓👗🗨👕) 1545216911.0
@HuffPost Yeah call out the racist like Tucker. The y are the seed of racism in the country for no other purpose th… https://t.co/CXC73OUZSR

— James of PDX (@James of PDX) 1545240020.0
Others pointed out that Carlson, as part of the Fox News brand, is not news, but rather, entertainment.
Facts and truth matter.
@HuffPost Good, except he's not their counterpart since one is a news network and THE OTHER IS ENTERTAINMENT

— 🍑 🍑 Impeach Season!! 🍑🍑 (@🍑 🍑 Impeach Season!! 🍑🍑) 1545216746.0
@HuffPost Only thing wrong with the headline is that Tucker Carlson is not news. He is more of a reality show host,… https://t.co/n4aNLWzvj1

— Luciano Piciacchia (@Luciano Piciacchia) 1545218596.0
Fox is toxic.
@michael35225062 @thedailybeast If he loses many more he'll be unemployed faster than you can say "Bill O'Reilly"

— Dedelvis (@Dedelvis) 1545196426.0
@thedailybeast It's not JUST Carlson among the FoxNews roster who is utterly repugnant & nauseating. Pirro & Hannit… https://t.co/ZhsUDbOdvX

— Royce Zobell (@Royce Zobell) 1545201048.0
@Newsweek Why only hit Carlson? Hannitty is just as bad.

— Crying- FOUL on this partisan political errand 🛒 (@Crying- FOUL on this partisan political errand 🛒) 1545251084.0
@Newsweek Hannity is also the lying Enemy of the American people.

— joe (@joe) 1545253640.0
Be best, Tuck.