As the Trump administration issued memos directing Immigration and Customs Enforcement (ICE) agents to treat most unauthorized immigrants in the United States as "priorities" for deportation, Chicago Public Schools instructed school principals not let any ICE agents into schools without a criminal warrant.
"To be very clear, CPS does not provide assistance to U.S. Immigration and Customs Enforcement (ICE) in the enforcement of federal civil immigration law," Janice Jackson, CPS's chief education officer, wrote in a letter to educators. "Therefore, ICE should not be permitted access to CPS facilities or personnel except in the rare instance in which we are provided with a criminal warrant. If presented with any paperwork from ICE, please call the Law Department before taking any action... ICE agents should wait outside while the school is reviewing the matter with the Law Department."
---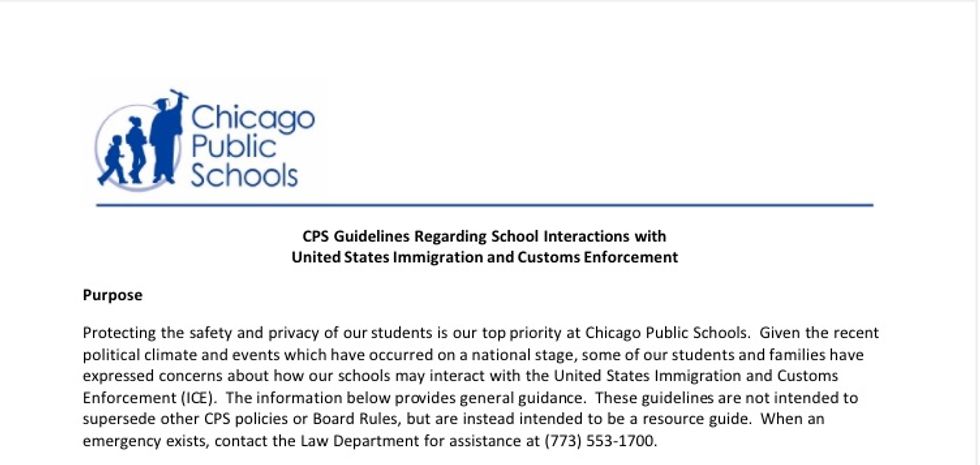 Jackson also urged schools to have parents update their emergency contact form with backup contacts. "If a child is left stranded at your school and you suspect it is because his or her parent is detained, please exhaust the child's emergency contact list. Please have a staff member remain with the student until the parent, guardian or emergency contact can arrive," she instructs. Should no one arrive to pick up the stranded child, she urges staff to take the child to call CPS's Student Safety Center, a 24-hour hotline.
In a separate letter to parents, Jackson says she understands why "some families are concerned about sending their children to school at this time," but stresses that "the safest and most beneficial place for your children is a classroom alongside their fellow students where they can work toward a bright future." The "strength of Chicago Public Schools," she continues, "lies in its diversity, and regardless of which CPS school you attend, your children are supported and loved. We hope that the attached resources will be useful in addressing some of the concerns you may have."
CPS would not say how many of its students may be undocumented, but more than 46 percent of CPS students identify as Hispanic and another 17 percent are learning English as a second language. Nearly 25 percent of all Hispanic students did not attend school on last week's A Day Without Immigrants, when immigrants around the country rallied against a president who made building a wall along the nation's southern border a cornerstone of an often incendiary campaign.
An official with the Department of Homeland Security insists that the immigration crackdown mostly enforces existing laws and won't lead to a mass detainment of undocumented immigrants. "We're not going to start changing this today, it's not going to start happening tomorrow," the official said of the Trump administration's expansion of who is eligible for expedited deportation. "You will not see folks rounded up or anything of the sort."
The memos give ICE agents nearly free rein to arrest, detain and deport undocumented immigrants, however, and a border security guidance permits the use of "expedited removal" proceedings for unauthorized immigrants with limited court proceedings. The memos allow ICE to quickly remove those who cannot prove they were in the US continuously for at least two years before they were apprehended when previously ICE and Customs and Border Protection had employed "expedited removal" procedures only for individuals caught within 100 miles of the border within 14 days of entering the US or by those who arrived by sea but not at a port of entry.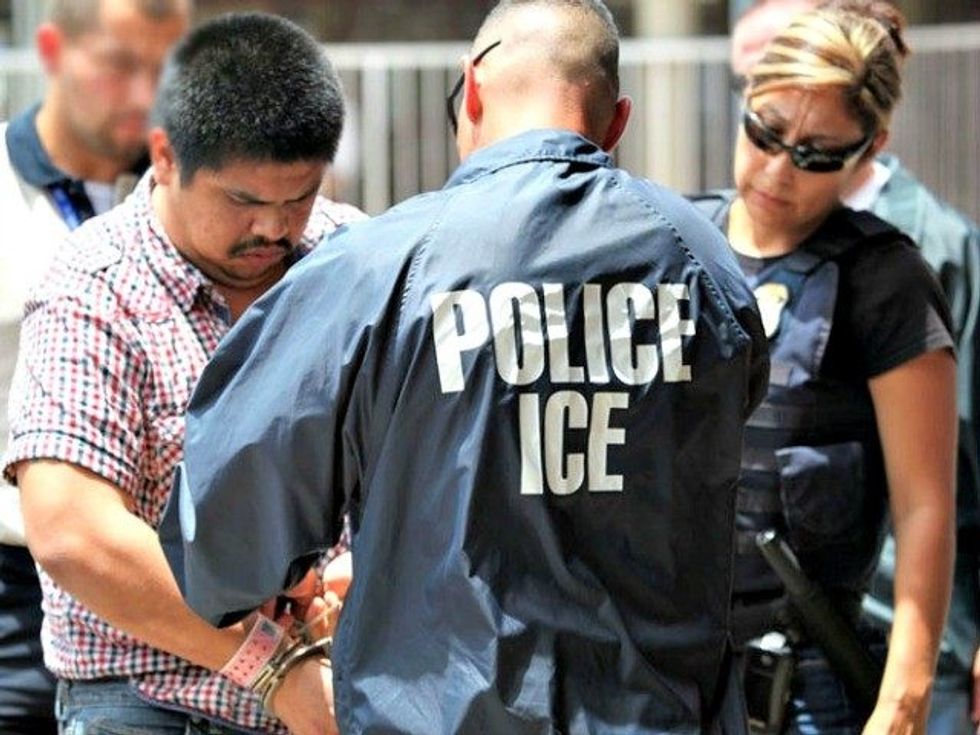 Credit: Source.
There is confusion over to what extent the DHS will stay clear of sensitive zones like churches or schools, or leave intact groups like DREAMers (undocumented immigrants brought to the US as children) under the DACA. Although language was included explicitly saying that the Trump administration is leaving intact the DACA program and that President Barack Obama's protections for DREAMers would be exceptions to the mandate, the guidance notes these protections stand only "to the extent of the conflict" with new guidance, meaning some policies will remain in place. A fact sheet released by DHS says that rules keeping churches and schools as off-limits from enforcement actions remain operational.
"There are a lot of internal policies and memoranda and procedures that have to be worked out individually and analyzed by the legal departments... That's a very deliberate project that will be conducted," said one official, who says DHS policy on "sensitive locations" remains in place. But another official gave a different answer, saying that the rescinding of of previous guidance largely applies for now to policy about prosecutorial discretion.
You can read CPS's memo to staff HERE.