[DIGEST: New York Times, Mashable]
Michael Phelps won his 21st gold medal, emerging victorious from the 4X200 freestyle relay, but it was the performance that won him his 20th––the 200-meter butterfly––that left viewers from around the globe talking. The 200-meter butterfly is Phelps's signature event (he placed fifth in the event in 2000 and won back to back Olympic medals in 2004 and 2008), but he endured a crushing defeat during London's 2012 Olympics when South African swimmer Chad Le Clos beat him by five-hundredths of a second. Le Clos swam in a lane adjacent to Phelps on Tuesday night, ultimately placing fourth behind Tamas Kenderesi of Hungary, the bronze medalist, and Masato Sakai, the surprise silver medalist. Phelps's winning time was 1:53:36.
---
A bitter rivalry brewed between Phelps and Le Clos as a result of Le Clos's 2012 win. Last year, after Phelps exceeded expectations swimming at the U.S. Nationals in Texas, Le Clos attacked him in an interview with the Associated Press. "I'm just very happy that he's back to his good form, so he can't come out and say, 'Oh, I haven't been training' or all that rubbish that he's been talking," Le Clos said at the time. "Next year is going to be Muhammad Ali-Joe Frazier."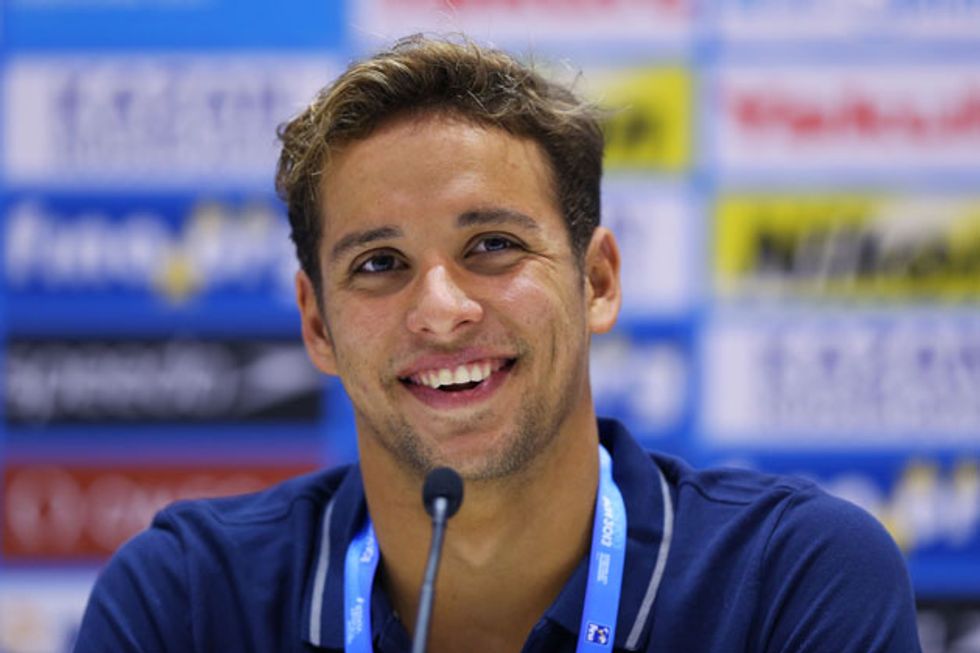 Chad Le Clos. (Credit: Source.)
Le Clos did not stop there, insinuating that Phelps's success at the U.S. Nationals was because he was up against weak competition. "Look, I don't want to say it's easy to swim by yourself, but it's a lot harder when you know Chad le Clos is coming back at you the last 50 meters," he said. "That's what he's got to think about really."
After Le Clos won the 100-meter butterfly in record-breaking time at the 2015 World Champions, his father, Bert also weighed in. "I don't care about his [Phelps] times, because I know my son is going to beat him."
The feud spilled over into the staging area Monday night before the 200-meter butterfly semifinals in a moment that quickly went viral: NBC's cameras caught Phelps staring down Le Clos while Le Clos, seemingly oblivious, shadowboxed in front of him. Another one-sided staring match continued at the starting blocks, this one initiated by Le Clos, but Phelps chose not to glance in his rival's direction.
.@MichaelPhelps wants to Curb Chad le Clos' Enthusiasm. For more swimming, click here: https://t.co/Bpy94Wbb3c https://t.co/UYsolWgNbG

— #TokyoOlympics (@#TokyoOlympics) 1470725096.0
After his win last night, Phelps wagged his finger and raised his arms as the crowd roared. "Chad liked me, and then he didn't like me," Phelps told reporters later. "He said I was his hero, and then he was calling me out." There was "so much emotion and so much build up for that race," he continued. "I don't want to say it's revenge, but that's what it was."