Catalonia, perhaps Spain's wealthiest region, is on the verge of losing its 40-year autonomy as Madrid moves to once again impose direct rule over the region's government.
With the capital of Barcelona at its heart, Catalonia has its own language and culture, a proud identity, a population of 7 million, and a history of repression by Spain. Now its most recent bid for independence has led to Spain's Prime Minister Mariano Rajoy announcing last Saturday, after an emergency cabinet meeting, that he will remove Catalonia's leadership and begin a process of direct governing from Madrid.
---
* BREAKING NEWS - FRIDAY 10/27/17: See end of story for new developments as both Madrid and Barcelona announce their next steps *
Rajoy said he is putting an end to "a unilateral process, contrary to the law and searching for confrontation" because "no government of any democratic country can accept that the law be violated, ignored and changed." He plans to remove Catalan President Carles Puigdemont and his administration from office, as well as take control of both the Catalan police and the Catalan center for telecommunications, until new elections can be arranged.
All this follows a banned Catalan referendum poll held on October 1st, organized by Puigdemont's administration. Even in the face of police brutality at the polls, 90 percent of participants overwhelmingly voted for independence.
While only 43 percent of eligible voters cast their ballot, the turnout may have been affected by Spanish police reportedly pulling voters from booths by their hair, and firing rubber bullets on crowds of demonstrators.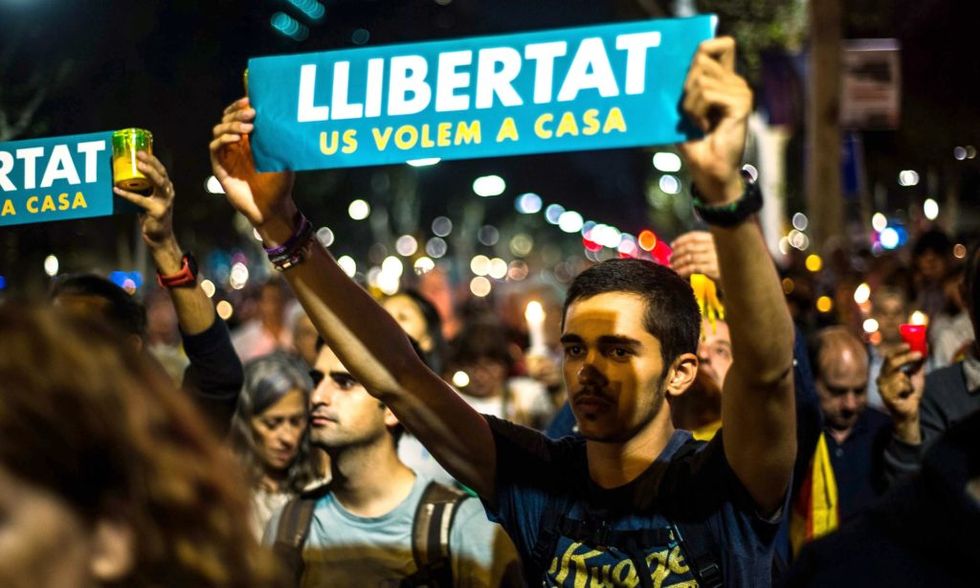 An independence campaigner holds a placard saying 'Freedom – we want you back home' at a rally in Barcelona. Rex/Shutterstock.
In the days that followed, the streets of Barcelona filled with hundreds of thousands of protesters, as the heads of the Spanish and Catalan governments locked into a tense and dire game of chicken, with all of Spain teetering on the edge of a new civil war.
Barcelona v. Madrid, Tensions Escalate
Nine days after the referendum, on October 10, Puigdemont informed Madrid that Catalans had democratically won their right to declare independence. Even so, he further said that he was suspending the secession in hopes of negotiations with the Spanish government. Prime Minister Rajoy rejected Puigdemont's offer. Instead he demanded that the region president abandon Catalonia's plan for secession and restore "constitutional order" by 10 am last Thursday, October 19.
In response, Puigdemont declined Rajoy's order to renounce the independence referendum, and clarified that Catalonia will not back down. On Saturday, he led a mass demonstration of nearly half a million people in downtown Barcelona, in support of their independence.
Puigdemont warned that he and Catalan lawmakers are prepared to deliver a formal declaration of independence if Rajoy enacts Spain's constitutional emergency powers, which the latter did on Saturday.
This most recent and so far most drastic move will suspend Catalonia's political autonomy, and the national government will seize control of the region. In a letter to Rajoy last week, the Catalan president accused the Spanish government of repressing the independence movement when a national court judge denied bail for two of Catalonia's pro-independence leaders, earlier imprisoned on accusations of sedition.
"Despite all our efforts and our desire for dialogue, the fact that the only reply we have been given is that autonomy will be suspended suggests that you do not understand the problem and do not wish to talk," wrote Puigdemont [translated by The Guardian]. "If the [Spanish] government persists in hindering dialogue and continues with its repression, the Catalan parliament could, if it deems appropriate, proceed to vote on the formal declaration of independence."
Article 155 of the Spanish Constitution Seizes Control
What is Article 155 of the 1978 Spanish Constitution? @AJENews https://t.co/7o8ZTpFH7f

— Josep Costa🎗 (@Josep Costa🎗) 1508429225.0
When Rajoy met with his cabinet on Saturday, it was to invoke Article 155 of the Spanish Constitution, never before used in the document's 40-year history, so that he could begin the process of suspending Catalonia's self-rule.
After the referendum, Madrid's courts determined Catalonia's vote for independence as an illegal action against Spain's constitution. This is what triggered the use of Article 155. It allows Madrid to take direct control of any of Spain's autonomous communities (also known as regions) if they break the law.
At the meeting, Rajoy's cabinet approved measures that will now be put before Spain's senate. Prior to the meeting, Madrid released a statement saying that these measures will "protect the general interest of Spaniards, including the citizens of Catalonia, and to restore constitutional order in the autonomous community." But those measures cannot take full effect until the senate approves them, which they are expected to do on Friday.
The last time Catalan had their autonomy stripped away was in 1939 by dictator general Francisco Franco, and it was not until his death in 1975 that the region and all of Spain escaped his regime and became a democracy. Yet even that was not the first time Catalonia has endured and escaped repression.
A History of Repression in Catalonia Fight for Independence
Catalonia's "independistas" - those fighting for freedom from Spain - trace their struggle for independence back three centuries to 1714, when King Philip V captured and reclaimed Barcelona for Spain at the end of the War of the Spanish Succession. King Philip punished Catalonia and its people severely for their actions in the war, foremost of which being the betrayal of their sworn loyalty to the newly-crowned king.
Catalans were stripped of their government and education institutions, and the use of their own language was forbidden in all things official. Later they lost their literature as well. Economically, Catalonia suffered significantly from neglect and sanctions, but then found a way to build itself back up into an industry powerhouse. All the while, Catalan nationalists fought for some measure of self-rule.
Autonomy was finally achieved two hundred years later, in 1931, when Spain became a Republic. Unfortunately, their new-found freedom was short-lived.
Five years later, General Francisco Franco led an insurrection that would turn into the Spanish Civil War. Toward the end of the war, Franco's forces overran Catalonia, and this led to the collapse of the Republican resistance. From 1939 until his death in 1975, Catalonia and all of Spain suffered under Franco's dictatorship.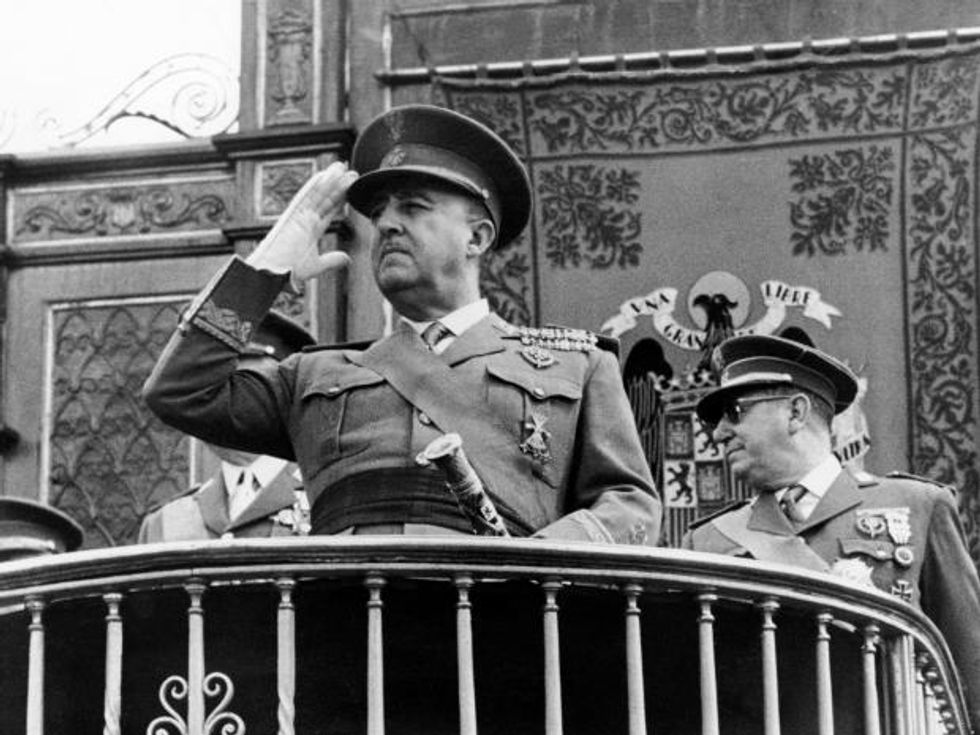 Dictator Francisco Franco, 1960s. AFP/Getty Images.
Thousands of Catalan nationalists were either exiled or executed during Franco's reign, as he systematically repressed all efforts toward Catalan nationalism. Ellen Barry of the New York Times writes that while under Franco's dictatorship, "the government tried to stamp out all Catalan institutions and the language, and thousands of people were executed in purges. Virtually no Catalan family emerged from that period unscarred."
After Franco's death, Spain voted to become a democracy, ratifying a new constitution that recognized Catalonia and the other regions as autonomous nationalities within Spain. Then in 2006, Spain granted Catalonia "nation" status, bestowing the region with the power to administer their own taxes. But this too was short lived.
Spain's Constitutional Court struck down the previous ruling in 2010. The court argued that though Catalans were a "nationality," Catalonia itself was not a "nation," and therefore did not have the right of self-taxation. More than a million Catalans flooded the streets of central Barcelona to both protest the court's reversal and demonstrate their desire for autonomy.
Fast forward seven years to 2017, with a sudden escalation occurring between Barcelona and Madrid, the latter aware of the impending independence referendum. Last month, Spanish police raided Catalan government departments, leading to seizure of ballot boxes and over a dozen arrests, as part of Madrid's continued efforts to impede Catalonia's secession.
While Prime Minister Rajoy claims that the Spanish Constitution and the law drive his actions, there is perhaps another less-than-altruistic motivation. We catch a glimmer of these true colors when Spain removed Catalonia's ability to manage its own taxation.
Follow the Money All the Way to Spain
A recent Marketplace public radio program explained that, culture and politics aside, the primary reason Catalonia wants to secede is for economic reasons.
Catalonia has the highest gross domestic product out of all the other regions of Spain, and almost 20 percent of the national economy - mostly earned from its manufacturing and tourism industries. For these reasons, the Washington Post considers Catalonia the richest region in all of Spain. Catalonia also boasts 16 percent of the nation's population.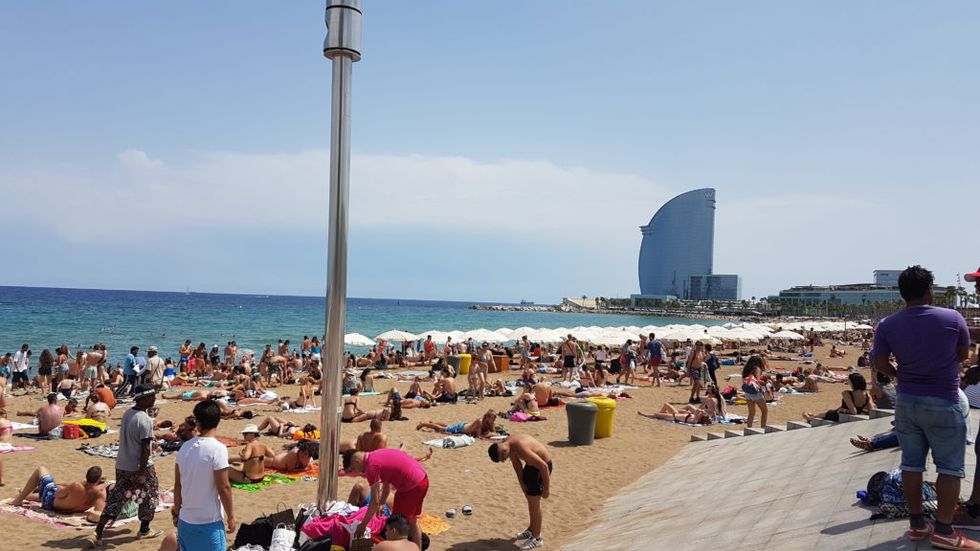 Tourism is the 3rd major contributor to Spain's economy, much of which flows from Barcelona in Catalonia. Mitch Parker/Pexels.
And yet, Catalonia found it was receiving far less government spending than it was paying in taxes to Madrid, and this was beginning to bankrupt its own economy. So in 2012 Catalonia asked Madrid for a special deal, similar to the one Spain's Basque Country already has with the Spanish government, in which the region receives the same amount of government spending as it provides in tax revenues.
Rajoy, known for shutting down any dialogue on Catalonia's sovereignty, dismissed the request outright.
While the prime minister aggressively fights to keep hold of Catalan revenue, the escalated tensions between Spain and Catalonia have already cost the nation billions in revenue and economic growth. Not only has tourism in Barcelona declined during the social unrest, falling 15 percent in the first half of October, but more than 700 companies have moved their head offices out of Catalonia. With Catalonia accounting for 20 percent of the GDP, this stands to hurt Spain's financial solvency significantly.
If Catalonia was to leave Spain entirely, either civilly or through violent conflict, it is possible that Spain's economy would be devastated. Furthermore, in light of the police brutality witnessed in Barcelona, many disappointed Spaniards have begun to turn their backs on their own government. They blame Rajoy for the growing political divide.
Catalonia Independence... or Loss of Freedom
Today's political standoff between Madrid and Barcelona is a bad situation becoming worse with every day. Spanish government spokesman Íñigo Méndez de Vigo said at a news conference that Madrid is ready to use "all the means within its reach to restore the legality and constitutional order as soon as possible."
On the other side of the conflict, Puigdemont argues that it is his duty to follow the will of the Catalan people, whose referendum voting entrusted him with the mandate to forge a sovereign state. In light of the violent police crackdown on the referendum and the arrest of pro-independence leaders, he believes Spain has become an authoritarian state.
Be that as it may, in its bid for independence, Catalonia finds itself alone among its European neighbors.
Antonio Tajani, president of the European Parliament, has recently said that "Nobody in Europe would recognize the independence of Catalonia." Speaking at the European Union summit in Brussels two weeks ago, French president Emmanuel Macron spoke of "unity around Spain," and German chancellor Angela Merkel also backed the Spanish government, hoping for "solutions found on the basis of the Spanish constitution."
Other, smaller areas in Europe which have considered their own secessions sympathize with Catalan. Scotland's first prime minister Nicola Sturgeon, who is considering a second independence referendum that would separate her country from the United Kingdom, has voiced quiet support. Belgium's Flanders region is also paying close attention to events in Spain, wondering if they might be next to secede.
As Friday quickly approaches, the question remains as to what will happen next. While not moving to dissolve the Catalan Parliament, Rajoy has said his goal is to arrange new elections within six months, and that he intends to lift the Article 155 sanctions as soon as possible.
And while Catalan spokesman Jordi Turull says the Catalan government plans to appeal in Spain's Constitutional and Supreme courts Rajoy's decision to remove them from office, Puigdemont and the Catalan Parliament are also preparing to officially declare independence later this week.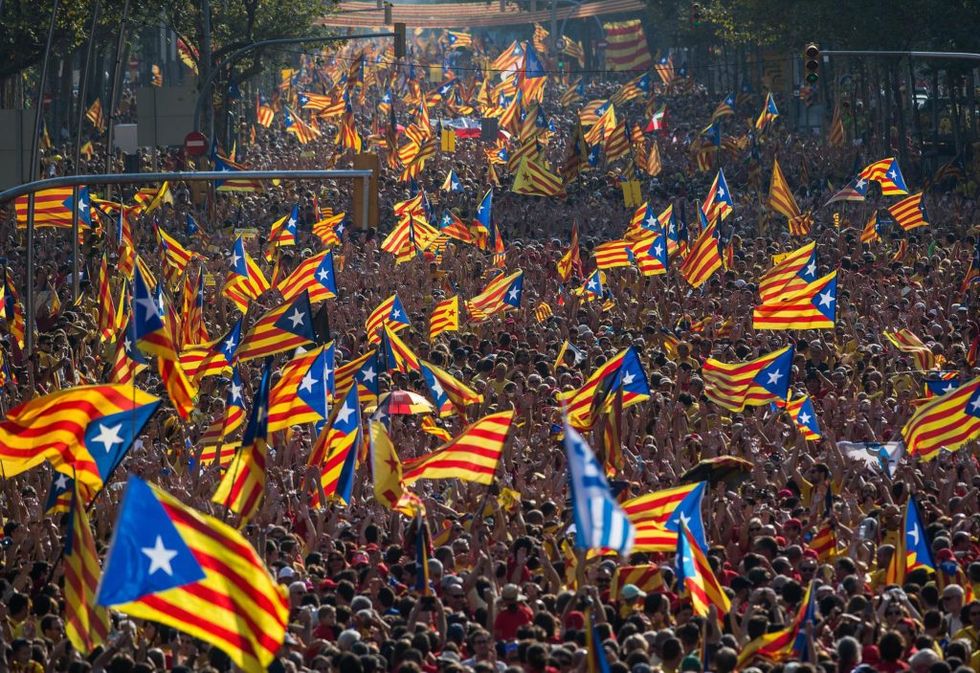 David Ramos/Getty Images
If Catalonia somehow manages to prevail, they will become their own country for the first time, yet find themselves alone in the European arena. And if Spain persists in reigning in their rebellious region, few believe that Catalan will go quietly into the night. The likelihood of more chaos and far more bloodshed is high in the state of Catalan.
In the end, maybe martyrdom is the point.
"If the final solution for the Spanish state is a tank, we will have already won," says Turull.
* Breaking News *
On Friday, October 27, the Spanish Senate in Madrid voted today to dissolve the government in Barcelona, and gave Prime Minister Rajoy unprecedented powers over Catalonia so that he can restore constitutional order. This decision was made just minutes after Catalan regional parliament officially declared their independence from Spain.
WATCH: Catalan independence supporters cheer as vote to secede from Spain is announced. Complete coverage:… https://t.co/qS6pmuA7Xt

— AP Europe (@AP Europe) 1509113201.0
Scenes from Barcelona today as Catalonia's regional parliament passed a motion to establish an independent Catalan… https://t.co/seeGAnFAEC

— AP Images (@AP Images) 1509117135.0
Spain's Senate approves proposals to take control of Catalonia, after Catalan parliament votes for independence. https://t.co/cYeDDz0DQm

— The Associated Press (@The Associated Press) 1509114198.0