The term chyron refers to the electronically generated caption superimposed on a television or movie screen. Most of us have seen them, but not known what they are called. The term originated in the 1970s from Chyron Corporation, the original creator.
The blurbs flashed at the bottom of live news broadcasts help identify the program, a specific guest and any other pertinent information. Or in the case of Fox News and Tucker Carlson, they provide an opportunity to draw criticism for being childish and petty.
---
Michael Avenatti—lawyer for the dancer, screenwriter, director and actress who prefers use of her stage name, Stormy Daniels—agreed to appear on the Fox News program, Tucker Carlson tonight. Carlson, like many of the conservative commentators at President Donald Trump's favorite network, frequently insults or denigrates Daniels or her lawyer.
But Carlson—in an address directly into the camera lens—stated how much he appreciated anytime someone agreed to appear on his program. Carlson then vowed not to refer to Avenatti with "a certain unflattering nickname."
Then, as that vow left Carlson's mouth, the unflattering nickname appeared in the chyron below Avenatti and Carlson's images. In all caps, it read:
"CREEPY PORN LAWYER TALKS ABOUT PRESIDENTIAL RUN"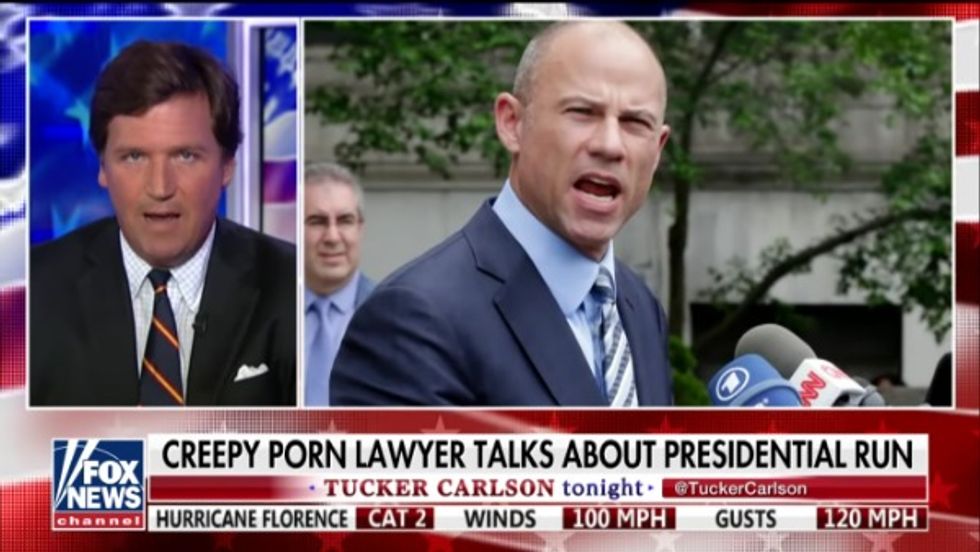 Tucker Carlson announces Michael Avenatti appearance on his Fox News program. (YouTube screen grab)
While the appearance itself devolved into the sort of shouting match one would expect from the maturity level of the chyron, Avenatti still took to Twitter to call out Carlson for his lack of integrity. Carlson promised one thing, while the screen for his television show did the opposite of his on-air vow.
Many echoed Avenatti's sentiments and tagged Carlson and Fox when they did.
Others went directly to Carlson and Fox News with their criticisms over the choice of chyron.
People went back and posted on Carlson's Twitter announcement promoting the upcoming interview and many included the same altered image they shared with Avenatti featuring a very different spin of the Fox News chyron.
And several echoed Avenatti's use of "creepy porn President" which he asked Carlson about in reference to Trump.
In an attempt to discredit Daniels or "slut shame" her, some in mainstream media emphasize her profession in adult entertainment by referring to her only as "the porn star" without using her name at all. But Daniels stated she is unashamed of her career.
She is a successful business woman in a profession that is legal and regulated who leveraged herself to work both on camera and behind the scenes. At the time of the alleged 2006 affair, Daniels was 27 years old and newly divorced. Donald Trump was 60, married for a year to First Lady Melania, with a newborn son at home.
Some who saw the chyron referring to Avenatti as a porn lawyer, called for an apology from Carlson.
While others saw it as an indictment of the man Carlson and many on Fox News fiercely defend, President Donald Trump.
Daniels filed a defamation lawsuit after statements the President and his former fixer Michael Cohen made. Cohen infamously plead guilty to breaking several laws in relation to a $130,000 payment just before the 2016 presidential election.
Trump and Cohen both originally publicly denied the payment made on behalf of Trump to Daniels to buy her silence about an alleged affair.
Watch the full interview with Michael Avenatti on Tucker Carlson tonight here.
[youtube https://www.youtube.com/embed/fxjOEbvdDc8?rel=0&showinfo=0 expand=1]