[DIGEST: CNN, Washington Post]
Robin Camp, a Canadian Federal Court Justice faces possible removal from the bench after he asked a 19-year-old rape survivor why she didn't do anything to protect herself during the alleged attack. The case in question took place in 2014 after the young woman accused Alexander Wagar, of Calgary, of raping her over a bathroom sink at a house party. During Wagar's sexual assault trial, according to a notice of allegations posted on the Canadian Judicial Council website, Camp, who was a provincial court judge at the time, asked the young woman: "Why couldn't you just keep your knees together? Why didn't you just sink your bottom down into the basin so he couldn't penetrate you?"
---
According to the notice, the judge continued to castigate the young woman openly, suggesting that young women "want to have sex, particularly if they're drunk." In a different part of the trial, he said that "[Some] sex and pain sometimes go together...that's not necessarily a bad thing."
The news of the judge's misconduct opened him up to a firestorm of criticism. The Canadian Broadcasting Corporation retweeted cartoonist Gary Clement's response to the controversy.
My opinion on Judge Robin Camp's opinion. https://t.co/xNNqCXz3Zl

— Gary Clement (@Gary Clement) 1473432967.0
Camp would acquit Wagar in September 2014. "I want you to tell your friends, your male friends, that they have to be far more gentle with women," he told Wagar at the time. "They have to be far more patient. And they have to be very careful. To protect themselves, they have to be very careful." The Alberta Court of Appeal later overturned Camp's ruling. Wagar's second trial is scheduled for November.
The Canadian Judicial Council launched an investigation in November 2015 after four law professors filed a joint complaint against Camp, who later recused himself from hearing sexual assault cases. In December, the Alberta attorney general also filed a formal complaint and referred the case to an inquiry committee. The council began its inquiry last week, on September 6. The inquiry will conclude on September 14.
Testifying at a hearing on Friday, Camp, who grew up in South Africa, claimed he had a "nonexistent" knowledge of Canadian criminal law at the time of the trial. "My colleagues knew my knowledge of Canadian law was very minimal..." he said. "Please remember I wasn't in this country through the 1960s, '70s and '80s." Records indicate Camp did not receive training or judicial education on sexual assault law before presiding over sexual assault cases.
Camp's attorney, Frank Addario, argued Camp is remorseful, and that he has since
taken steps "to educate himself and gain insight into his beliefs." Addario conceded that Camp's remarks were "insensitive and inappropriate," but that he has since apologized, insisting Camp's misconduct does not warrant removal from the bench. Camp has openly acknowledged his "knowledge deficit" Addario said. According to a statement of facts, Camp has undergone mentoring, counseling about how victims of abuse respond to trauma, and a course on the history of sexual assault law.
In a letter of support, Camp's daughter, Lauren, who admitted she has been raped herself, said that her father's comments were "disgraceful" but that she will stand behind him. Lauren Camp revealed her father is "old fashioned in some ways" and that he does not understand "how women think" but insisted he is not "an inherent or dedicated sexist." She also wrote that she had seen her father "advance in understanding and empathy for victims, vulnerable litigants and those who have experienced trauma."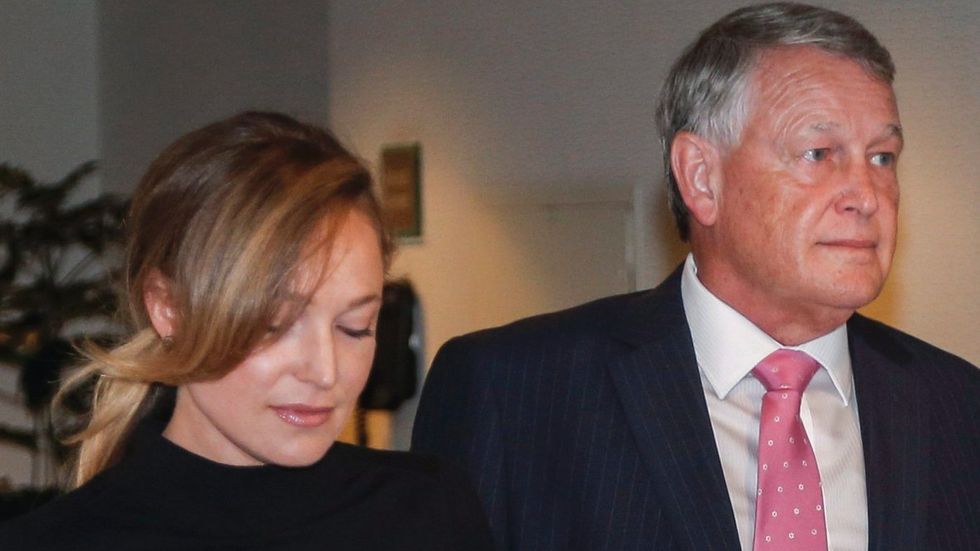 Lauren and Robin Camp. (Credit: Source.)
However, Marjorie Hickey, who is presenting the case against Camp to the inquiry, said in her closing arguments yesterday that there is sufficient evidence to remove Camp from the bench. Camp "failed in the due execution of the office of the judge," Hickey said. Hickey also noted that Camp's remark that "sex and pain sometimes go together" must have been "particularly belittling" to the woman who survived the alleged rape. The woman, whose identity is protected by a publication ban, was the first to testify at the inquiry, telling the committee that the judge's comments "made me hate myself" and that Camp "made me feel like I should have done something, like I was some kind of slut."
The committee will file a report with the judicial council on whether or not it recommends Camp's removal from the bench. It will then be up to the council to decide if the committee's decision warrants a recommendation to the federal justice minister.