California Governor Jerry Brown rallied a group of scientists yesterday, striking a defiant tone when he suggested that California's government would defy the federal government on any effort to stop or reverse policies fighting global climate change.
"We've got the scientists, we've got the lawyers and we're ready to fight. We're ready to defend," he said to applause at the American Geophysical Union conference in San Francisco. "And California is no stranger to this fight. Our emission standards, our energy rules, drove U.S. policy. Whatever Washington thinks it is doing, California is the future."
---
Brown, who kept a low profile since the election until his address last night, suggested that scientists and researchers should reserve their energy and enthusiasm for the "battles ahead," telling them, "Keep it up. Don't flag. We've got a lot of work to do."
In his speech, Brown issued a warning against proposed budget cuts that could eliminate NASA's earth-observing satellite programs. He reminded his audience that he earned his nickname, Governor Moonbeam, during his first tenure as governor when he suggested that California should launch its own communications satellite. (Brown even had an ex-astronaut on his payroll as a space adviser.) "I didn't get that moniker for nothing," he said. "And, if Trump turns off the satellites, California will launch its own damn satellite. We're going to collect that data."
Brown also reserved words for Rick Perry, the former Texas governor who Brown has criticized for attempting to poach jobs from California, and who Trump recently nominated to lead the Department of Energy. Perry would ascend to the top post of an agency he has vowed to abolish. "Rick, I got some news for you," Brown said. "California is growing a hell of a lot faster than Texas. And we've got more sun than you have oil."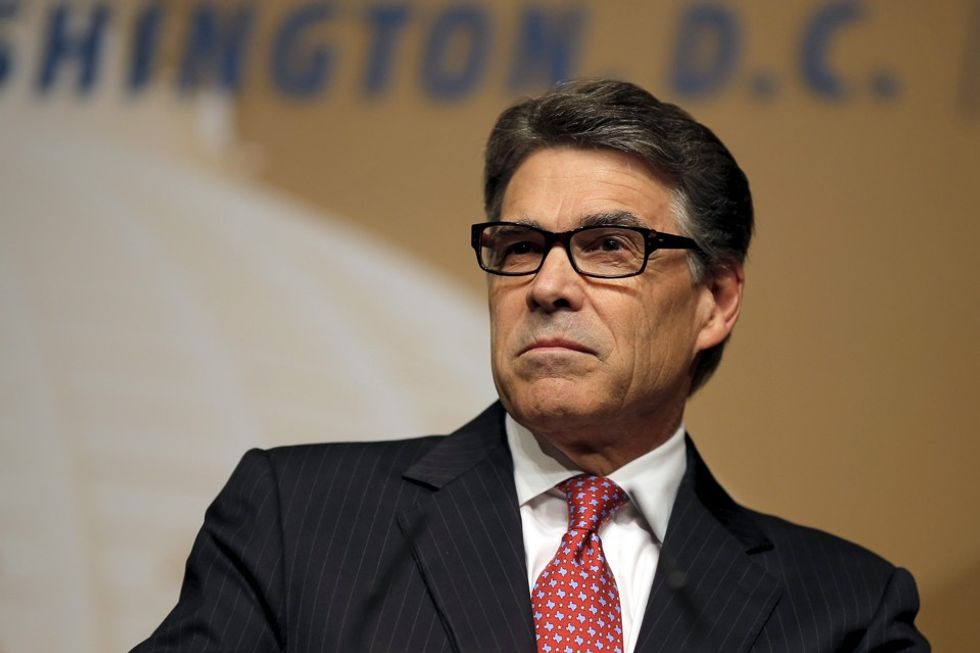 Rick Perry. (Credit: Source.)
According to Jack Pitney, a politics professor at Claremont McKenna College, it was Trump's selection of Perry, an oil industry ally, to the Energy Department, which spurred Brown's combative tone. "I think he's reading the appointment as a rude gesture toward the state of California," Pitney said. "If you are Jerry Brown, you see the Trump administration as a gusher of oil, which to him is not a good thing."
The AGU meeting is not normally a hotbed of political dissent but has become the site of protests and appeals for President-elect Donald Trump not to cut back or defund climate change research. Trump, a climate change denier, has claimed that global warming is a hoax perpetrated by the Chinese.
The concept of global warming was created by and for the Chinese in order to make U.S. manufacturing non-competitive.

— Donald J. Trump (@Donald J. Trump) 1352229352.0
Last month, a top adviser to the president-elect hinted the incoming administration would dismantle NASA's earth science programs, as part of a crackdown on "politicized science." Shutting down the program would eliminate NASA's research into temperature, ice, clouds and other climate phenomena. That data set is instrumental in tracking hurricanes and other inclement weather and provides a treasure trove of information about coastal erosion, glacial melting, land use, wildfires, and the approach of solar storms, with the Earth science division's budget is set to grow to $2 billion next year.
In perhaps his speech's most impassioned moment, Brown referred to scientists as "truth seekers" and said that the threat to their work is greater than a couple of politicians: "We're facing Big Oil. We're facing big financial structures that are at odds with the survivability of our world," he said. But, he noted, one presidential term does not set the tone of policy forever––and scientists and policymakers will need to be louder and will need to push harder to keep climate change at the forefront of the national conversation: "You know that sometimes you need a heart attack to stop smoking?" he asked. "Well, maybe we just got our heart attack."