Beverly Young Nelson is represented by lawyer Gloria Allred and is the latest alleged sexual assault victim of Alabama Republican Senate candidate Roy Moore. Last week, Leigh Corfman and 3 other women went public with disturbing allegations against Moore, dating from their teenage years. The accounts were published in the Washington Post. In it, Corfman claimed that Moore approached her in Etowah County, Alabama while she was sitting on a bench with her mother in 1979.
During the exchange with her mother, Corfman claims that Moore offered to watch young 14-year-old Corfman while she went inside a courthouse for a child custody hearing. While he watched the young Corfman, he allegedly got her phone number. Days later, he allegedly picked her up in his car, drove some ways, and molested her.
---
"I wanted it over with — I wanted out," Corfman told WashPo about remembering her alleged molestation. "Please just get this over with. Whatever this is, just get it over."
The newest accuser, Nelson, was announced earlier today in a press briefing from the Lotte New York Palace Hotel. The press briefing passed out before stated that the woman "alleges that Roy Moore sexually assaulted her when she was a minor in Alabama." Nelson alleges that at the time of the assault, he was a District Attorney.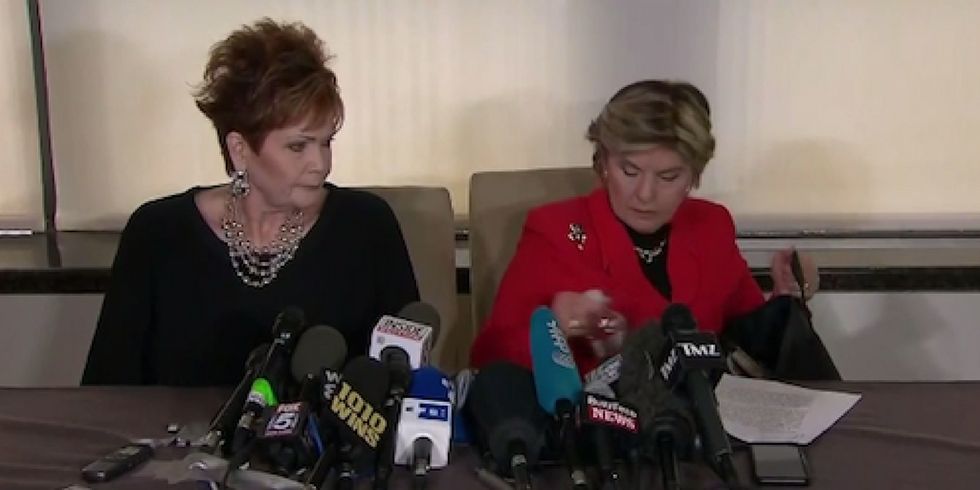 (ABC)
Allred said that the story is corroborated by Nelson's mother, sister, and husband, John, a truck driver.
Nelson is willing to give her testimony under oath and answer any questions. Allred is demanding a Senate Judiciary Committee. Nelson also reiterated that she is a Republican and voted for Donald Trump, just like prior accuser Corfman.
According to Nelson, she attended high school in Gadsen, Etowah County, and worked as a waitress nearby at the Old Hickory House in the 1970s. According to Nelson, Moore was a regular customer of hers. Moore said at the time, she knew he was "an important person." She said he would touch her hair and compliment her looks. Nelson competed in beauty pageants.
Moore wrote in Nelson's yearbook around Christmastime and said, "Love, Roy Moore." After today's press briefing, the yearbook with Moore's note was presented to the cameras and as a handout.
One evening, Nelson alleges, Moore offered to drive her home from the restaurant where she worked. She claims that Moore drove around the back of the restaurant, stopped the car where there were no lights with her in it, and began to grope her after locking the doors. She claims he tried to undress her and push her head into his crotch.
He finally stopped, Nelson said, and she escaped after he warned her not to tell anyone.
Prior to the Allred-led press briefing, screenshots from Facebook of stories surrounding Moore made their way online. In them, two women named Ann Green and Delores Abney recounted how Moore allegedly used to harass girls at the Etowah County YWCA.
Before the press briefing in New York even started, Moore released the following response to the latest accusations by Nelson:
The December 12 special Senate election in Alabama is being held to replace Jeff Sessions, now attorney general. Moore defeated Senator Luther Strange, championed by Donald Trump, in the September Republican primary to advance to the December election. In December, Moore faces Doug Jones, who won the Democratic primary.
Moore is no stranger to controversy and has been removed from office before. He has been twice elected to and twice removed from the Alabama Supreme Court. He was removed from office for the first time in 2003 when he refused to remove the Ten Commandments from government property. He is also the founder and president of the Foundation for Moral Law.
Potential future colleagues of Moore have weighed in on the new controversy with Corfman. Lisa Murkowski, Republican Senator from Alaska, said:
Senate Majority Leader Mitch McConnell has also said Moore should step down if the allegations are true. However, despite the disturbing allegations, some Republicans continue to rally around Moore.