American voters picked Barack Obama as the best president "in their lifetimes" according to a new Pew Research Center Poll released on Wednesday.
Poll: Americans rank Obama as the best president in their lifetime https://t.co/JBzTbiLtGF https://t.co/zoTqgsIaDB

— The Hill (@The Hill) 1531333146.0
---
In a survey of 2,002 voters conducted from June 5-12, 31% said Obama had "done the best job in their lifetimes." Forty-four percent of respondents chose the 44th president as their first or second favorite.
@thehill https://t.co/O7yRR53uRA

— Kathryn🌶 (@Kathryn🌶) 1531337619.0
By contrast, only 10 percent of participants chose President Donald Trump, who begins his 18th month in office next Friday, as the best president in their lifetimes. Twelve percent ranked him as the second best.
"Not yet halfway through his term, 19% say Donald Trump has done the best or second best job of any president of their lifetimes," Pew wrote.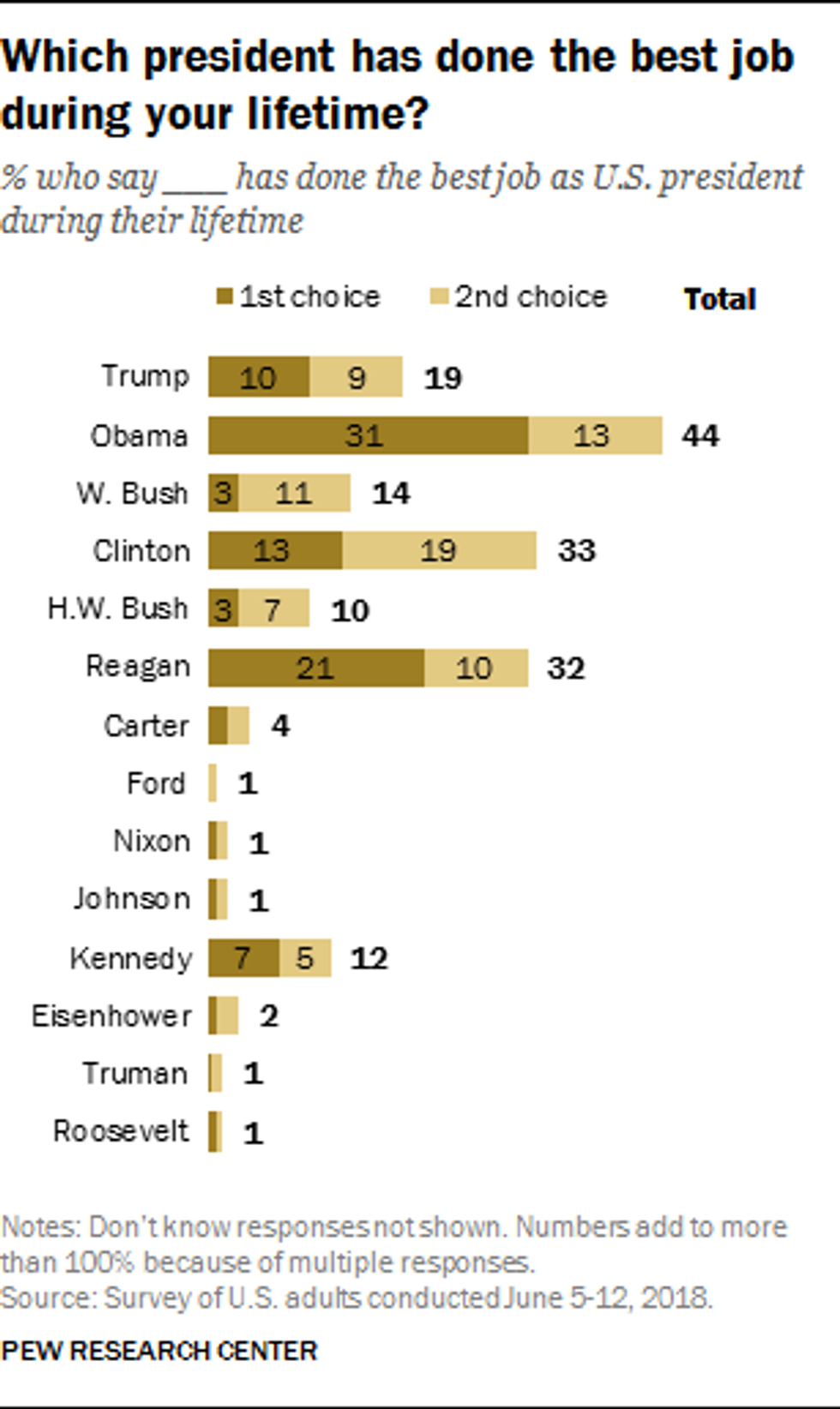 President Bill Clinton received a 33 percent share of the vote, and Ronald Reagan landed in third place with 32 percent across both categories.
As for which president was number one, the poll showed 31 percent for Obama, 21 percent for Reagan, and 13 percent for Clinton.
Trump didn't fare all that well among Republicans, with only 40 percent ranking him as their top pick, compared to 57 percent who chose Reagan.
In contrast, 71 percent of Democratic respondents said Obama was the best president in their lifetimes, with Clinton in second place with 49 percent.
Forty-six percent of Millennials placed Obama in the top spot, while only 12 percent gave Trump the same honor.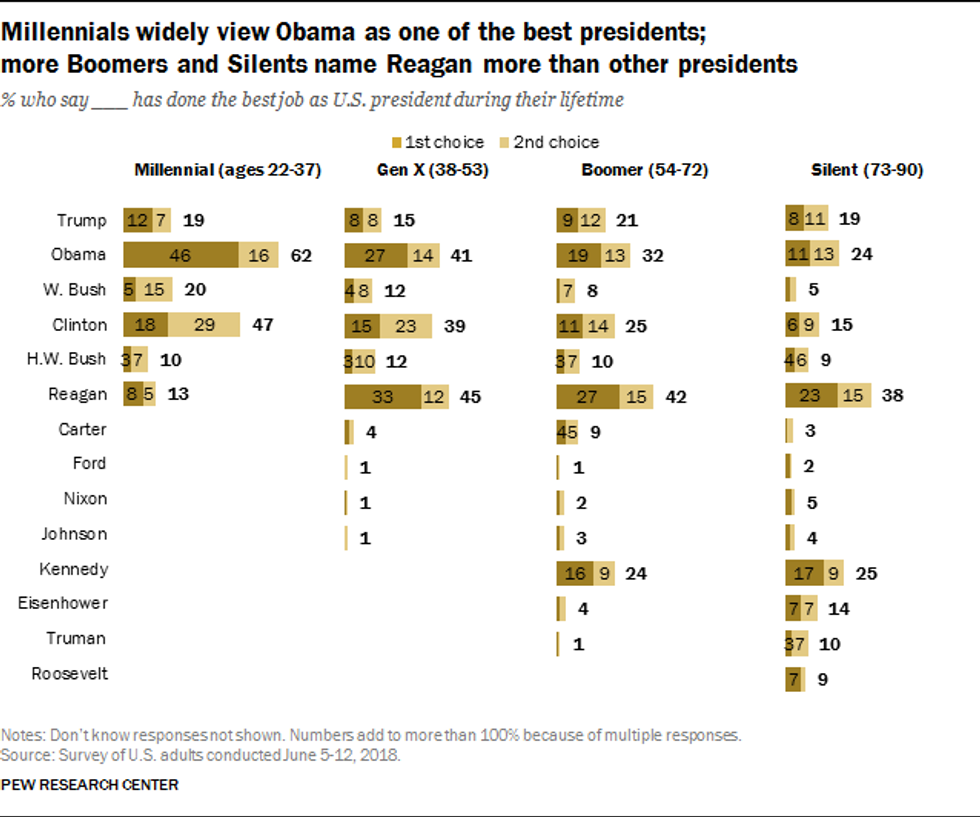 Reagan dominated among the baby boomer and retirement generations, with 27 percent and 23 percent favorability, respectively.
The Twitterverse shared its reactions to the poll, with jabs at Trump and happy Obama memes being among the most common commentary.
Only 19% chose Trump. Suck it #maga https://t.co/HDLzhOVbry

— LiA (@LiA) 1531338727.0
@thehill https://t.co/vfAUcNpfff

— Charles (@Charles) 1531333179.0
@thehill https://t.co/wEQvJUjlFY

— Debbie Owens (@Debbie Owens) 1531335699.0
@thehill PRESIDENT OBAMA, YOU ARE THE BEST PRESIDENT THAT THE U.S. HAS KNOWN, AND YOU ARE MISSED EVERY DAY!

— lulu (@lulu) 1531333779.0
@thehill @MLCHZDK Don't be mad, haters. #trumpistheworstpresidentever https://t.co/Ow6OKy2xkG

— Colleen Boykin (@Colleen Boykin) 1531335509.0
@thehill AGREED.

— Scott Candage (@Scott Candage) 1531333171.0
@thehill Top two were Democrats! We ARE the majority. Let's keep acting like it and get the current cancer out of t… https://t.co/Atotiv9H7u

— Lorraine Devon Wilke (@Lorraine Devon Wilke) 1531333744.0
Per Pew:
The analysis in this report is based on telephone interviews conducted June 5-12, 2018 among a national sample of 2,002 adults, 18 years of age or older, living in all 50 U.S. states and the District of Columbia (502 respondents were interviewed on a landline telephone, and 1,500 were interviewed on a cell phone, including 998 who had no landline telephone).
The poll had a margin of error of 2.6 percentage points.