Australians voted in favor of legalizing marriage equality as part of a non-binding national postal survey yesterday.
According to the Australian Bureau of Statistics, 61.6 percent of Australians voted to make same-sex marriage the law of the land, and 79.5 percent of Australian voters took part in the voluntary vote––a massive turnout.
Australia's chief statistician David Kalisch said about 7.8 million people voted "yes" for same-sex marriage, with approximately 4.9 million against it. He noted that participation was higher than 70% in 146 of Australia's 150 electorates. "This is outstanding for a voluntary survey and well above other voluntary surveys conducted around the world," Kalisch said. "It shows how important this issue is to many Australians."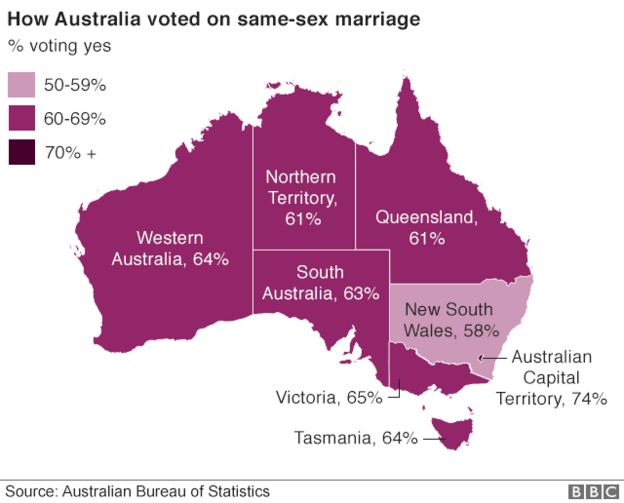 Supporters and LGBT rights activists took to the streets in jubilation, waving rainbow flags. Many erupted into song and dance.
"This is our proudest moment as gay and lesbian Australians," said Chris Lewis, an artist in Sydney who spoke to the New York Times. "Finally I can be proud of my country."
Annika Lowry, who brought her 4-year old daughter to the celebration, also expressed her joy. "It was not just about us," she said. "It's for our kids, so that they know equality is important."
Politicians and celebrities also weighed in.
Love wins in Australia! Thrilled to hear Australians have voted in favour of legalizing same-sex marriage. #MarriageEquality

— Justin Trudeau (@JustinTrudeau) November 15, 2017
Prime Minister Malcolm Turnbull said Parliament aims to pass legislation by Christmas. "The Australian people have had their say, and they have voted overwhelmingly yes for marriage equality," he said. "They voted overwhelmingly for fairness, for commitment, for love, and now it's our job as the Australian Parliament, all of us here to get on with it and get this done before Christmas."
The people of Australia have spoken and I intend to make their wish the law of the land by Christmas. This is an overwhelming call for marriage equality. pic.twitter.com/PWZbH5H71r

— Malcolm Turnbull (@TurnbullMalcolm) November 14, 2017
Turnbull now faces debate in his government over what the parliamentary legislation should include, and those who voted "No" will likely lobby over the wording of that legislation. According to the BBC, some conservative MPs want the legislation "to contain exemptions that would allow businesses opposed to same-sex marriage to refuse goods and services for weddings."
To read more, please continue to page 2.