Britain is on critical terror alert––the highest possible rating––in the aftermath of a bombing in the city of Manchester. The attack, which took place during a concert by singer Ariana Grande, killed 22 people and injured as many as 64. At least 16 children are among the dead.
Greater Manchester authorities said they had arrested three men in south Manchester. A neighbor identified one of the men detained as Adel Forjani. His grown son was also detained. Yesterday, police in Chorlton arrested a 23-year old man in connection with the bombing. Police arrested the man near an address where the family of suspected bomber Salman Ramadan Abedi, a 22-year old British national of Libyan descent, lived. There are no further details on the arrests at the moment.
---
Prime Minister Theresa May has ordered the deployment of up to 5,000 armed troops at key strategic sites across the United Kingdom. Home Secretary Amber Rudd, who said it was "likely" Abedi had not acted alone, confirmed that 984 members of the armed forces were being deployed, initially in London but later elsewhere. A number of troops have already taken up positions at the Houses of Parliament.
Operation Temperer, the plan to deploy thousands of soldiers on the streets in response to a major terrorist threat, was first devised in 2015 and kept secret until it was accidentally leaked to a newspaper. Prime Minister May is the first sitting prime minister to execute the plan; former Prime Minster David Cameron had expressed fears that implementing the plan would draw comparisons to the English occupation of Northern Ireland and give the public the impression that the government was imposing martial law.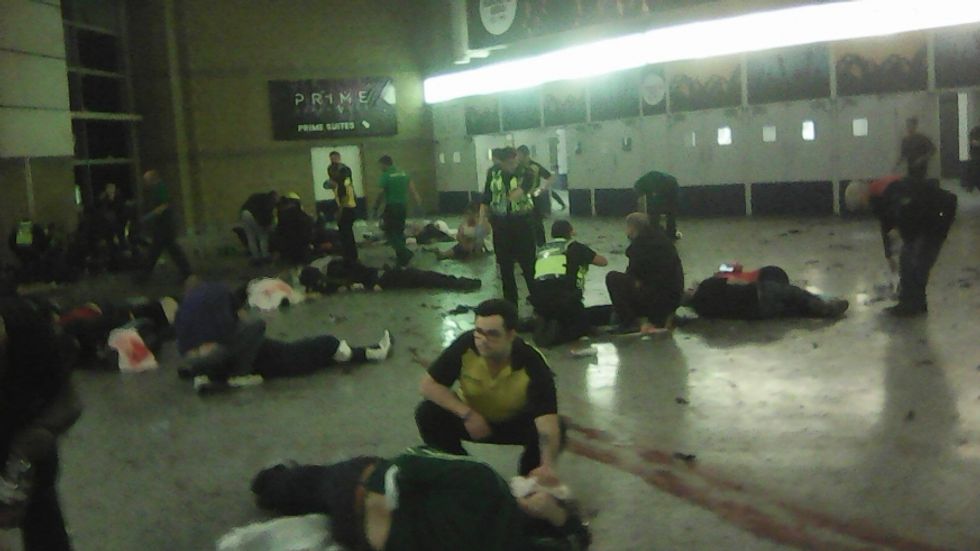 Medics attend to the wounded following the Manchester Arena bombing. (Credit: Source.)
In a statement, May confirmed that Operation Temperer was now in force for the first time.
"This means that armed police officers responsible for duties such as guarding key sites will be replaced by members of the armed forces, which will allow the police to significantly increase the number of armed officers on patrol in key locations," May said. "You might also see military personnel deployed at certain events, such as concerts and sports matches, helping the police to keep the public safe.  In all circumstances, members of the armed forces who are deployed in this way will be under the command of police officers. Precisely how the military and armed police officers will be deployed is an operational decision for police commanders."
The possibility of another terrorist attack is "imminent," May said, and investigators have voiced fears that Abedi was part of a larger network of terrorists inspired by the Islamic State, which claimed responsibility for the bombing.
A statement from Islamic State claiming responsibility for last night's attack has been released in English as well… https://t.co/EeDOYZSAN4

— Shiraz Maher (@Shiraz Maher) 1495541201.0
---
Martyn Hett, 29, who went missing after becoming separated from his friends, was also confirmed among the dead. "We got the news last night that our wonderful iconic and beautiful Martyn didn't survive. He left this world exactly how he lived, centre of attention," said Russell Hayward, believed to be Hett's partner, in a statement. "I'm in a really bad way so please forgive if I don't reply. Thankfully I have his wonderful family and amazing friends to keep each other strong. I love you Martyn. I always will X."
Nell Jones, 14, whose death was announced at her school.
Georgina Callander, a college student who met Grande in 2015 and posted excitedly about the moment on Instagram.
Marcin and Angelika Klis, Polish parents of a student at the University of York, who had arrived to pick up their children. The Polish embassy in London confirmed their deaths.
Twenty people remain in "critical care" across Manchester. Some of the victims have severe injuries, including major organ damage and potential loss of limbs, according to Jon Rouse of the Greater Manchester Health and Social Care Partnership.
Grande, who was led to safety after the blast, shared her grief openly on Twitter.
broken. from the bottom of my heart, i am so so sorry. i don't have words.

— Ariana Grande (@Ariana Grande) 1495507886.0
She has since returned to the United States.
---