Comic Amy Schumer and fellow celebrities Alexa Chung and Sophia Amoruso have started a campaign to push the resignation of Homeland Security Secretary Kirstjen Nielsen through letters targeting Ivanka Trump.
Amy Schumer has posted a "Dear Ivanka" letter calling on the first daughter to demand Kirstjen Nielsen's resignatio… https://t.co/mScffPcePg

— Newsweek (@Newsweek) 1533666005.0
---
The letter, which appeared on Amoruso's Instagram on Monday, urges the First Daughter to demand Nielsen's resignation over the "zero tolerance" policy that resulted in thousands of migrant children being separated from their parents at the U.S.-Mexican border.
The letter begins by referencing Trump's Axios interview last week in which she said family separation was a "low point" for her (note the past tense).
"Dear Ivanka..."
"You follow me on social media. You said family separation was a 'low point' for you. The low point is for the separated families."
"As of now, 572 children have no been reunited" despite a court-ordered deadline to do so, Amoruso pressed. "A child has died after separation" and there have been "multiple claims of sexual and physical abuse in detention," she added.
Amoruso continued: "There have been psychotropic drugs administered to children in detention without parental consent. These abuses have occurred on your father's watch under the leadership of Secretary Nielsen."
End these racist, inhuman, unconscionable abuses now!
The letter concludes with a simple plea to Trump:
We demand you call for the resignation of Secretary Nielsen!
Schumer, whom Trump follows on Instagram, reposted the letter which was then 'liked' more than 282,000 times in less than 24 hours.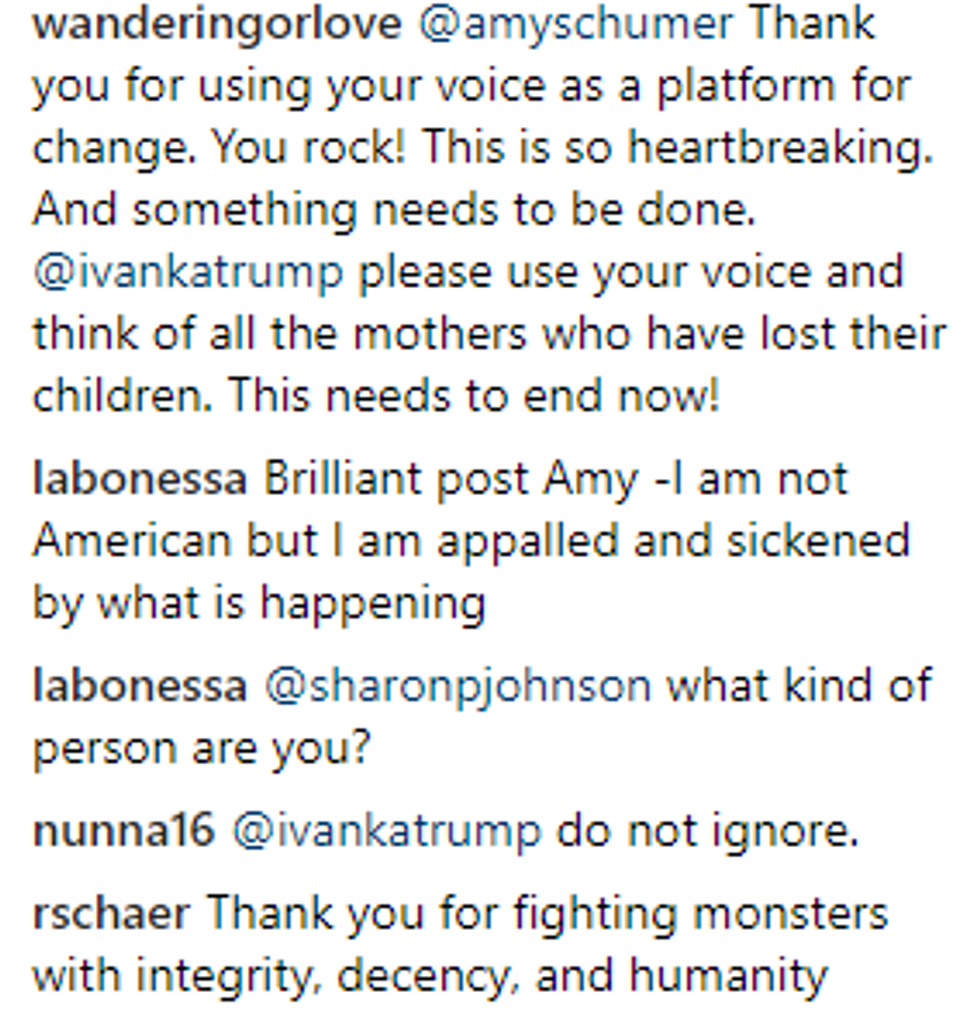 Chung shared the letter Tuesday morning.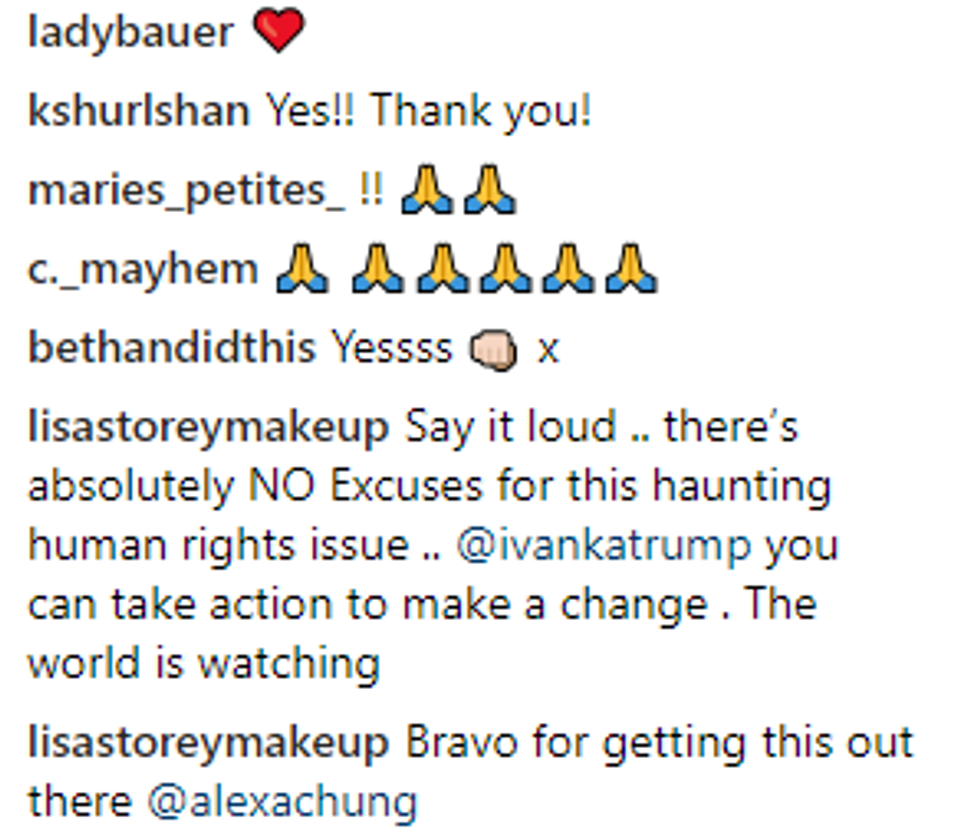 "That was a low point for me," Trump told Axios last Thursday. "I feel very strongly about that, and I am very vehemently against family separation and the separation of parents and children."
Trump's interview was shredded in a brutal USA Today Op-Ed on Monday. Columnist Raul Reyes said Trump's lack of pressure on her father renders her words inert and "reveals her as a profile in cowardice."
"The smartest thing that Ivanka Trump could say about immigration policy is nothing," Reyes wrote, adding that Trump's "comments only illustrate the hollowness of her presence in the White House — just as the family separations crisis reveals her as a profile in cowardice."
Other famous names, such as Chelsea Handler and the Women's March, also shared the letter on Instagram.