The California Assembly has unanimously approved AB 2888, a measure that will close a loophole in the state's sexual assault laws. The new legislation––which passed 66-0––would require at least a three-year prison sentence for anyone convicted of assaulting an unconscious person. Current California law imposes a prison sentence on people convicted of sexual assault, but not if the case involves victims who are unable to defend themselves. The bill now heads to the desk of Gov. Jerry Brown for his signature.
The new law is in response to a sentence imposed in June by Santa Clara County Superior Court Judge Aaron Persky, who sentenced Stanford University student Brock Allen Turner to six months in jail for the rape of an unconscious woman. Critics condemned the verdict as too lenient.
Assemblyman Bill Dodd (D-Napa), who co-authored the bill, said that sexual assault of unconscious or intoxicated persons "is a terrible crime and our laws need to reflect that." Allowing felons convicted of these offenses to get off with probation, he continued, "discourages other survivors from coming forward and sends the message that raping incapacitated victims is no big deal."
The new legislation did not face serious opposition in the California legislature, which is Democrat-controlled. Some opponents, however, believe the bill will have an adverse impact not unlike the one associated with mandatory minimum sentences for drug offenses. Those laws have been under fire for years amid evidence that they not only disproportionately target minorities, but also contribute to the overcrowding in California's prisons. "There's no evidence that longer prison sentences serve as deterrents," said University of the Pacific law professor Michael Vitiello. "There are real costs to spending so much money on our prison system. It means that there aren't resources for other things, like education and more law enforcement on the streets."
Both Assemblyman Bill Dodd and Prosecutor Jeff Rosen disagree. In a written statement, Dodd said that AB 2888 "is about more than sentencing, it's about supporting victims and changing the culture on our college campuses to help prevent future crimes." After lawmakers introduced the measure in June, Rosen supported it: "Why under the law is the sexual assault of an unconscious woman less terrible than that of a conscious woman? " Rosen asked at the time. "Is it less degrading? Less traumatic?"
The news of the bill's passage comes as Brock Turner prepares to leave jail on Friday.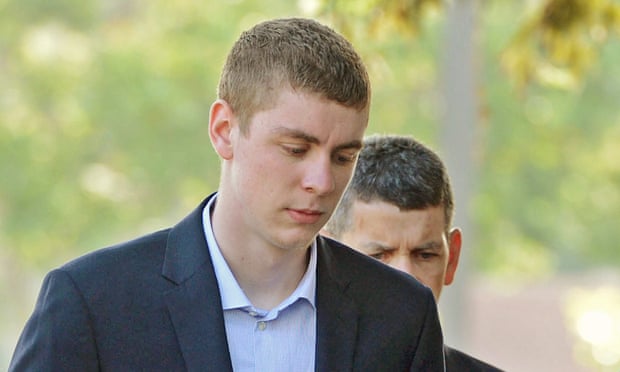 The facts behind his conviction are not disputed. In January of 2015, two male graduate students came upon Turner while he was raping an unconscious woman behind a dumpster. According to trial testimony, one of them yelled out "What are you doing?" before Turner fled the scene. The two gave chase and pinned Turner to the ground until authorities arrived.
The 23-year old victim later described waking up in the hospital the morning after the assault with no memory of what had transpired. She submitted to an invasive examination to collect evidence: pine needles were removed from her vagina; photographs and swabs were taken and blood was drawn. Both the victim and Turner had attended a fraternity party before the assault.
A jury convicted Turner on three felony charges, including sexually penetrating an unconscious person with a foreign object. During pre-probation sentencing, however, the assailant's father Dan Turner, said in a statement that "20 minutes of action" had "deeply altered" his son's life forever. Imprisonment, he continued, would be an "inappropriate punishment" for his son, who should instead have the opportunity to educate students on college campuses about "how society can begin to break the cycle of binge drinking and its unfortunate results."
Prosecutors had requested Judge Aaron Persky sentence Turner to six years, even though the maximum penalty for these charges was 14 years in state prison. But Judge Persky, a Stanford alumnus, agreed with Turner's father that prison time would have a "severe impact" on Turner. Persky thereafter handed down a six-month sentence in county jail, stating, "I do think he will not be a danger to others." Persky said positive character references influenced his decision. Turner's age, lack of a criminal history and the role alcohol played in the assault were also taken into account. The sentence was later shortened to three months due to applied "credits" which assessed Turner would not misbehave while in custody.
The case amassed global attention after the survivor of the assault, identified as "Emily Doe" in court documents to protect her privacy, delivered a victim impact statement which Prosecutor Jeff Rosen praised as "the most eloquent, powerful and compelling piece of victim advocacy that I've seen in my 20 years as a prosecutor." Since its publication on Buzzfeed, the statement has amassed millions of views. In it, she recounted her first brush with the media coverage: "And then, at the bottom of the article, after I learned about the graphic details of my own sexual assault, the article listed his swimming times. She was found breathing, unresponsive with her underwear six inches away from her bare stomach curled in fetal position. By the way, he's really good at swimming."
She also challenged portions of Brock Turner's own statement, including
To read more, please continue to page 2.