The light in her eyes hasn't dimmed, despite a life of unspeakable hardship. But Sharbat Gula, perhaps the world's most famous refugee, now has a home in Afghanistan.
The place where her story began.
---
For most people in the developed world, Gula may not be a household name, but you'd be hard-pressed to find anyone who hasn't stared deeply into her emerald eyes — perfectly framed by a deep crimson headscarf — and become lost in her pain and suffering.
That's because as a young girl, Gula became the face of the Afghan refugee crisis during the 10 year Soviet invasion of this isolated, rugged, mountainous country.
She was the young girl who inspired the most iconic National Geographiccover ever published. As the "Afghan Girl," her beautiful, tragic face, burnished and brushed by cares, already infused with fear, inspired a generation of photographers. Even people born years after the famous June 1985 issue graced newsstands will have no difficulty conjuring her indelible visage.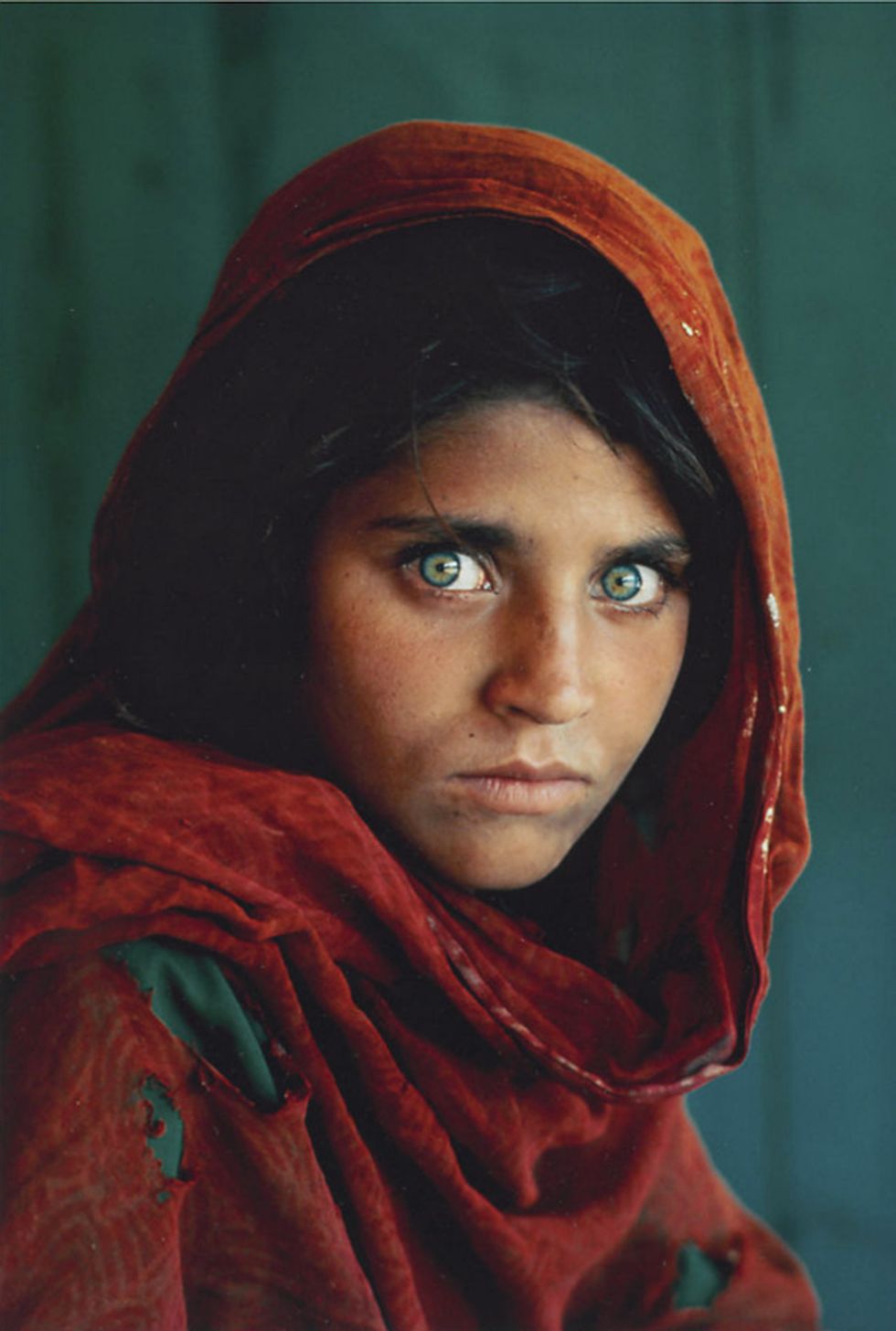 Afghan Girl/Steve McCurry (via cea +/Flickr)
The irony, of course, in this age of social media and viral messaging, is that her original fame was matched only by her anonymity.
The first 15 photographs
In the tumult of any refugee crisis, pandemonium is the way of things. Soon after capturing the image of a lifetime, photographer Steve McCurry lost track of the Afghan girl. She was just one of hundreds of thousands fleeing a war-ravaged, bombed-out countryside and, as one of the magazine's most celebrated photographers, he had planes to catch, other assignments to chronicle.
And so an unforgettable face passed out of western knowledge, all but forgotten. The miracle of the photograph — the first ever taken of Gula — became legendary in photography circles. It had been captured at the end of a long day in an overlooked corner of the world, yet Gula and McCurry remember exactly what they felt at the time as if it were yesterday.
McCurry went into a large tent doubling as a classroom and noticed Gula immediately. But sensing shyness or wariness, he photographed other children first. Then, mesmerized by her eyes, he asked for permission to take a few photos.
Gula acquiesced and, as the camera clicked and the film advanced, McCurry thought that this image would be no different from hundreds of others shot that day — dramatic, but hardly National Geographic quality. Gula felt a flash of anger when she realized this white man's boldness. In such a traditional country, framing her face on film felt intimate, and she wanted to stop his intrusion into her life filled with pain and sorrow.
After 15 shots, he stopped to change film. When he turned, the Afghan girl had vanished.
The search for the Afghan Mona Lisa
Had the photograph been ordinary, that would have been the end of it. She would have disappeared into the rising sea of people displaced by war, unaware that her face was even more famous than Helen of Troy's, which was deemed capable of launching a thousand ships.
But the good editors at National Geographic couldn't let that be the final word. In 2002, McCurry and a television crew were dispatched to the Nasir Bagh refugee camps still standing near Peshawar, Pakistan where he first found Gula. No one was sure if she even still lived. Armed with several of his photographs of the adolescent girl, age unknown, they pulled on many threads, and spoke to people far and wide, without success. Finally, they found a man living in the camp who had grown up with Gula, and he said that he knew where to find her.
This man headed off into a dangerous mountainous region known as Tora Bora, returning in three days with the woman the world knew — older and careworn, but unmistakable.
Sharbat Gula had been found.
A lifeline diminished
"She's as striking as the young girl I photographed 17 years ago," McCurry said then. But it's equally true that her face in 2002 told stories of even deepened sorrow and heartbreaking loss.
She is Pashtun, the most warlike of Afghan tribes, and there is a ferocity in those eyes that cannot be diminished. But it's equally true that her face had been coarsened by the harsh mountainous winds, and that her chiseled features are now rounder, softer; she was a middle-aged woman at 28 or 30, her lifeline diminished by tragedy and her impossible struggle to survive.
With such dramatic changes to a recognizable young face, many might doubt Gula's identity, but the experts were certain.
"I'm 100 percent sure this is the same person," said Thomas Musheno, a forensic examiner for the Federal Bureau of Investigation, who was commissioned to verify Gula's identity through detailed facial comparison. John Daugman, a professor of computer science at Cambridge, compared irises from both photographs, which are even more singular than fingerprints, and he was convinced, too.
"She's had a hard life," said McCurry, not long after meeting her again. "So many here share her story."
Afghanistan is one of the world's poorest countries. Wars continued after the Soviet invasion, and more than 1.5 million Afghans were killed, and 3.5 million displaced, in just one generation.  
"The photo in 1984 showed her dignity, innocence, heart, fortitude and perseverance," says McCurry. "She humanized the true struggle for war refugees globally with no words spoken, simply her face."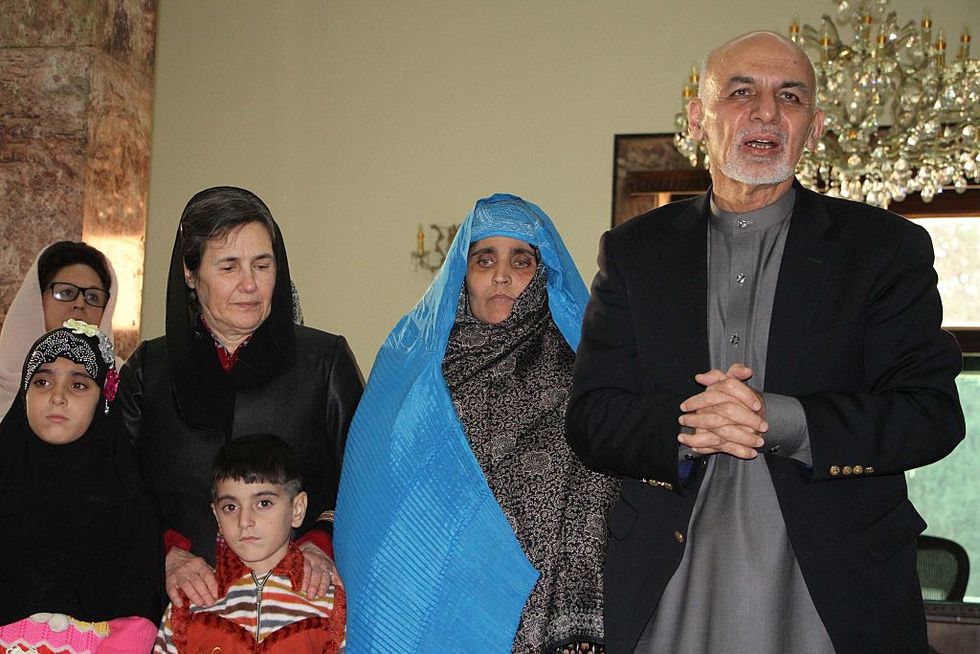 KABUL, AFGHANISTAN - NOVEMBER 09: Afghan president Ashraf Ghani welcomes Sharbat Gula and her children at presidential palace in Kabul, Afghanistan on November 9, 2016.. (Haroon Sabawoon/Anadolu Agency/Getty Images)
Gula was perhaps six or seven when her parents were killed; the daytime skies of her homeland rained destruction, while the nights were filled with keening as the honoured dead were buried. She escaped on foot during a cold winter with her grandmother, her brother and three sisters, hiding in caves whenever the bombs fell. Eventually, they crossed into Pakistan, living there in refugee camps, only returning to Afghanistan in the year before the film crew arrived.
As is common in Afghani culture, Gula married Rahmat Gul when she was a teenager. It was, her brother says, perhaps the only truly happy day in her life. She gave birth to four daughters by 2002 — Robina, Zahida, Alia, and a child who died in infancy, and she wanted them to have the education she had been denied.
McCurry was allowed to photograph her again for National Geographic after her husband offered his blessing. She remains a devout Muslim who had no idea that her countenance had been seen around the world, and that it had inspired thousand to donate to help refugees. She is the only person to grace the cover of this august magazine on two occasions.
A second superpower, another war
But soon after the serendipitous reunion with McCurdy, America and its allies launched Operation Enduring Freedom to remove the Taliban from power in Afghanistan after the September 11 attacks, and Gula was once again forced from her home.
Once again, the Afghan Mona Lisa, as she has been called in her homeland, was lost to the west. Gula emerged again last year after she'd been arrested in Pakistan for using a fake passport, something refugees often resort to in a region where they have no legal status.
She was detained for two weeks, facing up to 14 years in prison and a $5,000 fine. The Pakistani government, at odds with its Afghani counterparts, had made her a pawn in an effort to shame a foreign government.
"This woman is a symbol to Afghans and also a symbol to Pakistan," says Heather Barr, a researcher at Human Rights Watch (HRW) who knows Afghani culture intimately. "The way she was paraded in front of the media by Pakistan felt like humiliation of the Afghan government: Here is this woman who had to flee your country for ours. The Afghanistan government responded by ostentatiously welcoming her back. The message was: We can take care of our own people."
Return to a broken country
The Afghan government recognized an opportunity, and negotiated to bring her home so she could become a symbol for hundreds of thousands of Afghan refugees.
In 2016, more than 370,000 Afghans refugees returned to the country of their birth. As she was once the face of the diaspora, she became the face of the homecoming.
Now widowed, Gula had been raising her four children alone, now sick with hepatitis C contracted from her deceased husband. Yet she liked her life in Pakistan, where she had made friends and become a member of a caring community of fellow refugees.
"Afghanistan is only my birthplace, but Pakistan was my homeland and I always considered it as my own country," she told AFP. "I am dejected. I have no other option but to leave."
President Ashraf Ghani personally handed Gula a key and a deed to a new apartment, and promised that her children could go to school, and her medical bills would be covered.
"I welcome her back to the bosom of her motherland," Ghani said in a small ceremony. "I've said repeatedly, and I like to repeat it again, that our country is incomplete until we absorb all of our refugees."
Gula is being encouraged to start a foundation that will help educate kids, although she appears to shun media attention, preferring a quiet life. But she is considering it.
"My message to all my sisters is not to marry their daughters at a young age," she told BBC Persia. "Let them complete their education the same as your sons do."
But this seemingly happy story does come with hard edges. After a generation of war, which has followed generations of war, Gula's children will grow up in a poor, rough society that isn't kind to women. Only half of Afghan girls attend school, and those who do often drop out around 12.
Gender equality is abysmal, among the worst in the world, and most women need a male companion to run errands or take a stroll. In some cases, women like Gula are considered immoral or tainted because they grew up in a foreign country. Violence against woman is rife.
So the government provides Gula with security, and she must be careful about who she lets into her home.
Nevertheless, her late husband's nephew, Niamat Gul, says that she is settling in, frequently visited by well-wishers bringing gifts, who wish to take their pictures with the famous Afghan girl.
"She is happy now," Gul says, "because Afghanistan respects her."
Gula now gets to help others who struggle as she once did.
"Before this, I was a villager, I did not like the photo and the media," she told the BBC. "Now I am very happy that it gave me honor and [made] me popular among people. The income from the photo has helped a lot of widows and orphans. Now I am proud of it."