The director of communications for President Donald Trump, Tim Murtaugh, posted a triumphant photo of Trump supporters in their trademark red caps as they left Iowa on a private jet.
The photo ended up looking unintentionally bizarre.
---
Check this out.
And for a closer look...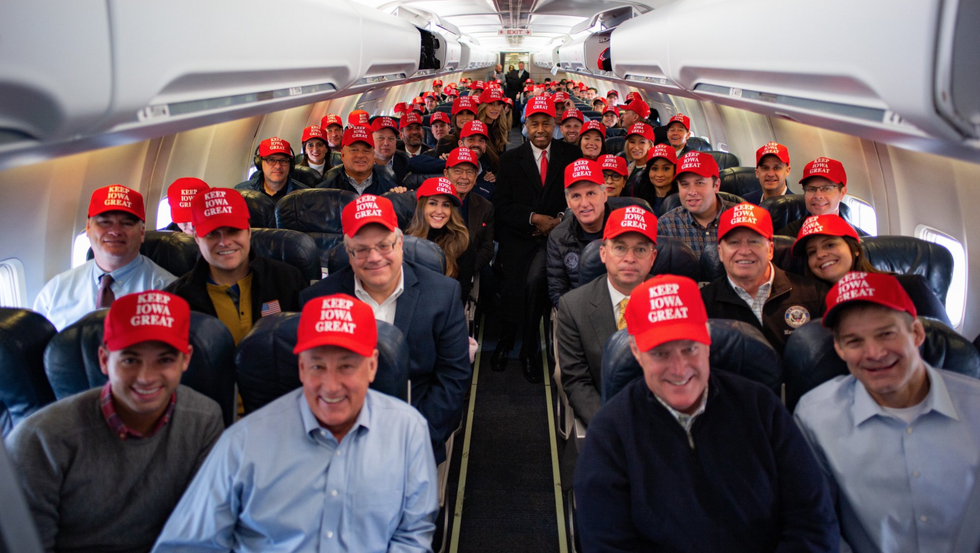 The picture, featuring Republican heavy hitters like Congressmen Jim Jordan (R-OH) and Mark Meadows (R-NC) in Keep Iowa Great caps, didn't turn out to be the show of might Murtaugh hoped it would.
The picture was roundly ridiculed.
The photo was a rogue's gallery of Trump's most fervent supporters. In addition to Jordan and Meadows, Commerce Department Secretary Wilbur Ross, Trump spiritual advisor Paula White, Congressman Kevin McCarthy (R-CA), Congressman Matt Gaetz (R-FL), Eric Trump, Donald Trump Jr., and Housing and Urban Development Secretary Ben Carson.
Carson's position on the plane raised some eyebrows.
The results of the Iowa Caucus have yet to be determined after errors in reporting votes led to a stall. Trump's allies have already started spreading conspiracy theories about the incident.