The director of communications for President Donald Trump, Tim Murtaugh, posted a triumphant photo of Trump supporters in their trademark red caps as they left Iowa on a private jet.
The photo ended up looking unintentionally bizarre.
---
Check this out.
.@TeamTrump headed home after CRUSHING it in Iowa. Record turnout for an incumbent president. So much winning.… https://t.co/C9Pt4YpNV0

— Tim Murtaugh - Text TRUMP to 88022 (@Tim Murtaugh - Text TRUMP to 88022)1580832381.0
And for a closer look...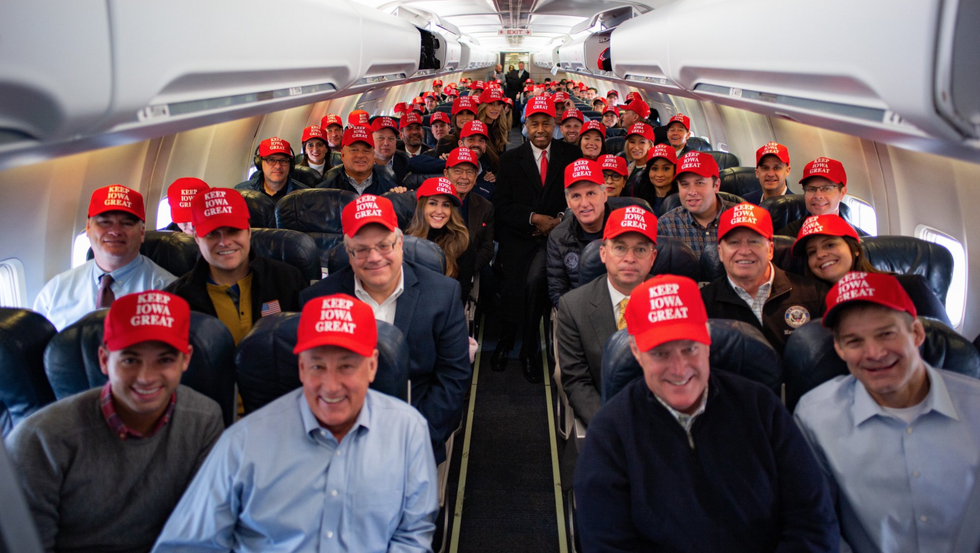 The picture, featuring Republican heavy hitters like Congressmen Jim Jordan (R-OH) and Mark Meadows (R-NC) in Keep Iowa Great caps, didn't turn out to be the show of might Murtaugh hoped it would.
The picture was roundly ridiculed.
@TimMurtaugh @TeamTrump Clown Army https://t.co/MmlunEi1tm

— Laura Townsend (@Laura Townsend)1580833553.0
If that isn't the creepiest thing you've ever seen. Imagine being on this flight... https://t.co/SHpNPLO1lt

— Shandy (@Shandy)1580832914.0
What does the plane to hell look like?👇 https://t.co/ufMMliHeCG

— Bell (@Bell)1580832944.0
This reminds me of the Sgt. Peppers Lonely Hearts Club Band album cover. https://t.co/YetF0n8LJK

— Jake Sherman (@Jake Sherman)1580832500.0
The photo was a rogue's gallery of Trump's most fervent supporters. In addition to Jordan and Meadows, Commerce Department Secretary Wilbur Ross, Trump spiritual advisor Paula White, Congressman Kevin McCarthy (R-CA), Congressman Matt Gaetz (R-FL), Eric Trump, Donald Trump Jr., and Housing and Urban Development Secretary Ben Carson.
Carson's position on the plane raised some eyebrows.
I think it's amusing that they're making the black guy squat in the aisle even though there are three empty seats w… https://t.co/yJm8WNaFKA

— National Security Counselors (@National Security Counselors)1580838320.0
Couldn't help but notice that Ben Carson didn't get a seat. Did you pull him up from the very back of the plane to… https://t.co/Xsp8aNxDps

— Alexander Vornoff, the Mad Doctor (@Alexander Vornoff, the Mad Doctor)1580837504.0
tag yourself i'm ben carson sitting on an armrest in the aisle for some reason https://t.co/nD7iVQONta

— Pete Schroeder (@Pete Schroeder)1580836822.0
The one minority on the flight wasn't given a seat. https://t.co/F2NPYujrKS

— John (@John)1580833023.0
The results of the Iowa Caucus have yet to be determined after errors in reporting votes led to a stall. Trump's allies have already started spreading conspiracy theories about the incident.