According to the National Archives and Records Administration (NARA) presidential libraries were first proposed by President Franklin Roosevelt.
NARA states:
"The Presidential Library system is composed of fifteen Presidential Libraries. These facilities are overseen by the Office of Presidential Libraries, in the National Archives and Records Administration."
"Presidential Libraries are archives and museums, bringing together the documents and artifacts of a President and his administration and presenting them to the public for study and discussion without regard for political considerations or affiliations."
"Presidential Libraries and Museums, like their holdings, belong to the American people."
In 1939, a need for such archives was recognized.
"Many Presidential papers and records had been lost, destroyed, sold for profit, or ruined by poor storage conditions. In 1939, President Franklin D. Roosevelt sought a better alternative."
Congress took action to create these resources for the people of the United States.
"Congress legislated this policy, passing the Presidential Libraries Act in 1955. Through archives, museums, and public programs, Presidential Libraries continue to preserve the documents and artifacts of our Presidents, helping us learn about our nation and our democracy."
President Donald Trump ran afoul of the aforementioned agency and the laws governing the disposition of presidential documents.
Despite his unauthorized removal and concealment of documents required by law to be turned over to NARA and his misunderstanding of who would own and operate any future Trump Presidential Library, NARA has still begun the process of establishing a library for the 45th President.
While it only exists online for now as NARA continues to wrestle documents from Trump's grasp, should a physical library ever be built, where should it go?
NARA maintains ownership and custodial duties for the libraries on behalf of the American people, but the former President has significant influence over where their library will be built.
Actor and icon George Takei asked Twitter to consider this question.
He tweeted:
"OK, folks, where should Donald build his 'Presidential Library'? 🙄"
People definitely had thoughts on Trump's potential future library.
There was a popular recurring theme...
...and one person even provided a floorplan.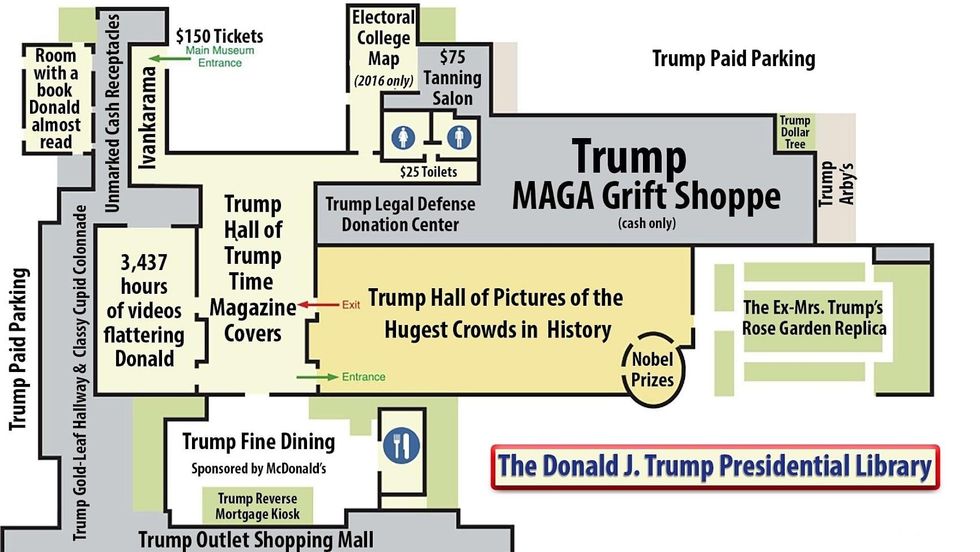 @Hable25/Twitter
While some think a presidential library is an honor for an individual, it's actually a way to maintain and display United States history while making it accessible to the citizenry.

Trump may be a controversial figure, however he was still the 45th President.
Whether history judges him kindly or harshly, the records of his presidency require review and study.