[DIGEST: Associated Press, Lexington Herald-Leader, Courier-Journal, Fox News, CNN, Slate]
In an effort to appease opponents of same-sex marriage, the Kentucky state senate has passed a bill creating two separate marriage license forms: one for straight couples and another for gays.
---
Under Senate Bill 5, the marriage license form for heterosexuals will specify "bride" and "groom," while a new form will use the words "first party" and "second party."
Senator Stephen West, who sponsored the bill, claims that it "presents a reasonable accommodation to our clerks who do not wish to sign a license because of sincerely held religious beliefs." West added that couples would have the ability to use either form, though they will be required to note their genders for archival purposes.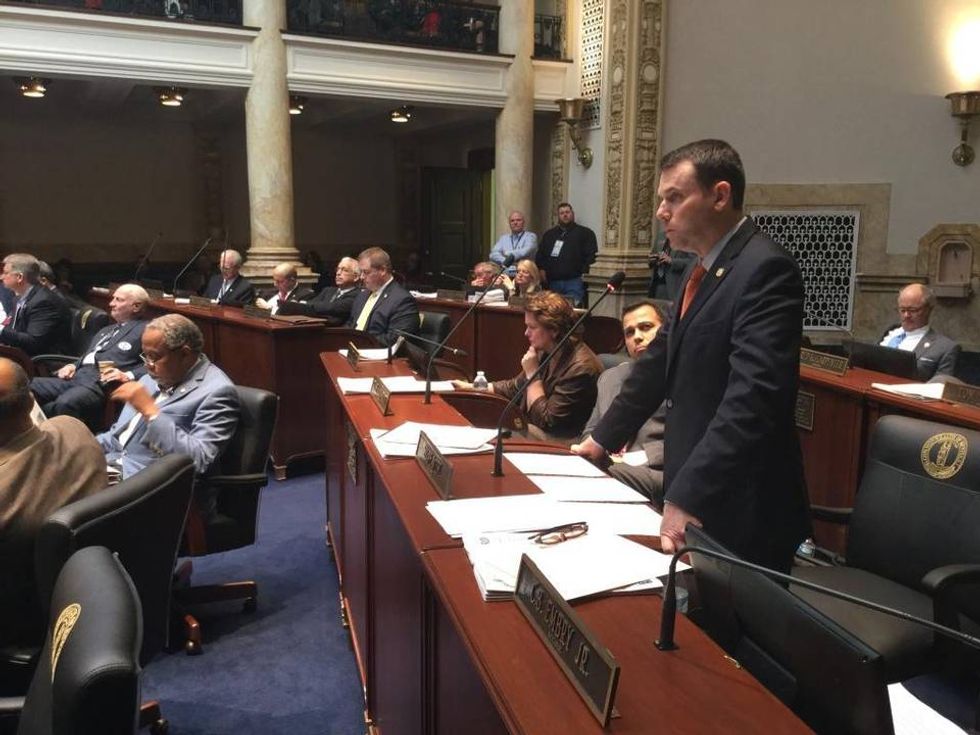 Sen. Stephen West. Credit: Source.
The bill passed on a vote of 30-8, with two Republican senators opposing it.
Former Democratic Governor Steve Beshear had temporarily altered marriage license forms in Kentucky to use gender-neutral wording last summer, after the Supreme Court voted to legalize same-sex marriage. Beshear's alteration was met by disapproval
by the Republican-dominated Kentucky senate. "Quite frankly, it's almost disrespectful to the traditional family," said Republican Senator John Schickel. "That's why, wisely, we decided to have two forms."  
The decision comes in the wake of the highly-publicized Rowan County standoff in which county clerk Kim Davis refused to issue marriage licenses to same-sex couples. Davis, citing conflict with her religious beliefs for her refusal to comply with federal law, was held in contempt of court and jailed for five days. After her release, Davis continued to refuse to have her name on the forms, prompting Kentucky Governor Matt Bevin to issue an executive order removing clerks' names from marriage licenses.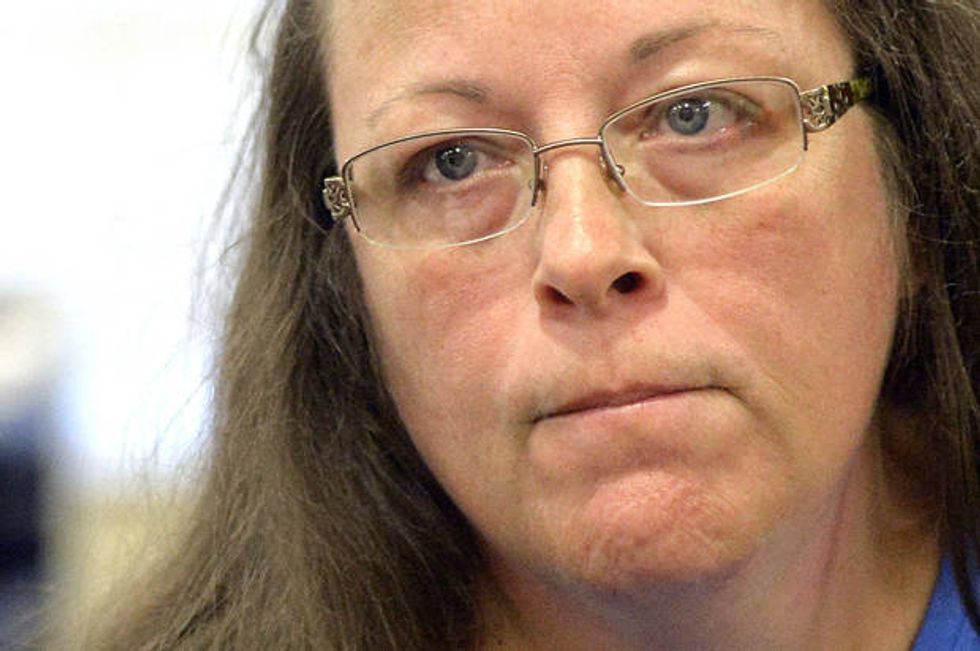 Kim Davis. Credit: Source.
Senator West says that the Senate Bill 5 will make Governor Bevin's changes into law, as well as creating a separate form for same-sex applicants.
[post_ads]
Senator Morgan McGarvey argued unsuccessfully for an amendment which would maintain the single form but give applicants the option to choose from "bride," "groom" or "spouse" next to their name. "It puts everyone on equal footing," McGarvey said. "It makes sure we treat every Kentuckian equally." County clerk Kim Davis, herself, supported McGarvey's amendment, noting that "using two forms just invites problems." Notwithstanding this unexpected endorsement, the updated single-form amendment failed, with the majority of the senate preferring separate forms.
The Kentucky senate approved the two-form bill in a bid to show its support for traditional marriage, with one senator claiming that any form that does not
include the words "bride" and "groom" is disrespectful to traditional families.
"That has nothing to do with bigotry, nothing to do with discrimination," said Senator John Schickel. "It has to do with the vast majority of Kentuckians that respect traditional marriage."
Michael Aldridge, executive director of the American Civil Liberties Union of Kentucky, disagreed. "Separate forms for gay and lesbian Kentuckians constitute unequal treatment under the law. Pure and simple, this bill is motivated by the desire to accommodate discrimination against same-sex couples."
[post_ads]
The Kentucky ACLU maintains that the legislation is setting a dangerous precedent by giving one specific religious belief privilege over all others.
Democratic Senator Gerald Neal of Louisville was more succinct: "Separate has never been equal."
The bill will now go to the Democratic-controlled House of Representatives. House Speaker Greg Stumbo has said that the House is likely to pass its own marriage license bill, which could result in the proposal's final approval being delayed until the end of the session in April.