In late February, when the United States had only 15 diagnosed cases of the virus that's upended daily life in the United States, President Donald Trump assured Americans that it would disappear "like a miracle."
Since then, the United States has surpassed two million cases and nearly 130 thousand Americans have died of the virus. The task force charged with responding to the virus has only briefed Americans once since April. States are being forced to scale back their reopening efforts due to new cases and hospitalization spikes. Americans are currently banned from traveling to Europe because the European Union determined the outbreak in the United States is out of control.
As recently as June 30, the U.S. saw a record number of new cases at over 48,000. The previous record had come just five days before, at 37 thousand cases. This indicates that an increase of deaths from the virus will follow in the coming weeks.
The curve we were supposed to flatten looks like this.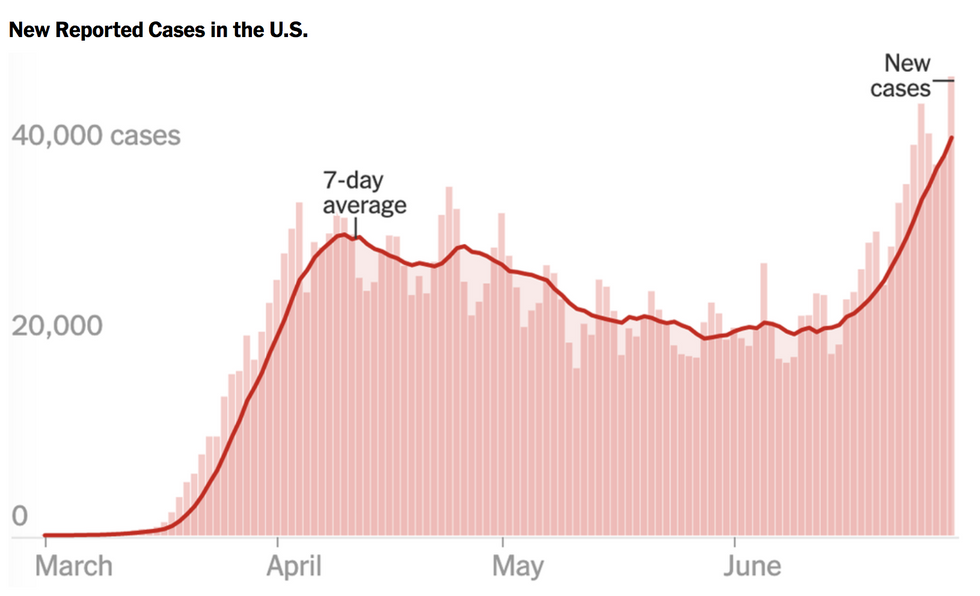 New York Times
With all available information pointing to worsening conditions, the President's latest White House press secretary, Kayleigh McEnany, repeated Trump's claim that the virus would disappear.

Watch below.

When asked if the President's strategy at this point was just hoping for it to disappear, McEnany responded:

"The President's confident that it'll disappear. He's confident that he's put together a revolutionary, first class team that is going to break through bureaucracy and get us a vaccine. He's confident that that will lead us to a place where we won't have [the virus] on our hands."
McEnany went on to falsely claim that the increasing number of positive cases in the United States were solely due to expanded testing, and referred to the new cases as "embers."
People were exasperated at McEnany's assurances.
There was one thing, however, that Americans hoped would disappear.
A vaccine isn't expected until next year.