As part of the Trump campaign legal counsel, Jenna Ellis rose to national infamy for her role in defending the former President's lie that the 2020 presidential election was "stolen" from him through widespread fraud orchestrated by Democrats.
With President Joe Biden now officially in office, it would appear she has a lot more free time these days, considering she spent much of Monday morning slamming Senator Reverend Raphael Warnock (D-GA) for a tweet he posted commemorating Easter Sunday.
In the since-deleted tweet, Warnock posted a message of inclusivity, calling Easter "more transcendent than the resurrection of Jesus Christ."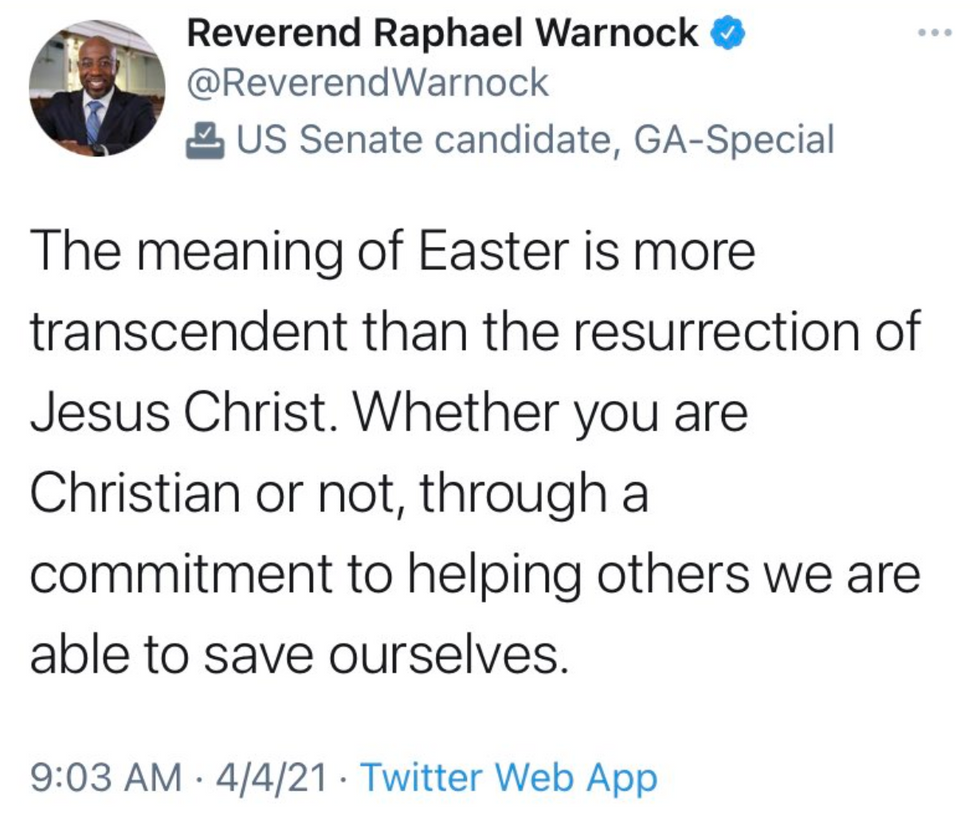 While some may debate the contents of Warnock's tweet, his credentials speak for themselves. Before delivering a victory in one of the key Senate runoffs in Georgia that gave Democrats a majority in the Senate, Warnock was the senior pastor at Ebenezer Baptist Church, where Reverend Dr. Martin Luther King Jr. also preached.
Ellis fired off a bizarre tweet storm accusing the Senator of being a heretic.
Ellis continued to berate the Reverend on Twitter, and claimed that truth is the Republican "standard." It's ironic, as Ellis became relevant defending the man who told tens of thousands of verifiable lies—including one that led to the deaths of at least five people.
People didn't hesitate to call her out.

They found her assertion that "truth" is the Republican standard absurd.
As recently as Monday—only hours after her diatribes against Warnock—Ellis yet again amplified the lie that the election was stolen.