Ever since former President Donald Trump's lies and attacks prompted a deadly failed insurrection against the United States Capitol, he's been banned from a host of social media outlets—most notably, his Twitter account.
Trump's Twitter was one of the defining aspects of his candidacy and single-term presidency. There, he lobbed deranged conspiracy theories, petty insults, and incoherent boasts to his 80 million followers.
After Twitter permanently banned Trump from the outlet for inciting his followers to violence, Trump and his allies falsely claimed the company was in violation of the First Amendment right to free speech. They subsequently promised a new outlet that would allow conservative voices to be heard.
This first came in the form of what was a glorified blog on his official website—only allowing Trump to post and his followers to share the posts, not interacting or making posts of their own. The site was pulled from the web after Trump grew dissatisfied with the mockery and lack of readership.
Now, the Trumposphere's latest iteration comes in the form of GETTR, a social media platform founded by Trump's former spokesman, Jason Miller.
According to its mission statement, the outlet is focused on

"fighting cancel culture, promoting common sense, defending free speech, challenging social media monopolies, and creating a true marketplace of ideas."
As Miller's own profile exemplifies, the site is almost exactly like Twitter as far as its layout and function.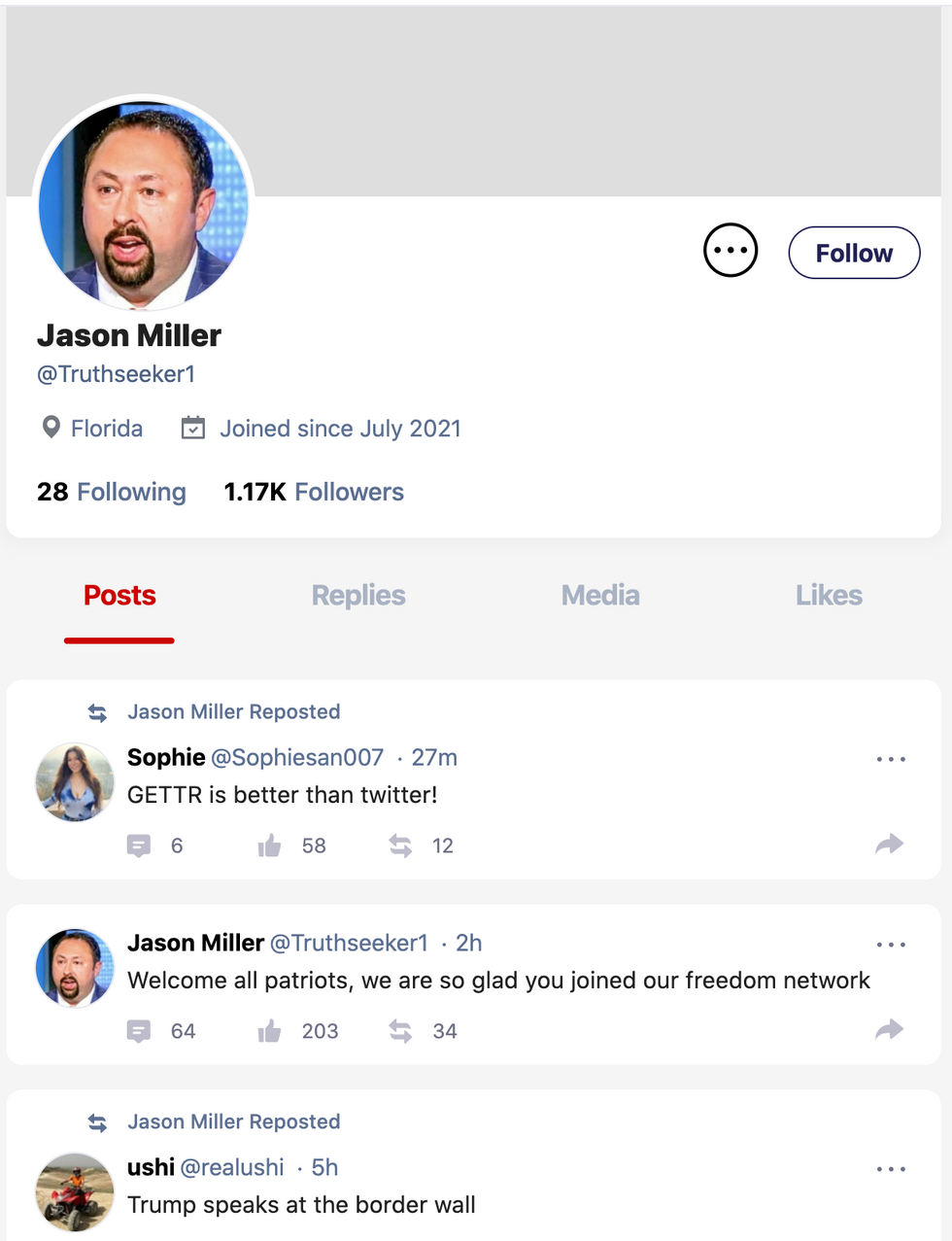 GETTR
People noticed, to say the least.
Though GETTR isn't formally affiliated with Trump, users roasted him nonetheless.
Jennifer Jacobs of Bloomberg News later reported that Trump wouldn't be joining the outlet, focusing instead on once again creating his own platform.
That opened Miller up to even more mockery.
Awkward.